UPDATE, Sunday, Sept. 20, 11:32 a.m.
Pope Francis met with Fidel Castro for around half an hour on Sunday at the 89-year-old Cuban Revolution leader's home in Havana, said Vatican spokesman Federico Lombardi.
The two chatted in "a very informal and friendly environment" along with Castro's wife, Dalia Soto del Valle, Lombardi said.
Lombardi said the conversation touched on various topics, including the environment, and was "very informal and friendly."
Francis gave the former Cuban leader four books, including two on theology.
Castro reciprocated with a dedicated copy of Brazilian priest Frei Betto's book of interviews with him, "Fidel and Religion," which he signed: "With admiration and respect from the Cuban people."
Original post continues here:
HAVANA, Cuba – Pope Francis delivered mass Sunday before hundreds of thousands of people on Havana's iconic Revolution Square, calling Cubans to serve the downtrodden and warning them that "service is never ideological."
The pope's homily did not directly address Cuba's political situation or the nascent rapprochement he helped broker between the communist island and the United States, the next international stop on his most high-profile trip to date.
But he warned against both ideology and an every-man-for-himself mentality, at a time when Cuba faces a delicate period of economic and political transition.
"Christians are constantly called to set aside their own wishes and desires, their pursuit of power, and to look instead to those who are most vulnerable," he told the crowd, speaking beneath a towering sculpture of his fellow Argentine Che Guevara's iconic silhouette.
"We need to be careful not to be tempted by another kind of service, a 'service' which is 'self-serving,'" he said. "Service is never ideological, for we do not serve ideas, we serve people."
Related: For Pope Francis, an unfinished mission in Cuba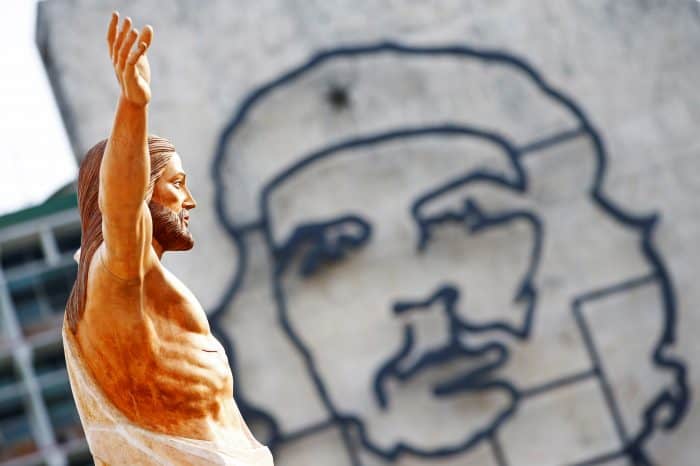 He paid tribute to Cubans as "a people with a taste for parties, for friendship, for beauty," and praised their resilience.
Cuban Cardinal Jaime Ortega called to heal the sometimes deeply personal wounds left by Washington and Havana's Cold War standoff.
The pope's call to peace "must reach the people of both nations and especially our Cuban people living both here and the United States, to achieve the long-sought reconciliation among all Cubans," said Ortega, the archbishop of Havana, at the end of the mass.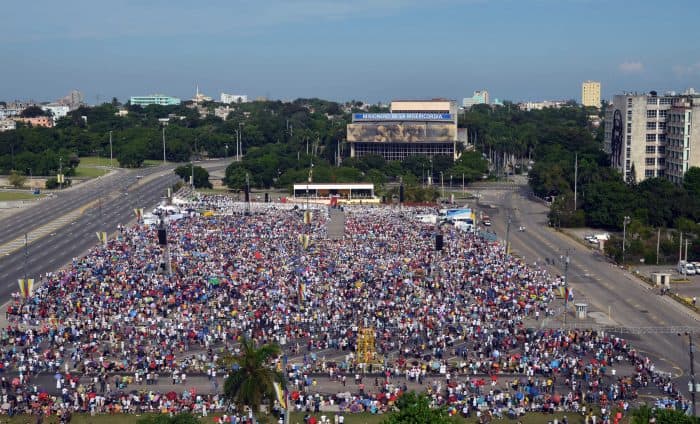 The pope's eight-day tour, which will take him on his first-ever visit to the United States, follows the announcement of the U.S.-Cuban rapprochement, which paved the way for the estranged neighbors to renew diplomatic relations in July.
Francis helped facilitate that moment in secret negotiations.
Just ahead of the pope's trip, the United States announced a further loosening of restrictions on business and travel with Cuba — a move Cardinal Ortega said he believed was inspired by Francis's visit.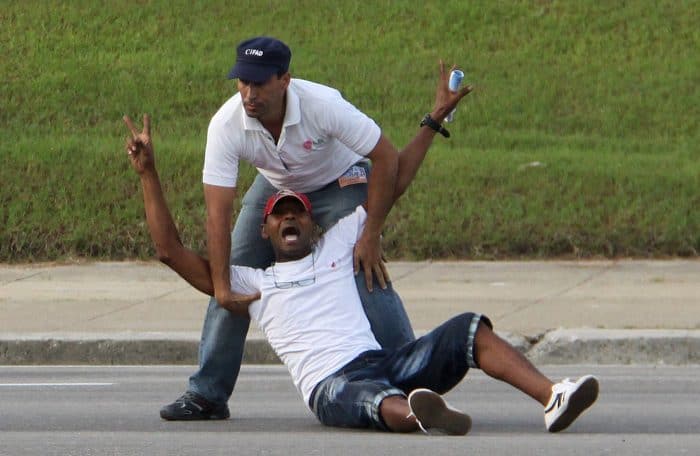 Dissidents arrested
Three Cuban dissidents opposed to the communist regime were arrested as they approached the pope shouting "Freedom!" when he arrived for the mass.
An AFP photographer said the activists — two men and a woman — yelled anti-government slogans and resisted by falling to the ground as plainclothes agents detained them when they tried to get near the white "Popemobile" carrying Francis.
The pope, who was busy grasping the outstretched hands of well-wishers on the other side of his vehicle, did not appear to notice the incident.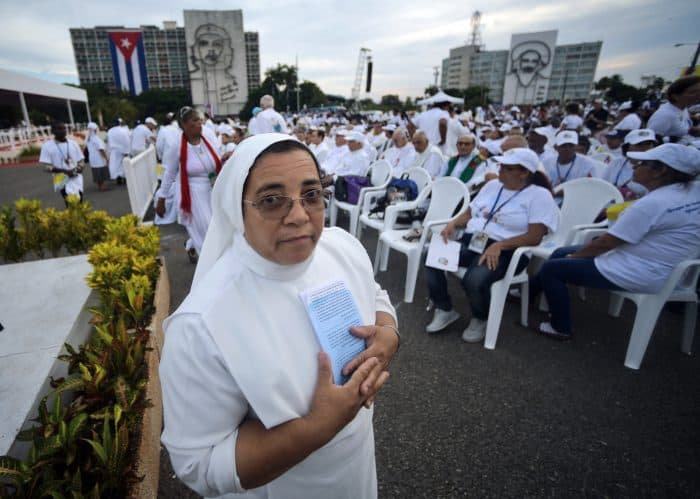 The protesters were from the Cuban Patriotic Union and "went to the square to condemn repression," said José Daniel Ferrer, the leader of the dissident group, which is mainly active in eastern Cuba, the other side of the island.
Cuba bans opposition groups and routinely arrests dissidents who try to protest — typically releasing them after a few hours, at least in recent years.
Several leading dissidents have criticized the pope for not accepting their requests to meet with him during his visit.
But the mood was otherwise jubilant on the packed square, where hundreds of excited Cubans and foreign visitors camped out overnight to see the first Latin American pope.
Francis's lone explicit political appeal was aimed at a Latin American audience: the Colombian government and FARC guerrillas, who have been holding peace negotiations in Havana for nearly three years.
The pope urged them to achieve "definitive reconciliation" and end a conflict that has burned for more than half a century.
See: Cuban Americans make pilgrimages to see Pope Francis in their native land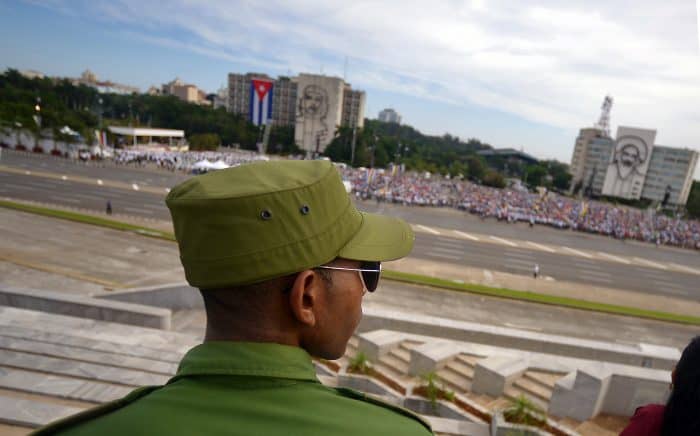 Fidel photo op?
Cuban President Raúl Castro and Argentine President Cristina Kirchner were among those in attendance.
The pope will meet with Castro later Sunday, then preside over vespers at Havana Cathedral before holding an unscripted exchange with young Cubans — a demographic feeling the pain of the communist island's difficult economic transition.
Francis may also meet Castro's older brother and predecessor Fidel, the 89-year-old father of Cuba's 1959 revolution.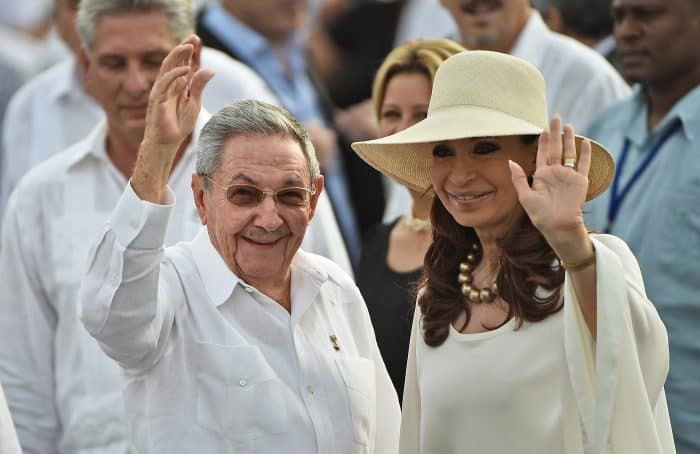 Pope Benedict XVI met Fidel when he visited the island in 2012, six years after the longtime leader handed power to Raúl amid a health crisis.
While the pope shares the Castro brothers' radical critique of global capitalism, he has not been shy about prodding the regime toward change, including more space for the Church on an island that was an atheist state for more than three decades.
The pope will travel Monday and Tuesday to the Cuban cities of Holguín and Santiago, before heading off to give landmark addresses to the U.S. Congress and U.N. General Assembly.
Watch a video of Pope Francis in Cuba. Video starts at minute 8:11: