WASHINGTON, D.C. – Certain U.S. businesses will now be permitted to open offices and bank accounts in Cuba, establish joint ventures with some Cuban government entities and hire Cubans to work for them under major regulatory changes announced by the Obama administration on Friday.
The changes also lift virtually all restrictions on how much money can be sent by individuals in this country to Cuban nationals on the island.
The new rules amount to President Barack Obama's largest effort to date to use his executive power to sidestep the Cuba embargo on trade and financial dealings with Cuba. They come after initial changes made in January, and the restoration of formal U.S.-Cuba diplomatic relations this summer.
Commerce Secretary Penny Pritzker said the regulations "are designed to support the emerging Cuban private sector and bring us one step closer to achieving President Obama's historic policy goals" of stimulating economic and human rights reforms.
Related: With embassy open in Havana, U.S. diplomats face a changing mission
The modifications also stem from U.S. commercial pressure to further facilitate doing business with Cuba in light of the Cuba embargo. Agriculture, telecommunications and building industries – among those now permitted to trade there – had complained that the regulations remained too restrictive and complicated.
What remains unclear is whether Cuba will alter its own policies to allow the expanded U.S. policies to be implemented. So far, the Havana government has been slow to open its doors to an increased U.S. presence and trade. Agricultural imports from the United States have decreased by 40 percent this year, according to the New York-based U.S.-Cuba Trade and Economic Council.
Cuba's Communist government controls all imports and exports, as well as all hiring by foreign enterprises on the island. Outreach by U.S. telecommunications companies to expand Internet and cellphone access, now permitted on the U.S. side, have not resulted in any significant new business.
"This creates incredible challenges for the Cuban government, because it is President Obama handing the U.S. business community a playbook, and now the Cuban government has to decide whether it wants to accept the return of U.S. companies to Cuba," said John Kavulich, president of the U.S.-Cuba council.
"It's great that Home Depot or Lowes could set up shop there, " as allowed under the new permissions for construction material vendors, said Sen. Jeff Flake, R-Ariz. "But a lot of it depends on the willingness of the Cuban government to lift restrictions on imports.
A senior administration official described the changes as unprecedented since the full Cuba embargo was first established in 1962, and later augmented by stricter measures. What is beyond U.S. control, the official said, "is determining what the government of Cuba is going to allow to happen." The U.S. Treasury and Commerce Departments have now "done what we can to lower all barriers to allow U.S. companies to go down there and figure out how to get this done," the official said.
This official and others spoke under condition of anonymity imposed during a briefing for reporters.
In some ways, the changes announced both in January and on Friday make U.S. dealings with Cuba more rather than less difficult to navigate. "Part of the intrigue here is that as we get more and more complex exceptions and rules and regulations, it just becomes more obvious that we have to lift the embargo," said Sen. Amy Klobuchar, D-Minn., whose proposed bill to do just that now has 22 co-sponsors.
But Republican leaders in both the Senate and House have refused to allow the measure, along with other proposals to remove remaining bans on American travel to Cuba, to come to a vote.
Cuban-American lawmakers,, including Democratic Sen. Robert Menendez (N.J.) and Republican presidential candidates Sens. Marco Rubio (Fla.) and Ted Cruz (Tex.), vehemently oppose removing any of the restrictions that remain on Cuba.
Menendez said Friday that the policy Obama says is designed to encourage reforms on the island has been completely ineffective, even before the new regulations.
"The administration is engaged in one-way change, because there's no change in Cuba," he said, noting that there have been more than 4,000 arrests of dissidents and human rights activists this year alone.
The Obama administration, Menendez said, is "dangerously engaged in a regulatory effort to circumvent and maybe violate the law," and that opponents are studying how to challenge its actions in court.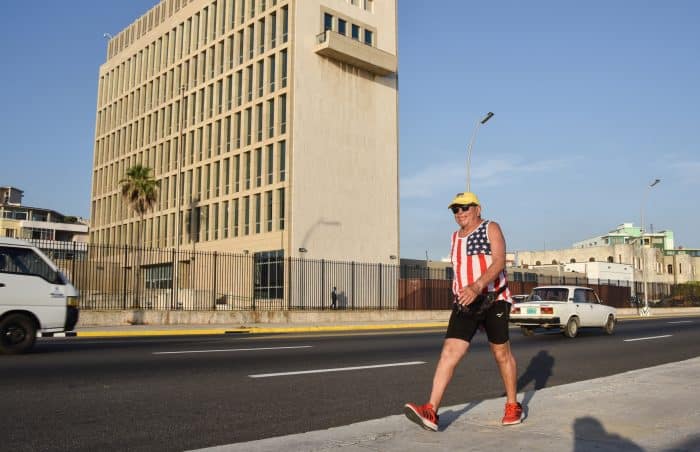 US travel to Cuba up by 40 percent
While agricultural exports have decreased, travel by U.S. citizens to Cuba has increased by 40 percent this year. Tourist visits remain prohibited, but self-declared travelers within 12 authorized categories – including religious and humanitarian travel – is permitted. So-called "people-to-people" visits remain subject to specific Treasury Department licenses, but a change in that category could vastly increase the number of visits.
"It would essentially allow tourists," said Flake, who has introduced a bill to lift all travel restrictions. "My own view is that if somebody goes and happens to go to the beach sometimes, if they're staying in a B&B, and eating in private restaurants and going around in a private Cuban taxi, that's wonderful. It liberates a lot of Cubans from reliance on the state."
Under the new regulations, which go into effect Monday, commercial and private vessels may travel by sea directly between the United States and Cuba. Aircraft are also permitted, and the administration's expectation is that this will open the door to ferry and non-charter airline travel in the near future.
"Close relatives" can accompany or visit authorized travelers, and travelers can open bank accounts in Cuba.
Limits on remittances sent or carried to Cuban nationals – except prohibited government or Communist Party officials – have been removed entirely. Previously, they were limited to $2,000 per quarter.
U.S. businesses in authorized sectors such as telecommunications and construction will be allowed to establish what a senior administration official called a "business presence" in Cuba and to develop joint ventures, including with Cuban state-owned enterprises. They can also employ Cuban nationals, hired from the government, maintain bank accounts there and provide materials to Cuban nationals on a lend or lease basis, rather than previously authorized cash sales or donations.
Authorized companies can also ship previously banned goods, including computers and software, to be used in conjunction with business purposes.
© 2015, The Washington Post