WASHINGTON, D.C. — Monday at precisely 10 a.m. Cuba's flag will rise for the first time in 54 years over the country's stately old mission along Washington's 16th Street — marking the opening of this capital city's newest embassy.
Simultaneously, some 1,130 miles south of here, the newly minted U.S. Embassy fronting Havana's oceanfront Malecón will open for business.
The twin events together mark a huge milestone in U.S.-Cuba relations. But in economic terms, the hard work for the communist-ruled Caribbean island of 11.2 million is only beginning.
On July 14 Carlos Gutiérrez — the Cuban-born former secretary of commerce under President George W. Bush — told a panel at Washington's Atlantic Council why he thinks the Obama administration is right to reverse course and open up to Cuba after more than five decades of the White House doing exactly the opposite.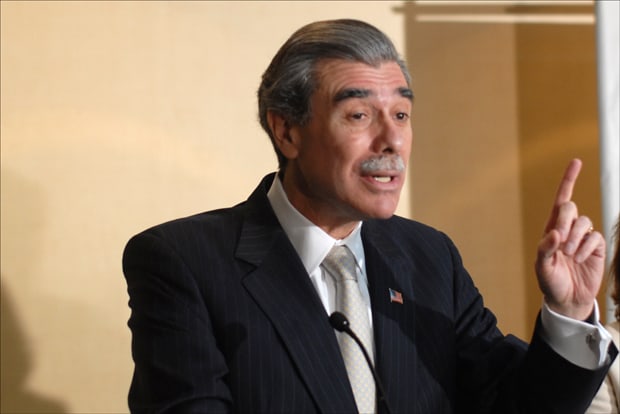 "This is more than just symbolism. It's a real step forward," said Gutiérrrez, long a staunch supporter of the U.S. embargo against the Castro regime. "Cuba wants to change. But as we all know, there's so much more to do."
The event, sponsored by the council's Adrienne Arsht Latin America Center, coincided with the release of a report by Cuban economist Pavel Vidal and Scott Brown, former IMF mission chief for Albania.
The study, titled "Cuba's Economic Reintegration: Begin with the International Financial Institutions," examines how former centralized economies like Albania and Vietnam were helped by membership in the World Bank, the International Monetary Fund and regional development banks.
Vidal addressed the panel briefly via video link from Colombia, where he teaches at Pontificia Universidad Javeriana in Cali. In addition to Gutiérrez, Vidal and Brown, participants included Rafael Romeu, president and CEO of Miami-based development consulting firm DevTech Systems Inc., and José Ignacio López Perea, head of global commercial banking at Spanish banking giant BBVA.
Jason Marczak, the center's deputy director, offered opening remarks. He said IMF and World Bank officials were invited to the event but demurred, indicating the "radioactive" nature of the topic at hand.
Interestingly, Cuba is one of only eight countries that do not belong to the IMF. The 24-page report argues that Albania — which joined the IMF in October 1991 after ridding itself of one of the most stridently Marxist regimes on Earth — shares many similarities with Cuba.
"Albania's first loan from the Fund, under a stand-by arrangement, was approved in August 1992, and its re-engagement with the global financial system and policy reforms produced significant improvements in the standard of living," the report states. "Vietnam offers another positive example, with access to IFI support coming after a period of initial reform. In both countries, everything from GDP to life expectancy improved. These universal benefits are compelling factors for Cuba."
Among the report's 10 specific recommendations: Cuba should carefully analyze all potential paths toward membership in international financial institutions (IFIs), and Washington needs to give Cuba breathing room by not enforcing the legal mechanisms that call for U.S. opposition to multilateral loans to the island.
"Cuba withdrew from the World Bank in 1960, and from the IMF in 1964. It was never a member of the Inter-American Development Bank because the IDB started in 1959 — the year of the revolution — so Cuba doesn't really know the benefits of investment capital," Gutiérrez said.
"Cuba wants to change," he added. "I've been traveling to China now for about 20 years, sometimes as often as five or six times a year. More than 300 million Chinese have been lifted from poverty. It's a great example of economic transition. Albania is another one."
Under the Helms-Burton Act of 1996, which codifies the U.S. embargo into law and can only be lifted by Congress, regardless of President Obama's decision to restore diplomatic ties, Washington must oppose Cuba's entry into all these institutions.
"But one thing is to oppose, and the other is to encourage everyone else to oppose," Gutiérrez pointed out. "If the U.S. government wants to be part of the solution, the United States can comply with Helms-Burton and vote no, and then allow others to vote as they wish, as opposed to putting on pressure. It's up to U.S. policymakers to help Cuba, but I'd be surprised if this is not part of the talks. If it isn't, it should be."
However, this isn't just about the Helms-Burton Act.
"For one thing, Cuba can't continue with two currencies. That will not make sense in an economy open to foreign investors," said the former commerce secretary and Coca-Cola executive. "Unifying two very distinct currencies won't be easy. It will reduce foreign reserves in the short term and will be a tough transition. And you can't do it overnight."
Even more importantly, he said, is that the Cuban government allows private entrepreneurs to turn a profit — whether it's a restaurant or a home-repair store.
"For me, the most important requirement is a recognition that you need to have a return on capital," Gutiérrez. "Cuban policymakers need to fully understand that — and if they do understand it, then they need to put it in place. If you're going to access these institutions and access capital, you have to believe that capital must have a return. For me, this is not ideology; it's about numbers. If you're putting in money and not getting out money, you're not going to be successful."
The IMF's Brown, whose first assignment for the Fund was helping Albania transition to a market economy, called the European spring "a challenge like no other."
"Nobody really knew at that point how to help these centrally-planned economies. It was messy," he said. "In Russia, it was very messy. In Poland, Romania and Bulgaria, it sorted itself out, and in Albania, it was initially very successful until people poured their money into Ponzi schemes and black holes."
Last week, the Castro regime announced that Cuba's economy grew by 4.7 percent during the first half of 2015 — up from an estimate of 4 percent made by Economy Minister Marino Murillo just a month ago.
That's especially significant considering that for the previous four years, GDP growth had averaged only 2.3 percent annually, with only 1.3 percent growth in 2014. By sector, agriculture was up 4.8 percent — led by the sugar industry with 22.6 percent growth — while manufacturing grew 8 percent, construction 8.7 percent and internal trade 6.7 percent. Tourist arrivals increased more than 15 percent, although earnings lagged behind, partly due to strengthening of the U.S. dollar against foreign currencies.
BBVA's López said there's been "lots of business interest" here — especially in tourism — toward Cuba since Obama's announcement last December that bilateral relations would be restored.
López said that 92,000 U.S. residents visited Cuba in 2013, spending a total of $100 million, according to official data.
"This year, it will grow sharply, following the easing of travel restrictions. The impact on the hotel sector is significant, especially in the premium sector," he said. "There will also be an increase of U.S. exports to Cuba, but the limitation of Cuba having to pay cash in advance means it won't be significant."
"Additionally, we see that the expectation of a future improvement in relations and a potential lifting of the embargo, even if it takes time, could have an immediate positive impact in some sectors such as real estate," he said, estimating that impact at 0.5 to 1.0 percent of Cuba's GDP.
Added Brown: "In the end, the benefit that Cuba gets out of reintegration with the global economy will depend on Cuba's own willingness to go that full voyage toward a vibrant market-oriented economy — and the desire for a better life for its people."
Correction: The original version of this story indicated that the U.S. flag would be raised outside the new U.S. Embassy in Havana on July 20. In fact, the flag will likely not be displayed until next month.