The regular bedlam of long ticket lines and spinning luggage machines at the Miami International Airport got an extra charge of emotion on the eve of Pope Francis's visit to Cuba, as hundreds of Cuban Americans prepared to make the hop across the Florida Straits on Friday.
Many of them had special reasons for making the trip. Some see the first Latin American Pope's four-day tour starting on Saturday as a promise of hope for a more prosperous and free Cuba. Others are using the moment to carry supplies – a chalice, a chasuble – to help strengthen the work of a resurgent Cuban Catholic Church in a country where basic sacred supplies can be hard to find.
See also: When Pope Francis visits Cuba, he'll find many priests aren't Cuban
And for some, such as Bernardo and María Perdices, who journeyed to Miami from the suburbs of Los Angeles, Pope Francis's visit is the stroke that persuaded them, finally, to visit their homeland for the first time since they left nearly 50 years ago.
"It was hard to make the decision, but I think the time has come," Bernardo said.
María added: "I want to go back to my land. I want to enjoy family and friends."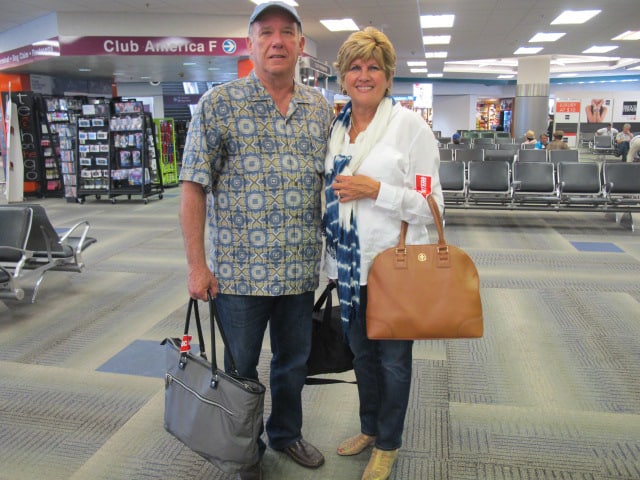 The couple ate Cuban sandwiches in the departure lounge for the afternoon flight to Santiago, Cuba's second-largest city, on the eastern end of the island, where Francis will travel on Monday after landing in Havana on Saturday. As Bernardo, 69, considered his return, he dabbed at moisture welling in his eyes.
The couple fell in love in Santiago after Guantanamo-born Bernardo moved there to study. They were active in the Santiago Cathedral parish, which Pope Francis will visit. Bernardo left for a different future in the United States in 1969, and the couple were married by proxy in Santiago, with Bernardo's brother standing in for him. María came to the United States in 1970, where the couple had a church marriage together.
"That was my parish," Maria, 68, said of Santiago, where she received her First Communion, sang in the choir, baked hosts. "For me, going back there is… " Instead of finishing the sentence, she rubbed the goose bumps on her arms and pointed at her heart.
Making the decision to return a little easier for the couple is that Bernardo's brother is Santiago Archbishop Dionisio García Ibáñez. With a special invitation from the Cuban Catholic Church, the Perdices will have good seats when Francis celebrates Mass on Tuesday in the Basilica of Our Lady of Charity in El Cobre, just outside Santiago, one of Cuba's most sacred sites for believers and nonbelievers alike.
Pope Francis and complicated family stories
Theirs is a typically complicated Cuban family story – one that is finding closure in the example of Pope Francis, who seems uniquely capable of bridging divides. Francis helped produce a similar effect at the geopolitical level, urging President Barack Obama and President Raúl Castro to work toward the mending of relations that is now gingerly underway.
"I think he's going to send a message of hope with a capital 'H'," said Gustavo Godoy, 73, a Miami-based political analyst who was catching a flight to Havana to see the pope celebrate Mass in the Plaza of the Revolution on Sunday. "Hope for change, for a more democratic regime. It's going to take time."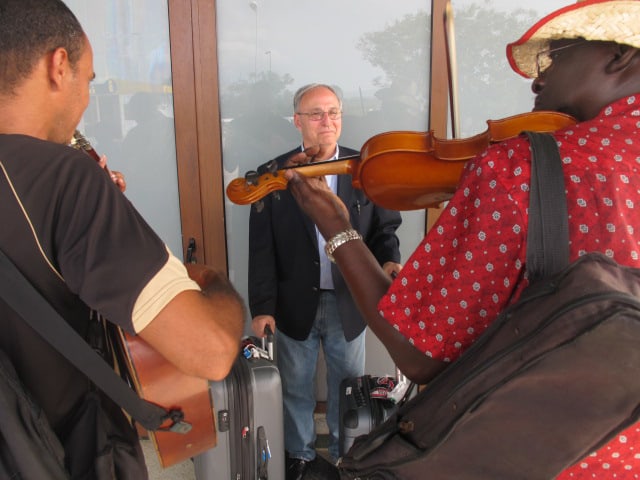 For Godoy, who came from Cuba as a boy in 1960, it will be the third time he has returned for a pope's visit, counting the sojourns of John Paul II in 1998 and Benedict in 2012.
"The first one with John Paul was excellent," he said. "The second one was less emotional. This one is going to break a record in the emotion, the participation and the expectations."
The Pope Francis-inspired travelers included more than 150 pilgrims organized by the Archdiocese of Miami who journeyed with Archbishop Thomas Wenski. A smaller, private group left earlier from Washington. Cuban Americans with family in Cuba or who have received Cuban passports can travel freely on as many as 10 flights a day to Havana and smaller cities.
While the majority of those at the airport on Friday said their primary purpose was to see family, not the pope, many said the coincidence of the pope's visit was prompting them to alter their itineraries to try to catch a papal Mass. They said they admired Pope Francis's touch with the common people, his inherent understanding of Latin America and his diplomatic prowess.
"This pope brings friendship between the U.S. and Cuba," said Luisa Sabina of Miami, traveling to Havana with her husband José Sabina. They left Cuba in 1968 and have visited since.
Emilio Cueto, a Washington-based historian of Cuban culture, ticked off some of the more unusual contents of his luggage: one ciborium (to hold the host), one chalice, two cruets (to hold water and wine at Mass), 80 rosaries, 100 holy cards, four albs (a vestment), three stoles and three chasubles (another vestment). They were for his priest friends in the Santa Teresita Parish in Santiago and elsewhere.
Cueto, whose double apartment in Washington has one of the world's leading private collections of Cuban cultural artifacts, was planning to travel by bus with a group of parishioners from Santiago to the Mass that Francis will celebrate Monday in Holguín, two hours away.
A pope beloved by many secular intellectuals is also passionate about miracles and relics.
For Cueto, like so many, the pope's visit is inspiring a deeper engagement with the country he left as a teenager in the early 1960s and that he has yearned to recover ever since.
"I'm going to see the event the way an ordinary Cuban would," Cueto said. "It makes my assimilation in the country a step closer. Not only is it important to me, it's important to [Cubans on the island]. The division that marked our separation will get blurred until it disappears. And the question 'You're a Cuban from where?' will no longer have relevance and no longer be asked.
"That's one thing papal visits do."
© 2015, The Washington Post