GREEN BAY, Wisconsin – Aaron Rodgers threw for two touchdowns Sunday to lead the Green Bay Packers to a 27-17 victory in an NFL grudge match against the Seattle Seahawks.
The win won't erase the bitter memories of Green Bay's shock defeat in last year's National Conference title game — when Green Bay blew a 12-point lead in the final four minutes to miss out on a Super Bowl berth.
But it gave the Packers a distinct early-season edge as they took their record to 2-0 while the Seahawks fell to 0-2.
"We've got to keep this thing rolling," said Rodgers, while also warning against reading too much into the win.
"It's the second game of the year. We're not going to make a big deal about it, because we've got 14 left and then hopefully the playoffs.
"But it's a good win for us," added Rodgers, who completed 25 of 33 passes for 249 yards. "Great opponent, great fourth quarter for us."
Green Bay seized a quick 10-0 lead on the way to a 13-3 halftime advantage.
But Seattle responded, opening the second half with back-to-back touchdowns to grab a 17-13 lead.
Green Bay cut the gap to 17-16 with a field goal late in the third and in the fourth Rodgers completed eight of eight passes in a touchdown drive capped by a short laser to Richard Rodgers in the end zone.
The NFL quarterback found his namesake receiver again for a two-point conversion that made it 24-17.
On Seattle's ensuing possession, Green Bay's Jayrone Elliott made a one-handed interception of a pass from Seahawks quarterback Russell Wilson, and the Packers took advantage of the turnover to score a field goal.
"I was just trying to make a play," said Elliott, who also forced a fumble. "We needed some energy in the stadium, so I just tried to be an energy guy."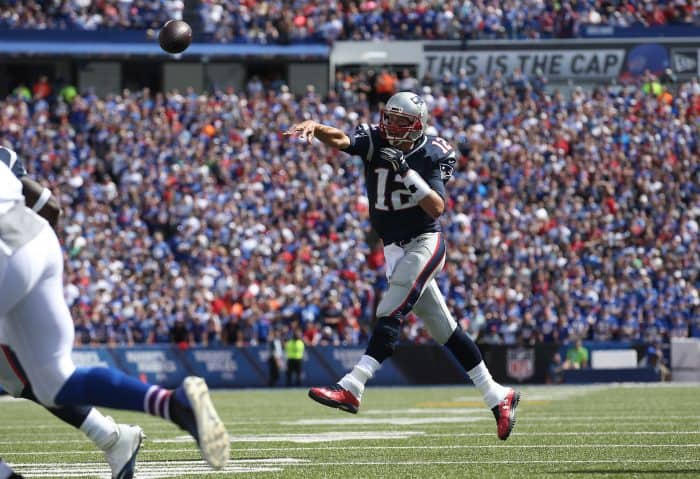 Patriots still the power
In one of the day's marquee division match-ups, Tom Brady and New England showed the brash Buffalo Bills that the Patriots are still the power in the AFC East.
Brady, who led the Pats to a fourth Super Bowl title in February, passed for 466 yards — the second-highest total of his career — and three touchdowns in a 40-32 triumph in Buffalo.
The Patriots were unfazed by the raucous atmosphere at Ralph Wilson Stadium — where Buffalo fans hoped to set a Guinness World Record for crowd noise.
"It was really loud, no doubt," Brady said. "I thought the good plays settled them down a little bit."
Patriots wide receiver Julian Edelman caught 11 passes for 97 yards and two touchdowns, and tight end Rob Gronkowski caught seven passes for 113 yards and a touchdown as the Patriots improved to 2-0.
The Dallas Cowboys also improved to 2-0 — with both wins coming against NFC East division rivals.
But their 20-10 victory over the Eagles in Philadelphia came at a hefty price as quarterback Tony Romo broke his left collarbone when he was sacked in the third quarter.
A week earlier, Dallas lost wide receiver Dez Bryant to a broken foot in a win over the New York Giants.
The Cowboys held Eagles running back DeMarco Murray — who led the league in rushing last season for Dallas — to just two yards on 13 carries.
"This was a great team win because of what we had to overcome and because of the team we were playing," linebacker Sean Lee said after his 13-tackle game that included an interception in the end zone.
Ovation for Peterson
In Minneapolis, Adrian Peterson rushed for 134 yards on 29 carries in the Vikings' 26-16 victory over NFC North rivals Detroit.
Peterson was playing in his first game at home since Dec. 1, 2013. He missed 15 games last season after facing charges for whipping of his young son.
He received a standing ovation when he was introduced, and by the end of the Vikings' first drive he had eclipsed the 31 yards he gained in a shaky season-opener at San Francisco last Monday.