https://twitter.com/AlfreditoGuzma/status/638380579205939200
Is famed Mexican drug lord and masterful prison escapee Joaquín "El Chapo" Guzmán hiding out in Costa Rica? His son would apparently like people to think so — unless he's really that stupid.
The Internet erupted late last week and over the weekend with fresh speculation over the whereabouts of the world's most wanted narco after Guzmán's son Alfredo Guzmán posted a photo to Twitter that was geotagged "Costa Rica." The tweet showed the scion of the Sinaloa Cartel sitting next to a mustachioed man — presumably his father — with the upper half of the face obscured by a huge, digital Groucho Marx mask. (A pouting smiley face completely obscures the face of the man sitting to the left of Alfredo.
International media speculated that the young man forgot to disable the location setting on his Twitter account.
If this is true, and El Chapo is here, the Costa Rican authorities don't seem too worked up about it. Judicial Investigation Police spokesman Marco Monge told The Tico Times that police didn't have any information indicating that Guzmán or his son are, or were, in Costa Rica.
Reviewing Alfredo Guzmán's past tweets shows that the son of the fugitive kingpin is a fan of emojis and often calls his followers "plebes," which means "inferiors" or "underlings" in both Spanish and English slang. He either doesn't bother to hide the geocodes of his tweets or fakes them. Locations like Badiraguato, Sinaloa — El Chapo's hometown — and Zapopán, Jalisco, are just some of the locations tagged to his past tweets.
So was the Costa Rica tag a slip or an intentional raspberry to police?
Faking one's location on the Internet and social media is pretty easy. Investigative journalists, privacy freaks and criminals do it all the time. Anyone who watches U.S. Netflix in Costa Rica knows that using a VPN to hide the IP of the user's Internet connection is a piece of cake. Apps like NetShade and websites like pleasedontstalkme.com will help you do it.
But besides the tech aspect, the table that Guzmán senior and junior are supposedly sitting at just doesn't look like Costa Rica. When was the last time a Costa Rican waitress put a dish of salsa and a basket full of tortilla chips on your table? (The baskets are empty in Alfredo's Twitter pic.)
But if "Shorty" is, in fact, in Costa Rica, he wouldn't be the first Mexican narco to seek safe haven here. Notorious drug kingpin Rafael Caro Quintero fled to Costa Rica in March 1985 following the death in Mexico of DEA agent Enrique Camarena. Quintero and his entourage passed through customs unchecked and lived the high life at a mansion in Alajuela before being caught a month later.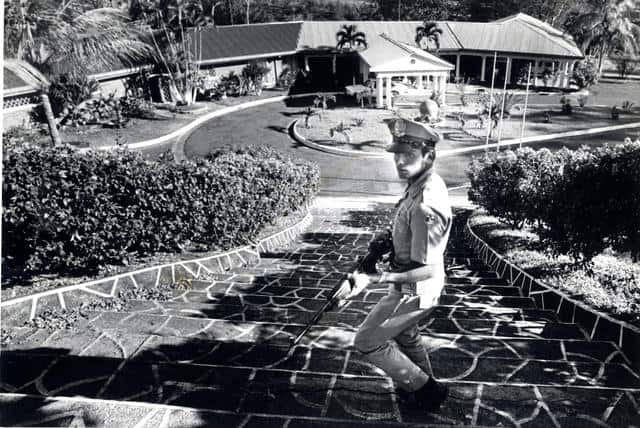 In an early morning raid that April, Costa Rican police, accompanied by DEA agents, burst into the Finca California in the Ojo de Agua sector of Alajuela near Juan Santamaría International Airport, north of the capital, surprising Quintero and a number of his confederates. Quintero was captured, along with his lover Sara Cossío and other members of his band, including Mexicans José Albino Bazán, Juan Carlos Campos, Luis Beltrán, Miguel Lugo and Violeta Estrada. They all were extradited to Mexico the next day.
According to press reports at the time, Quintero complained to the arresting officers that he had paid handsomely for refuge in Costa Rica.
Fast forward to 2013, when Quintero was released from a Mexican prison by court order and promptly disappeared. Despite a reversal of the court's decision, he has not been recaptured.
Costa Rican authorities have been on high alert since El Chapo escaped from prison. In June, three weeks before Guzmán's escape, five Mexican citizens suspected of having ties to the Sinaloa cartel entered Costa Rica. The men were tracked by authorities until they left the country two days later.
Costa Rica's judicial police and the U.S. Drug Enforcement Administration also believe a suspected leader of the Sinaloa cartel with ties to Guzmán has been living here since his recent release from prison.
Anyone with serious leads on El Chapo's whereabouts could make a fortune. The Mexican government has offered a $3.8 million reward for information leading to his capture.