Intelligence gathered by Costa Rica's judicial police and the U.S. Drug Enforcement Administration has helped identify a suspected leader of the Sinaloa drug cartel who is believed to be living in Costa Rica, and who recently served a 10-year prison sentence for attempting to traffic more than two tons of cocaine.
Mexican magazine Proceso identified the man as Luis Albarto Malaña Alcaraz in a Nov. 18, 2010 story following his arrest in Costa Rica. Malaña reportedly is a political "nephew" of Ignacio Coronel, alias "Nacho," one of the closest collaborators of the traditional bosses of the Sinaloa cartel, Ismael "El Mayo" Zambada and Joaquín "El Chapo" Guzmán. Guzmán recently made headlines for a dramatic escape from a high-security Mexican prison in early July.
See: Undermining Mexico: How 'El Chapo' built a criminal empire, and escaped prison, by digging deep
The intelligence shows an alleged link between El Chapo and Malaña, who reportedly has lived in Costa Rica since his recent release from prison. That same intelligence notes that El Chapo had devised a plan, never carried out, to help Malañas escape from La Reforma, a large prison north of Costa Rica's capital, where Malañas was being held.
Following El Chapo's own dramatic escape in early July, intelligence and police agencies have been on high alert for foreigners living in or visiting Costa Rica and who previously have been convicted of international drug trafficking offenses.
In June, authorities already had identified and tracked five Mexican citizens suspected of having ties to drug cartels and who entered Costa Rica through Juan Santamaría International Airport, north of the capital. Each was carrying just under $10,000 in cash.
Four of them have been identified: Gilberto Gerardo Esparza González, alias "Pitirijas," Víctor Genaro Cantú Pinales, alias "Rana," Hugo Gerardo Cantú Martínez, alias "La Gorda," and Julio César Rodríguez Tames, alias "El Marciano."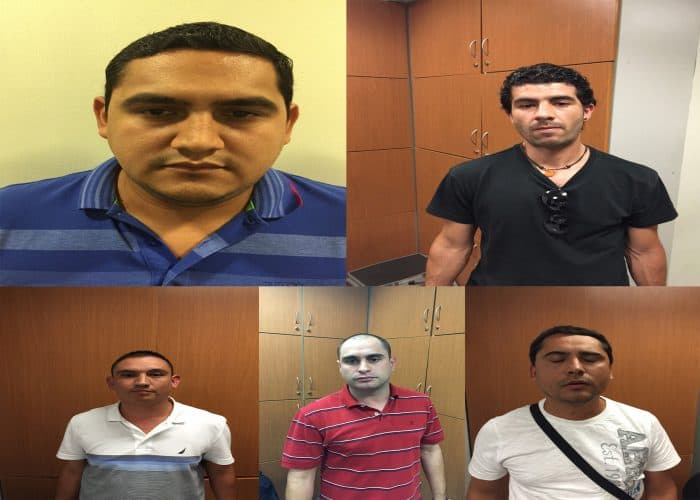 According to Immigration Administration records, the five men entered Costa Rica on June 17 on a flight from Mexico, and departed two days later. Agents from the Judicial Investigation Police's (OIJ) Money Laundering Unit tailed the suspects as they visited a San José night club, and later, as they traveled to the Central Pacific port town of Quepos.
Details of the intelligence reports and police surveillance were confirmed to The Tico Times by Luis Ávila, interim assistant director of the OIJ.
"The entry in Costa Rica of these men under suspicious circumstances prompted us to activate a surveillance operation and open an investigation. We are communicating with Mexican authorities to corroborate the information that they belong to the Sinaloa cartel," Ávila said.
The men entered Costa Rica about three weeks before El Chapo's escape in Mexico.
According to Costa Rican authorities, the information confirms the active presence in this country of one of the most powerful and dangerous drug cartels in the world.
As of 2013, 43 Mexican nationals were serving prison sentences in Costa Rica for crimes related to international drug trafficking. Most of them allegedly have ties to the Sinaloa cartel.
In one such case in June 2010, OIJ agents seized 144 kilograms of cocaine from a group of Mexican, Guatemalan and Costa Rican drug traffickers. The cocaine originated in Colombia and was destined for Mexico, hidden in a shipment of avocados. Only one suspect, from Mexico, was arrested and identified by the surname Avilés.
Earlier, in May 2009, Germán Trejo Retamosa, from Mexico, and Édgar Arguedas Alfaro, a Costa Rican, died when the helicopter in which they were traveling crashed with 347 kilos of cocaine on board. That accident helped expose a large cocaine storage and trafficking network established in Costa Rica by the Sinaloa cartel, authorities said.
Arguedas, a pilot, had worked for several years in the Public Security Ministry's Air Unit and had participated in various anti-drug operations here.
As news of the accident became public, three Mexican suspects who had booked a hotel room in the Caribbean slope town of Turrialba and were believed to be the delivery contact for the cocaine shipment, escaped by land to Panama.
In October 2009, Costa Rica's anti-drug police disrupted an important drug trafficking network set up by the Sinaloa cartel and operated by five Mexican nationals identified by the surnames Pérez López, Patterson López, Pardo López, Anguiano Escobedo and Peña Servín. All five managed to flee Costa Rica, where they had acquired homes and vehicles in the Caribbean slope city of Guápiles, as well as a helicopter to move large shipments of cocaine by land and sea.
Most of the remaining Mexican drug traffickers currently locked up in Costa Rica belong to La Familia Michoacana and the Knights Templar cartels, authorities said.
See also: Chapo's motorcycle freedom ride spurs doubts about kingpin jail