See also: The story of Costa Rica's forgotten World War II internment camp
A walk through the streets of San José often reveals architectural gems hidden among the hustle and bustle. One such beauty is a brick building with a façade made of stone flowers: the Steinvorth building, located in the heart of San José, where Calle 1 meets Central Avenue. It has been among the most fascinating architectural pieces in the city for more than a century.
The building was built by Otto Steinvorth in 1907 as a commercial warehouse where all sorts of products were sold. However, during World War II, the building was one of many in San José expropriated from German-Costa Rican citizens by the Costa Rican government. After a period of internment in a Costa Rican camp for Germans, Steinvorth was eventually sent to the United States, according to the daily La Nación;he returned to Costa Rica in the 1950s, but even though the building was returned to the family, his business was unable to recover fully, and sections of the building were rented out.
Today, the building, now owned by Steinvorth's granddaughter, Flory Steinvorth, houses a range of commercial tenants. It caught the eye of Costa Rican architect Julián Mora during his student days, leading him not only to become another tenant – he owns a bar in the building, also named El Steinvorth – but also to spearhead the restoration of the building itself, an effort that eventually drew government attention and resulted in a major overhaul.
This process has been a very long, yet satisfying journey for Mora.
"The idea of the restoration began when I was in the university. I had to take a class related to Costa Rican heritage, and was given a homework assignment to research buildings in San José," Mora told The Tico Times. "I came across this building, which I had already seen various times."
Two years later, in 2008, Mora graduated and focused on restoring the building. He admits he began without anything specific in mind.
"We had no idea what was going to happen in there. What we wanted was to experience the process of restoring the building and discover new things," Mora commented.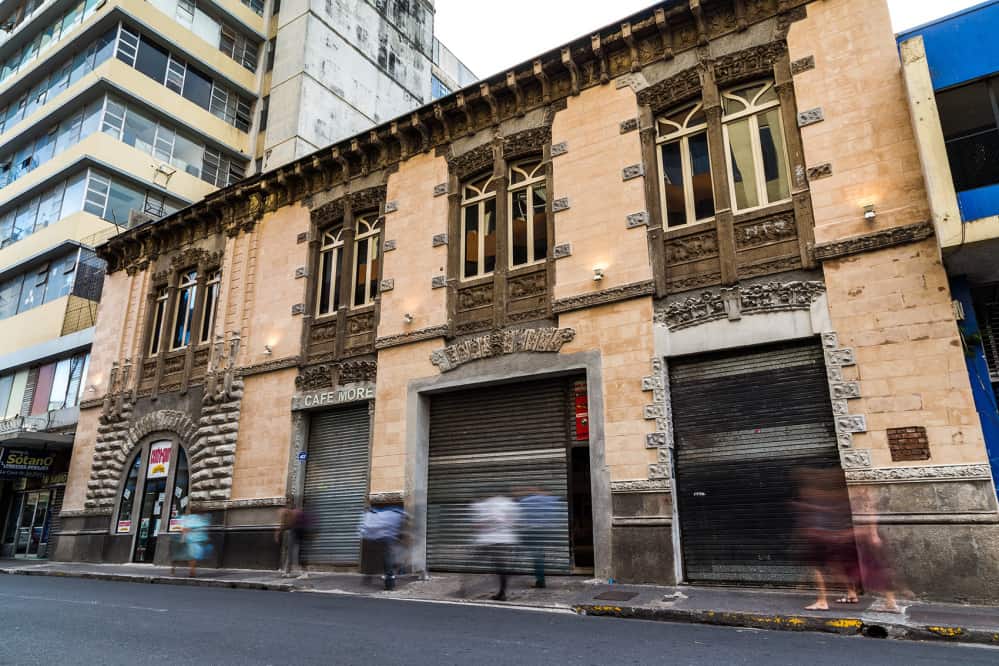 The building's central space is what captures the eye inside: it guides the visitor to the thirteen businesses located within. A key element of restoring this space was rebuilding the skylight, but this presented its own challenges.
"We wanted to strengthen the skylight, which is a structure that was done with a type of iron that you can't weld. It was incomplete and we had to reproduce the metallic structure with casts," Mora explained.  However, "the most difficult part [of the project as a whole] was to restore the building with the tenants inside, including myself as a bar".
Besides having to deal with the tenants while restoring the building, Mora was faced with another issue: he ran out of funding partway through. He organized various parties to collect money in order to continue.
"Since it was a relatively low investment, we were not pressured. We approached this venture more as a life project; a project that we wanted to carry out," Mora explained.
In 2010, the effort received a major boost when it was chosen for a ₡100 million (approximately $200,000) grant from the Costa Rican as part of the Culture Ministry's "Salvemos nuestro patrimonio" ("Let's save our heritage") contest. But the fundraising parties the bar had organized showed Mora and his team that there was a market for further events at the building, a unique space in which to appreciate culture, music, art and design.
"El Stein is more than a beautiful building located in the center of San José with the urban essence. There's no space in San José with these characteristics! Why? Because this building was a commercial warehouse. From that point on, an urban regeneration wave boomed in San José," Mora explained. "You can say that the restoration process is right now at 50-60% of the initial projected idea. This year we are focusing on doing a project in which all the tenants are working with the same objectives and goals in mind."
For more information about events at El Steinvorth, visit the bar's Facebook page.