Her cookbook was a bestseller last year. Episodes of her online food series, "My Drunk Kitchen," regularly go viral. And with more than 2 million subscribers, her YouTube channel is more popular than those of Jamie Oliver, Martha Stewart and Mario Batali combined.
But make no mistake: Hannah Hart doesn't consider herself a chef.
"I consider myself fortunate," she says with a laugh. She uploaded her first video, a recording of herself drunkenly making a grilled cheese sandwich while downing countless glasses of red wine, as a joke for a friend.
The sandwich didn't even have cheese in it. It tasted like "hot sourdough."
"My Drunk Kitchen" — under the umbrella channel "MyHarto" — is among a slate of YouTube channels that have combined cooking and entertainment to popular effect. Whether it's a lovable Japanese housewife whose recipes are narrated by a toy poodle ("Cooking With Dog") or an energetic foursome that could easily be mistaken for a British boy band ("SortedFood"), these channels are finding an audience in a generation known for subsisting on instant noodles and microwaveable meat.
Millennials fueled a 280 percent increase in subscriptions to YouTube food channels last year, according to Google research in 2014. Many of those viewers are looking for personalities like Hart who will entertain in addition to offering practical cooking advice. The most popular episode of "My Drunk Kitchen" has nearly 4 million views _ more than the number of people who tuned in to the latest season finale of Fox's "Hell's Kitchen."
Google has further found that the majority of people in their mid-20s to 30s cook with their smartphones or tablets on hand. Now, when a 25-year-old fires up his stove, he also presses "play."
When Bob Ahlgren uploaded his first video nine years ago, YouTube was far from a pervasive platform. "It was more like 'Who?Tube,' " he says. "Still, it was an amazing thing at the time to put up a personal video for free."
A hazy recording shows Ahlgren cleaning his grill, heating sauce and chopping up a slab of pork ribs. His folksy voice-over calmly outlines the recipe steps while rock music plays a little too loudly in the background. Just like that, "BBQ Pit Boys" was born.
A large part of these cooking channels' allure resides in their lack of network TV polish. Most of the YouTube stars had no prior film or broadcast experience; they worked day jobs and never dreamed that YouTube could become a full-time gig. These humble beginnings add a feeling of intimacy to their videos, even if they've since upgraded to higher-end production equipment.
Ahlgren, whom many viewers may perceive to be Southern but who is actually a Connecticut native, keeps himself out of the show as much as possible because he wants the focus to be on the food rather than on an elaborate persona. That's why he and his fellow barbecuers wear sunglasses and cowboy hats that cover most of their faces, Ahlgren says. Still, voice-over companies have sent him job offers.
The man behind the shades used to run a small publishing company, but after he became a YouTube partner six months into making videos, the website became his "entire life." The company sent him new cameras and marketing ideas, and Ahlgren's subscriptions swelled to half a million. But the gist of the show hasn't really changed. It's still a group of big guys huddled around a grill, drinking and making things with beer.
"I've been approached by six network producers about doing shows for them," Ahlgren says. "But I ultimately reject because I want full editorial control. You know how it is: fake drama TV. I refuse to make us a 'reality' show."
Becoming mired in the corporate politics of mainstream entertainment is equally unappealing to the London-based "SortedFood," which was similarly built from a tight-knit friend group with a passion for good eats. The channel's four stars _ Jamie Spafford, Ben Ebbrell, Barry Taylor and Mike Huttlestone _ have known each other since they were 11 years old.
"Their concept is just four friends cooking, and they make viewers feel like, 'These are also my buddies,' " says Shachi Phene, 25, a "Sorted" subscriber who lives in New York City. She appreciates that the YouTubers respond to comments and incorporate suggestions from viewers into their recipes. "From the beginning," Phene says, "they've been open about not always having it completely right."
That humility might be one thing lacking in TV chefs such as Bobby Flay, who has stylized himself as an unequivocal expert. Meanwhile, Spafford says "Sorted" is more concerned with starting conversations among viewers than being a monolithic brand.
No wonder, then, that "there's no anger or shouting at people."
In 2007, a recent film school graduate returned to Tokyo from Los Angeles. A young Japanese man trying to make it in the entertainment industry, he had worked on several movie sets, but he never got his big break.
Today he is the producer of "Cooking With Dog," one of YouTube's most popular cooking channels, with more than 1 million subscribers. The channel stars Francis, a well-behaved gray toy poodle, and an enigmatic Japanese woman simply referred to as "Chef." Some suspect that she is the producer's mother, but he would neither confirm nor deny that theory, choosing to remain anonymous himself for fear of destroying the show's mystery.
So while the channel has an American fan base that's even larger than its Japanese one, you won't be seeing Chef or Francis on a late-night talk show anytime soon.
"Cooking With Dog" is among several YouTube channels that have amassed audiences around specific cuisines. Personalities such as Emily Kim, a.k.a. Maangchi (recently heralded as a Korean Julia Child by the New York Times), Manjula Jain of "Manjula's Kitchen" and Tasha Edwards of "The Sweetest Vegan" tailor their recipes to viewers interested in gaining a deep understanding of cooking styles that otherwise don't have a mainstream outlet in the United States.
Online video has the advantage of customizing its output for target audiences. "There's nothing fundamentally new about the phenomenon," says Dan Gillmor of Harvard's Berkman Center for Internet and Society. "We've been using online forums for a long time for the same purpose: to take a deep dive into arcane or niche subjects."
Take Rosanna Pansino, the star of a YouTube baking channel called "Nerdy Nummies,"which has more than 4 million subscribers. "We bake all things geeky," says Pansino, whose recipes have included Captain America ice cream sandwiches and a Grumpy Cat cake.
The 30-year-old Seattle native grew up baking with her Italian nonna and playing video games with her sister, so "Nerdy Nummies" combines two of Pansino's childhood passions. She previously worked in entertainment, with stints as a hand double as well as a Cheerios cheerleader on "Glee," but quickly became immersed in online media after uploading a successful how-to video for a Super Mario Star cake recorded on an $80 Flip camera.
"Creating content on YouTube is like having 4.2 million friends that I never want to let down," she says.
These niche channels can be highly personal, as they generally showcase recipes that the YouTubers grew up on or developed after a significant life change. Before Kim started her channel in 2007, she worked as a counselor to Korean immigrants in Toronto, helping families cope with the shock of relocation and all its challenges. Now a resident of New York City, she sees her YouTube channel as performing a similar function: Through sharing recipes, she has been able to bridge cultural distances and help Korean Americans stay connected to their roots.
Immigrant children, who watch "Maangchi" and "Manjula's Kitchen" to learn how to make the food of their parents' native countries, make up a substantial part of the channels' audiences. They lovingly call the hosts "Mom," a fitting term of endearment because the women grew up making food for their families in South Korea and India.
As an elementary school student, Kim made simple dishes for her younger siblings, such as the kimchi stew and pan-fried fish that now serve as many YouTube subscribers' introductions to Korean cooking.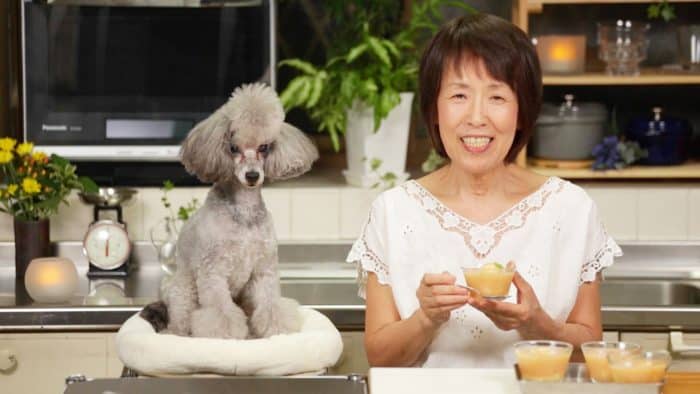 Or, in some cases, to cooking, period. Kenneth Moore, a 29-year-old Washington, D.C., resident, says his meals consisted of crockpot chili and scrambled eggs before he came across Maangchi. The always-chipper cook makes elaborate recipes look simple, encouraging her viewers with all the energy of a Zumba instructor.
"Anything that I cook now _ even if it's quinoa patties _ it's because of Maangchi," Moore says. "She showed me the basics, and my love of cooking I can attribute to her."
On the last Sunday of June, a crowd of 80 stood around the Alice in Wonderland statue in New York's Central Park, carrying packages of food from venues all over the city. They were gathered to meet the members of "SortedFood," who had organized a scavenger hunt for the New York stop of their Lost and Hungry tour.
Kathleen Wong, 16, waited nervously by the bronze Mad Hatter. She had been an avid watcher of "Sorted" for two years, and now she would see them in person. When she came face to face with the team, Wong says, "it was exactly how they are in their videos. Just really silly and fun." She even got a hug and a fist pump from Huttlestone, her favorite member.
For years, YouTube cooking channels have been organizing meet-ups for their subscribers around the world. Outside of these planned interactions, they're also being recognized on the street. Recently, a couple approached Kim at a Korean supermarket while buying ingredients for her fried chicken recipe.
But although a lot has changed for these YouTubers since they started out with little more than a spotty Internet connection and a camcorder, they insist that the driving force behind their work hasn't changed.
"My intention is only sharing delicious food," Kim says. The deals for cookbooks _ the latest, "Maangchi's Real Korean Cooking," was released this May _ sponsorships and newfound celebrity? That's all icing on the rice cake.
© 2015, The Washington Post