Roses? Breakfast in bed? Hand-made cards? Sure thing. But for many eager-to-please offspring hoping to hit the mark this Mother's Day, the safest bet is taking Mom out for a scrumptious dessert, and sweet-toothed San José has plenty of those to go around.
We wracked our brains. We traveled to the ends of the Earth (okay, Escazú). We sampled until we could sample no more. Here is our list of the six tastiest indulgences in the Central Valley. What did we leave out? Please let us know. And drop a couple slices by our offices.
Our countdown begins:
6. Bomba de chocolate – Il Panino
Did we have you at "chocolate bomb"? Really? We didn't? Well, Il Panino's take on this widespread favorite is right on the money, with a molten center that's to die for.
₡4,600 (about $9). Escazú, El Paco. Mon-Thu: 8a.m. – 12a.m. Fri-Sat: 8a.m.- 2a.m. Sun: 9a.m.-12a.m. 2228-8606/Il Panino Website.
5. Torta chilena – Da Noi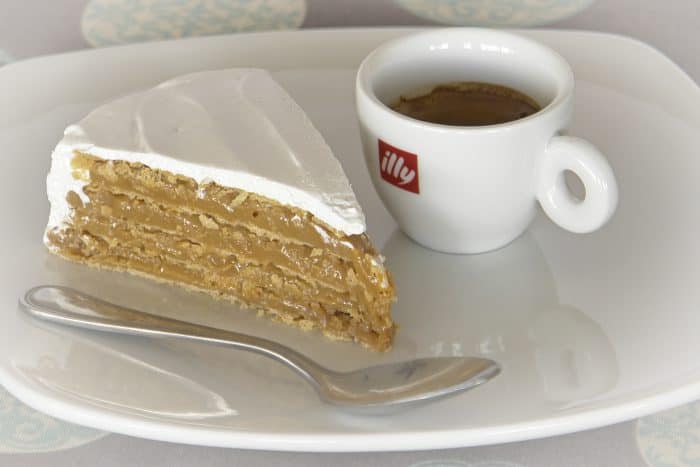 You can't go wrong with a torta chilena. Oh, wait. You can. Like many hugely popular desserts, this one is often half-heartedly prepared; you might find mediocre, gummy dulce de leche and chalky pastry layers. However, a truly delicious torta chilena is food for the Gods, and gelatería Da Noi hits it out of the park. Flaky, fresh, decadent – Mom will thank you.
₡2,450 per slice and ₡17,500 whole. Construplaza, Guachipelín, and Multiplaza del Este. 11 a.m. – 9 p.m. 2215-4138/Da Noi Facebook page.
4. Pie de limón griego– Restaurante Mediterráneo
This classic lime or lemon pie is available in most any café in the land, but this one is in a class all its own. Our tasters declared it fluffy and airy, yet strangely soft and melty; creamy and rich, sweet yet tart. Hold on – we're going to go get one right now.
₡3,900 (about $8). Escazú, 800 meters west of the intersection of San Rafael and old road to Santa Ana, in front of Plaza del Río. Tue – Sat: 12 m.d. – 3 p.m. and 6 p.m. – 9:30 p.m. Sun: 12 m.d. – 6 p.m. 2289-8153/El Mediterraneo Facebook page.
3. Tartaletas and pan de chocolate – Chez Christophe
OK, we're back. Looking to bring Mom dessert at home, or to add something sweet to that breakfast tray? Go to beloved bakery and restaurant Chez Christophe and buy, well, anything, but these are two of our favorites. The pan de chocolate and a little vase of flowers will bring a smile to anyone's face.
₡12,320 (plate for 6). Escazú, across from El Paco. 7a.m. – 7p.m. 2228-2512/Chez Christophe Facebook page.
2. Paleta Kalú – Kalú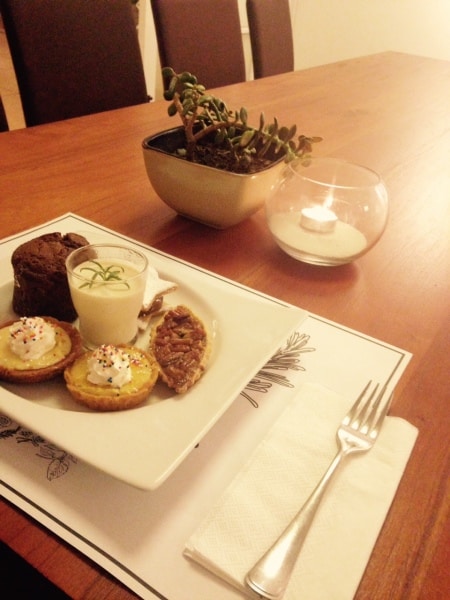 This one stands out from the pack for sheer wow factor. Kalú's creator, renowned chef Camille Ratton, has long been known for her desserts, and this platter unites six mini desserts of the kitchen's choosing for your sampling pleasure. This might include creations such as the Cahuita Pie (lime, banana, chocolate), the Torta Mandorla (blueberry-pear cake with almond cream), or the classic tarte tartin.  Add to this the calming sight of Kalú's garden courtyard and a selection from the wine list and you've got yourself a lovely Mother's Day outing.
C7,200 (about $14). Barrio Escalante, 50 meters east of Parque Francia. 8 a.m. – 7 p.m. 2253-8426/Kalú Website.
1. Alfajor – Artemesia
We're going basic – but orgasmic – for our #1. East-side family bakery Artemesia produces many wonders from its ovens, and its alfajor is the most wondrous of all. It's two unbelievably flaky and crumbly shortbreads that appear to contain an entire stick of butter each, united by the best dulce de leche in town. An alfajor is more or less a very robust sandwich cookie, but trust us – this is a cookie that says, "Thanks for 30 hours of labor." Lead your madre to the nicest view you can muster; put one of these in her hand (on a plate, because they're so rich that they tend to disintegrate); in the other, put a steaming mug of hot Costa Rican coffee fresh out of the chorreador; in front of her, the good book she put a bookmark in before she had kids and hasn't picked up since. Now back away quietly, exit the house, come back in four or five hours – and drop the mic, because you just aced Mother's Day.
₡700 (about $2). San Pedro, 125 meters east of the Rotonda La Betania. Mon: 11 a.m. – 6 p.m. Tue-Fri: 7:30 a.m. – 6 p.m. and Sat: 7:30 a.m. – 5 p.m. 2280-7997/Artemesia Facebook page.