The dawn detention of several FIFA leaders and a corruption raid on its headquarters on Wednesday rocked world football's governing body two days before its leader Sepp Blatter seeks a new term.
Eduardo Li, a FIFA executive committee member from Costa Rica, was among seven people arrested at the luxury Zurich hotel where they were preparing for a congress starting Thursday. All now face deportation to the United States on charges of accepting more than $100 million in bribes.
U.S. authoities said nine football officials are among 14 people facing charges over the longstanding corruption.
Separately, Swiss police seized files and emails at the FIFA headquarters as part of an investigation into the awarding of the 2018 World Cup to Russia and the 2022 tournament to Qatar.
See: World Cup sponsors Coke, Visa also concerned about Qatar labor conditions
The 2010 vote by FIFA that attributed the events has been surrounded by widespread allegations of fraud. A spokesman said Wednesday though that there was no question of changing the venues.
FIFA spokesman Walter de Gregorio said Blatter is not involved in the investigations and that the presidential vote would be held as planned on Friday.
"The timing is not great," de Gregorio told reporters. But he added that "FIFA welcomes actions that can help contribute to rooting out any wrongdoing in football."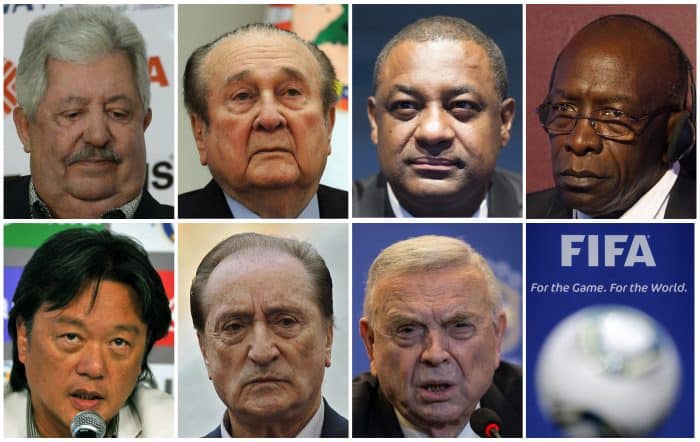 Blatter relaxed 
Blatter has been the overwhelming favorite to win a fifth term at the head of the multi-billion dollar body. But the events could swing many votes.
His only challenger, Prince Ali bin al Hussein, a FIFA vice president from Jordan, called the arrests "a sad day for football."
Prince Ali and European federation chiefs say a change of leadership is now urgently needed to save FIFA's tainted image.
See: FIFA now officially an international joke
The FIFA spokesman said Blatter was "relaxed" about the future fallout from the investigation.
"He isn't dancing in his office," de Gregoria told reporters. "He is very, very calm, he sees what happens. He is fully cooperative with everybody."
Swiss police gave a surprise 6 a.m. wakeup call to FIFA Vice-President Jeffrey Webb, from the Cayman Islands, and other six officials at the luxury Baur au Lac Hotel. A U.S. Department of Justice statement said seven people were detained.
U.S. Attorney General Loretta Lynch said the investigation "spans at least two generations of soccer officials who, as alleged, have abused their positions of trust to acquire millions of dollars in bribes and kickbacks."
Webb is head of the CONCACAF North and Central American confederation and a longstanding ally of Blatter. U.S. police also raided the CONCACAF headquarters in Miami.
Li and Eugenio Figueredo, president of South American football governing body Conmebol from Uruguay, were also among those detained.
Police in plain clothes took the room keys from the reception and went to the rooms of the six, the New York Times said. The operation was carried out peacefully, it added.
The Swiss Justice Ministry said those detained were  suspected of accepting "bribes and kick-backs between the early 1990s and the present day."
A ministry statement said that representatives of sports media and sports marketing companies allegedly paid bribes "in exchange for the media rights and the marketing rights for competitions in the United States and South America."
The seven could agree to be extradited immediately or challenge the move in court. The U.S. Justice Department said the detained officials could face up to 20 years in jail.
The Swiss raid on FIFA's headquarters formally opened an investigation into the 2018 and 2022 World Cups that FIFA itself asked for in November.
Police are to question 10 members of the executive committee who took part in the 2010 vote while they are in Zurich for the Congress, officials said.
Qatar has strongly denied any wrongdoing linked to its bid. A former FIFA vice president from the Gulf state, Mohammed bin Hammam, was banned for life from FIFA because of corruption.
A former U.S. attorney, Michael Garcia, investigated the World Cup bids. He left FIFA because it refused to fully publish his report.
In May, Blatter denied he was a target of an FBI corruption investigation and that he had no fear of going to the United States.
He said he would probably go in 2016 for a football tournament there and to Canada next month for the Women's World Cup.
The denial came after an ESPN television documentary said the Swiss official was afraid to go to the United States because of the FBI investigation.
Related: Qatar is building seven 'cities' just to house its World Cup migrant workers