See also: Archbishop Óscar Romero: Another step on the path toward sainthood
SAN SALVADOR, El Salvador – Cheers rang from a crowd of hundreds of thousands Saturday as former Archbishop Óscar Romero, whose defense of the poor and repressed divided both his nation and the Church, was beatified.
Officials estimated some 300,000 worshipers attended the massive ceremony on San Salvador's main square, where Pope Francis's envoy, Ángelo Amato, conferred the title of "blessed" on Romero, putting him one step from sainthood.
Waving flags and decked out in T-shirts printed with Romero's face, jubilant crowds carrying placards and photos of the archbishop came out for the event.
Amato read a letter from the Pope proclaiming to the crowd that Romero "henceforth is called blessed."
"By virtue of our apostolic authority, we empower the venerable servant of God, Óscar Arnulfo Romero Galdámez," with the honor, Amato said.
The huge crowd applauded following the declaration, a choir sang, and a giant portrait of Romero was unveiled to audience cheers.
Four presidents and delegations from 57 countries paid tribute to the man nicknamed the "Voice of the Voiceless," who was shot through the heart by a sniper on March 24, 1980 while delivering mass in a hospital chapel.
Amato said the date would be celebrated as Romero's feast, part of a Catholic tradition that associates each day with one or more saint.
The late archbishop's younger brother, Gaspar Romero, represented his family on stage, with some 100 members attending the event.
"As a family, we are honored by this gift given to us by our Lord through the Pope, we now have a saint in the family that everyone already calls Saint Romero of America," said 85-year-old Gaspar.
For some, Romero's beatification secures his place in history.
"We all feel indescribable joy for his beatification. We never met Monsignor Romero in life, but our parents have told us about him and his legacy," said 21-year-old Carmen Ayala.
Others were there to celebrate his core principle of defending the needy.
"Today we glorify the bishop who championed the poor and whose truth prevailed over lies," said Juan Flores, wearing a Romero shirt.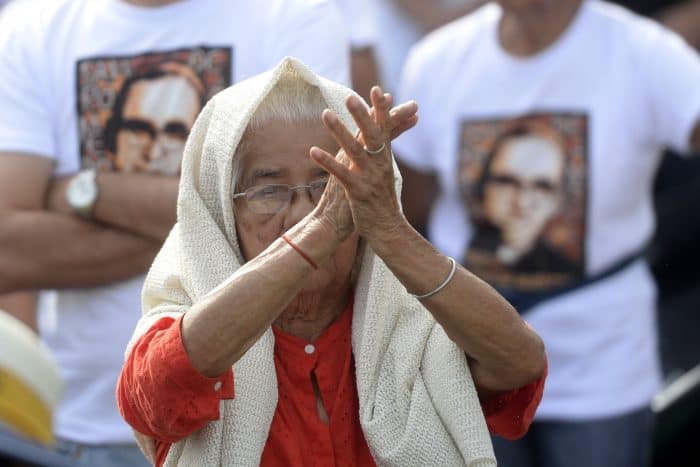 An inspiration and a martyr
U.S. President Barack Obama welcomed Romero's beatification, calling him an inspiration and a martyr.
"He was a wise pastor and a courageous man who persevered in the face of opposition from extremes on both sides," Obama said in a statement. "He fearlessly confronted the evils he saw, guided by the needs of his beloved pueblo, the poor and oppressed people of El Salvador."
U.S. Secretary of State John Kerry called Romero "a courageous defender of human rights," congratulating the people of El Salvador for the beatification of a man who guided them at "a time of deep division and sorrow."
Security was tight at Saturday's gathering, with helicopters and military airplanes hovering over the proceeding.
On Friday, thousands joined a rain-soaked procession, walking two kilometers (1.2 miles) to the crypt in San Salvador's cathedral where Romero's remains lie.
The movement to make Romero a saint was long resisted by conservative Catholics and the Salvadoran right, who saw veiled Marxism in his sermons eulogizing the poor and radio broadcasts condemning government repression.
The petition languished for years at the Vatican's Congregation for the Causes of Saints, finally moving forward in February when Pope Francis named Romero a martyr for the Church, one of the paths to sainthood.
Though Romero remains controversial in El Salvador, criticism is more muted than in the past.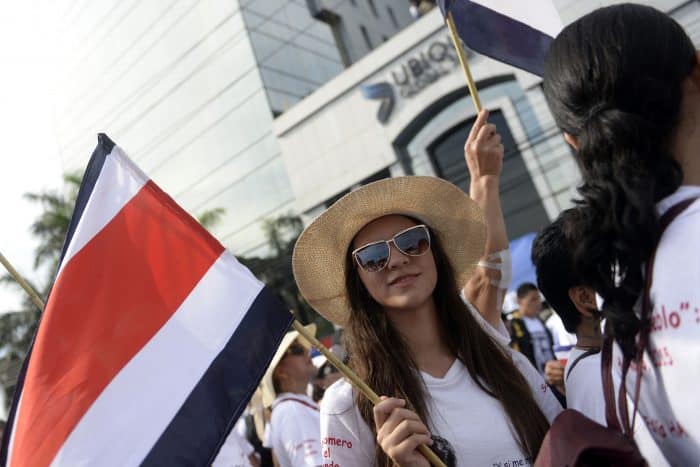 Even El Salvador's right-wing ARENA party showed its support for the archbishop in a Saturday newspaper advertisement.
"We join the celebration of the Catholic Church in the beatification of Archbishop Romero and share his message of reconciliation," the ad read.
But not everyone at Saturday's gathering joined the praise.
"Outside of El Salvador, he has the image of a saint, but here he is known as a figure who sowed division among Salvadorans," said 28-year-old businessman Alberto Mojica.
Romero's assassination occurred at the outset of El Salvador's civil war, and propelled the country deeper into a brutal conflict that raged until 1992, when the right-wing government signed a peace deal with the leftist guerrillas of the Farabundo Martí National Liberation Front (FMLN).
No one was ever convicted of Romero's killing, but a U.N.-sponsored truth commission concluded it was carried out by a right-wing death squad under the orders of Roberto D'Aubuisson, a former army officer who died the year the war ended.
See related: Romero: The long journey to martyrdom, a timeline