https://www.youtube.com/watch?v=SiO6-5Qj4Zs
LAS VEGAS, Nevada – Floyd Mayweather and Manny Pacquiao meet Saturday in a fight many thought would never happen — but which came together thanks to the determination of U.S. entertainment power player Leslie Moonves.
After years of false starts and finger-pointing, the twisting road to the spectacle set to shatter all boxing records for viewership and revenue wound through many locales, from the exclusive reaches of Beverly Hills to NBA courtside seats in Miami.
According to Pacquiao promoter Bob Arum, Moonves — the chief executive of CBS Corporation — kept the train on the rails.
"It started when Les Moonves came to my house," said Arum, the founder of Top Rank Promotions.
"He visited me on a couple of occasions to tell me that he wanted to make this fight happen."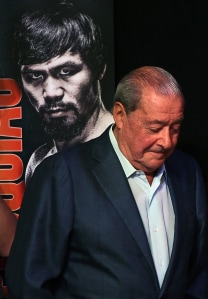 Obstacles and conflicts
A fight between two of the most talented fighters of their generation — unbeaten U.S. fighter Mayweather and Filipino icon Pacquiao — seemed a no-brainer.
But despite the clamor of fans worldwide and the potential financial bonanza, contractual obstacles and personality conflicts long prevented the match-up from becoming a reality.
Talks for a 2010 clash between the two foundered amid acrimony.
Fingers were pointed as to which fighter might be ducking the other as the parties squabbled over various issues — the last unresolvable difference a mutually acceptable pre-fight drug-testing protocol.
In the intervening years, the chances of scheduling the fight didn't seem to improve.
At least back then, both fighters had a loose deal with telecaster HBO, but in 2013, Mayweather inked a six-fight, 30-month deal worth more than $200 million with Showtime — meaning the two fighters were now contracted to rival networks.
Arum has denied that lingering animosity between himself and Mayweather — who bought himself out of a Top Rank contract and now fights under the banner of his own Mayweather Promotions — played a role.
"I have no animosity with Floyd Mayweather," Arum says. "Floyd has always remained a good friend. I have nothing whatsoever bad to say about Floyd as a person."
Nevertheless, the two have often traded barbs in the media, and in 2013, Mayweather declared he would never work with Arum.
Between Pacquiao and Mayweather themselves, the scars of prior disputes remained, even after a 2012 out-of-court settlement put to rest Pacquiao's lawsuit over Mayweather's accusation that he doped on his way to his unprecedented eight world titles in eight weight divisions.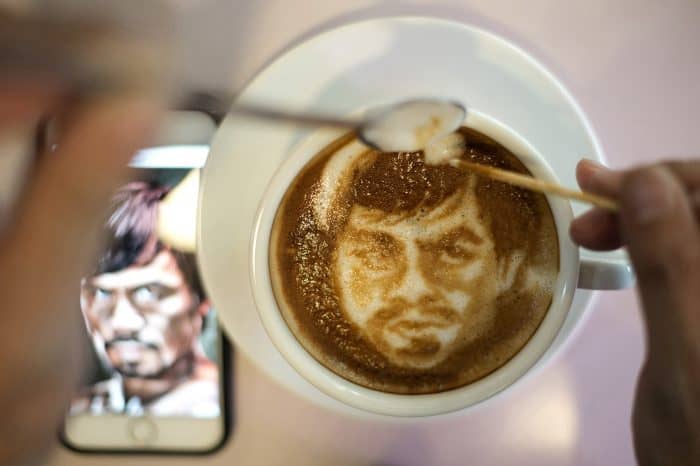 Moonves to the rescue 
Despite the occasional Twitter tease, the needle didn't seem to be moving until Moonves stepped in through the back door — introduced to Pacquiao trainer Freddie Roach last October by a waiter at a Hollywood restaurant.
Moonves, whose CBS is the parent company of cable outlet Showtime, was leery but approached Arum.
"He wanted me to go to Manny and discuss with him the purse that would be acceptable," Arum recalled.
"We had frequent dialogue. I felt confident that it was going to happen because Moonves would do whatever he could to make it happen."
Moonves remained a go-between in the tortuous talks as one by one the hurdles were overcome.
"Both sides realized how important this fight would be," Moonves told the Los Angeles Times. "There was a real desire on everyone's part to get this done."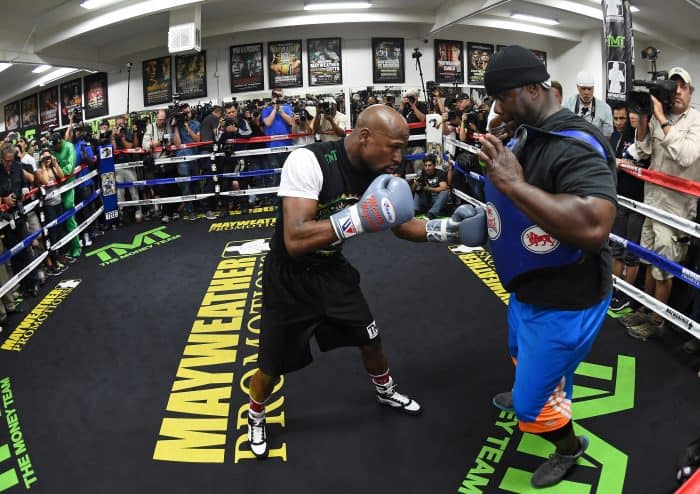 Chance meeting 
Even the elements played a part — in January, winter storms stranded Pacquiao in Miami, where he had judged a beauty pageant.
The rabid basketball fan decided to take in a Miami Heat game, and came face to face with Mayweather at courtside.
The two agreed to a private meeting that Arum said was key to the deal.
"It wasn't until the basketball game in Miami where Manny was convinced that Floyd wanted the fight," he said.
In Miami, Pacquiao recalled, he let Mayweather know he would agree that the American was the "A" side and Pacquiao the "B".
Tensions linger  
As social media hummed with rumors, details were hammered out. Showtime and HBO came to terms on a joint production and re-broadcast rights.
But even the February 20 announcement of the fight didn't put an end to all tensions.
The usual pre-fight trash talking from training camp was accompanied by more serious issues — the most threatening a dispute over precious ticket allocations to host venue the MGM Grand, Top Rank and Mayweather Promotions that was finally resolved less than a fortnight before the fight.
Pacquiao, whose concessions have included taking the lesser part of a 60-40 purse split, thinks it's worth it.
"This fight is very important to me and in boxing history," he said. "We don't want to leave a question mark in the mind of boxing fans."
Mayweather faces Pacquiao on Sat., May 2, on PPV, 7 p.m. Costa Rica time.