https://www.youtube.com/watch?v=Qbpbz1moGYM
For at least one day every year, Selena-ness is next to godliness.
That's because March 31 marks the anniversary of the death of Selena Quintanilla-Pérez, the Latin pop star and Queen of Tejano, who was murdered by the president of her fan club, Yolanda Saldivar, 20 years ago.
Across the U.S. state of Texas Tuesday, fans remembered Selena with talent shows, concerts, movies, look-alike contests, even memes that feed Selena's iconography and keep it alive. There's so much of it that University of Texas professor Deborah Paredez published "Selenidad: Selena, Latinos, and the Performance of Memory" in 2009, hoping to understand what made Selena and her music so meaningful to so many, especially after her death at age 23. "Selenidad" refers to the cultish following that enveloped her.
Earlier this year, Selena's hometown of Corpus Christi announced plans for the first annual Fiesta de la Flor, a music festival held in her honor that kicks off April 17. In 2005, the 10th anniversary of her death, more than 70,000 people filled Houston's Reliant Stadium to see "Selena ¡VIVE!," a concert which included performances from Gloria Estefan, Paulina Rubio, the Kumbia Kings — the band led by Selena's brother A.B. Quintanilla — and Los Dinos, the band Selena fronted. According to Univision, it was the highest-rated Spanish-language television special ever. There are smaller, unaffiliated celebrations such as the Gone But Not Forgotten Selena tribute, a celebration Saturday in Dallas's Oak Cliff neighborhood. And of course, there's the 1997 biopic starring Jennifer Lopez that still draws exuberant tweets from Selena fans when it re-airs.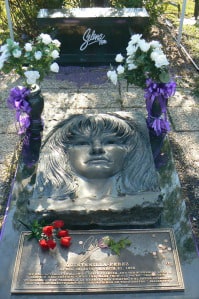 The alt-weekly San Antonio Current revisited her memory in its latest issue with a deep-dive cover story. All issues were quickly snapped up. The Selena Museum, housed in her family's Q Productions studio, was closed Tuesday in her honor.
Selena's legacy has been burnished in unexpected ways, too, from the success of bachata superstar Romeo Santos to the styling of 17-year-old Kylie Jenner, whose life never even overlapped with Selena's.
"Like Selena, I was Tejana and grew up in south Texas," the Texas professor Paredez said in an interview produced by her publisher, Duke University Press. "I knew, as a Tejana, among other Latinos, you're certainly not seen as cool. You're sort of seen as the backward, country cousins who can't really dance. And so I was really interested in how she became so tremendously popular, just among even among other — a range of Latinos — even within the hierarchies of Latino culture. I was amazed that she was able to find such a tremendous following. … Part of that happened through her own virtuosity, part of it happened through the size of her body and the way it signified different kinds of body types in Latino America. Part of it happened through marketing, all kinds of forces, certainly."
One of the things that characterized the mystique of Selena in the 1990s was that she could be an enormous superstar, and yet simultaneously unknown to vast swaths of America. The context of her fame was not unlike the king of bachata, Romeo Santos. Bachata is rooted in the sugarcane fields of the Dominican Republic, and for a long time, carried similar bumpkin associations that Tejano has. They both share influences from cumbia. Historically, it's seen as traditional, as poor people's music. Wrote Ana Castillo in The Nation in 1995:
"Selena's life, not death, offered joy to so many who admired her — from field workers to the urban unemployed, poor brown and countless others who elsewise may have given over to despair. Because of her example and because of the ground she broke, although exoticized, relegated to subculture status, perceived as foreign in the country of her birth yet sticking stubbornly to the language of her heart, I am certain that the void she has left will be filled with a new Selena."
But Santos is young, handsome and fashionable, and holds fast to his Dominican and Puerto Rican roots — he told the New York Times last year, when he sold out Yankee Stadium (not once, but twice) that he had little interest in recording an English-language album. Instead, he's brought artists such as Drake and Nicki Minaj to bachata.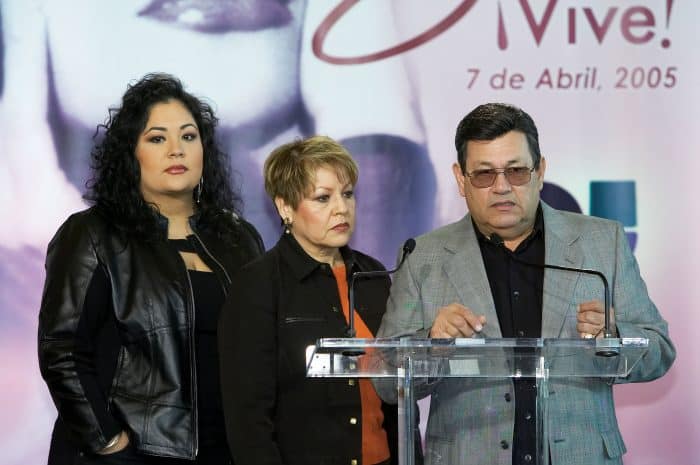 Like Selena, he has the it-factor, imbuing bachata with hipness and making it appealing to young Latinos with roots that span Mexico, Central America, and the Caribbean.
But Selena's influence on modern culture extends past her musical legacy and into one that centers around aesthetics. Just take a look at recent pictures of Kylie Jenner. While the whole of the country is enveloped '90s nostalgia, for everything from acid-wash denim — dear lord, why — to a renewed interest in Timberlands, either Jenner or the people styling her have zeroed in on some of Selena's classic looks and translated them for Jenner.
The hair, and her much-discussed lips, in matte red, scream "Selena," albeit in the much more heavily contoured manner that she and her sisters so often favor.
In a shoot this month for Remix Magazine, Jenner was styled in a white bustier and high-waisted pants to evoke the memory of Selena's distinctive stagewear.
Before she died, Selena set her sights on crossing over, recording "Dreaming of You," her English-language album that was released posthumously in 1995. And cross over she did — "Dreaming of You" debuted at No. 1 on the Billboard chart. But rather than her singles from "Dreaming of You," it's the ear-wormy goodness of "Como la Flor" or "Bidi Bidi Bom Bom" that have lived on, and that remain in rotation at Latin stations all over the country, and that can be heard blaring from car stereos everywhere, but especially in her hometown of Corpus Christi.
"There is never going to be another Selena," Lopez said in an interview with Billboard. "And as far as music goes, that's what's beautiful about artistry. Somebody is going to come along and move the world in a different way."
Así recordamos a la inolvidable Selena a 20 años de su muerte. Fotos http://t.co/Ew9w5J2q1T pic.twitter.com/izN1lN5FPL

— People En Español (@peopleenespanol) March 31, 2015
© 2015, The Washington Post