Envision Festival concluded its fifth edition on March 1st without any major hitches despite record-breaking attendance of about 5,500 people. Eco-conscious attendees from all over the world descended upon the Southern Pacific town of Uvita for the sold-out event, where they danced with abandon to carefully cultivated musical acts, watched skilled circus-like performances, collaborated on creative projects, participated in world-class yoga workshops, released negativity and adopted positive intentions, shared ideas with fellow attendees about how to successfully live alternative lifestyles outside of the cubicle, and attended conference-like classes on topics such as permaculture, environmental sustainability, and alternative medicine.
Over the years, as a repeat Envision participant, I have witnessed the production team meet and overcome new challenges and obstacles, always striving to outdo the previous year's event. It's evident that there is a lot of love and hard work that goes into producing this festival; its organizers are obviously trying to create an experience that goes way beyond a good concert. They're trying to create an opportunity for individual and group growth and advancement, with encouragement and tools to live this experience outside of the festival.
Finding itself on several international top ten lists this year, the phenomenon made a fabulous impression on every participant I spoke to. Despite going without drinking water for hours and without showers for days, festival-goers said they wanted to come back to Envision next year and that it was the best or one of the best festivals they have ever attended.
But how to convey to the reader what the Envision experience is all about? In keeping with Tico Times tradition over the past few years, and because there is no better way to paint the picture of this unusual experience, I will tell the story in the words of those who attended, by sharing a few of the remarkable things I overheard at and around Costa Rica's 2015 transformational festival: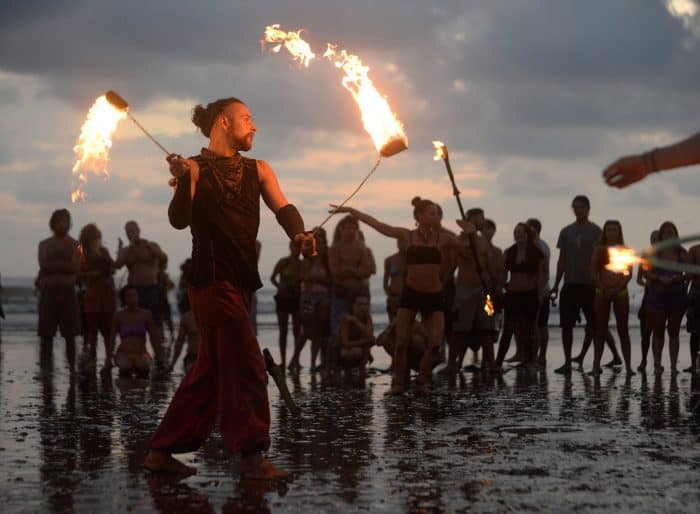 Before the festival in a typical Costa Rican restaurant, an Envision ticket holder is bouncing from table to table voluntarily bussing tables for the overwhelmed staff: "Can I take that for you? Is it empty?"
In the long line to enter the festival grounds, an inspired festival-goer performs for a group of amused ticketholders also waiting in line: "Trust me: I'm a professional magician. That's why I'm standing in a line doing magic tricks."
"It's so funny – I can't tell what is sweat and what is shimmer."
"Does anyone want to be a snake for a minute?"
A woman says: "I feel like a princess."
A few passersby respond in unison: "You are a princess!"
"We're gonna go grab some face paint, glitter, and tequila!"
From a yoga instructor: "Drop your pelvis and get sexual with the ground. Gyrate those hips. Ohhh yeah."
"It smells like India over here."
"I hope she can harness all that energy."
"Is my tail on straight?"
"Deodorant wasn't on the packing list."
"This is the world we are going to build together."
 "I sweat glitter. I even find it in my poop."
"Ravercise!"
"I've never seen anything like this in my life before!"
"Have you seen my unicorn seahorse?"
"I haven't had a shower in days."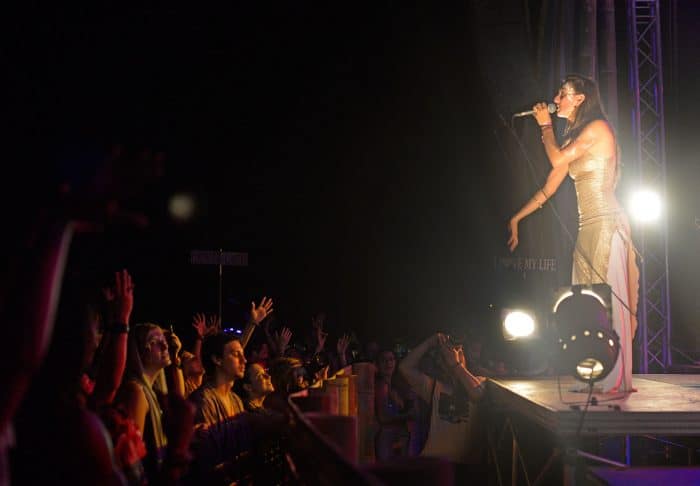 "There's only one Mad-Dog."
"This music is perfect. I've been to many festivals but this one is the best."
"There's a troll living under this bridge. I'm serious. He's short, covered in mud, and he crawled out from under it and tried to sell me something."
From an attendee, not a hired performer or artist: "I'm going to paint my body purple, jump up on stage, and paint those canvases with my body."
 "I haven't slept in days so I'm a fuzzy warm kind of happy."
"Sometimes you put a chip in your mouth and just can't chew."
"I'm such a princess, but not a princess princess. I'm a manly princess, in glitter spandex shorts, ugga ugga."
From a chef: "There was one day that we had no fire, but I had to cook. We dug a hole in the ground and I cooked like 40 fish underground. It was delicious."
"Sleep is not in our vocabulary. Didn't you read the fine print?"
"It took me eight hours to get food last night because I went back to my group and found them all on acid. They couldn't make a decision and every time we tried to leave one of them would wander off and disappear."
"I lost my princess lovefire crown."
"We're going to go to places where no one has ever been before."
"I just want to sit on everybody's face right now. These are the sexiest people I've ever seen."
"I'm starting to turn in to a troll, I've been on this bridge far too long."
 "I miss seeing the guy who plays with flowers."
"Sometimes I don't know where my nose is."
"We found a dog in the lost and found. Twice."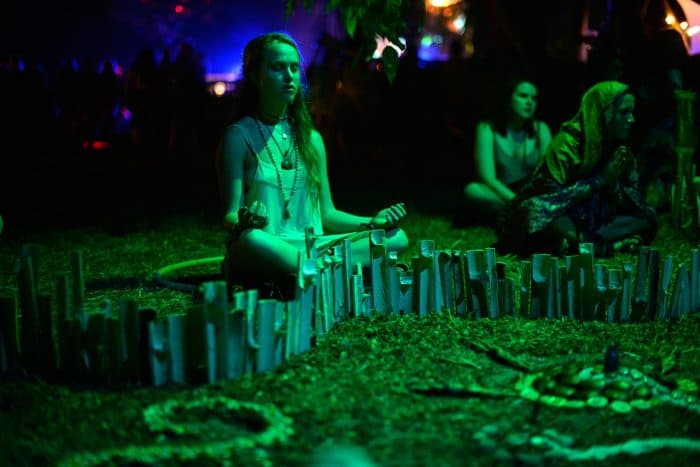 "I just said your name three times and you manifested!"
From a Uvita resident talking to her neighbor: "I went by the beach and it looked like everyone was having a lot of fun. They were all young and GORGEOUS. I wish I could have gone inside to see it."
"I passed out in someone's tent. I don't know who. All I know is some girl was outside asking 'Who's in there? Who's in there?' I mumbled something incoherent and then she said, 'Ok, well, just don't steal anything.´ Then I went back to sleep."
"I call it my unicorn jetpack. I have to go back to the stables every once in a while to reload."
"Don't should on yourself. It will get real dirty, real fast."
Woman to a DJ: "What kind of music are you playing tonight?"
Smiling DJ responds before an intensely energetic set: "I'm gonna scare the shit out of those hippies."