Photo gallery: Eugenie Clark, Sarasota's 'Shark Lady.' http://t.co/2ahk4UeSN2 pic.twitter.com/CXpc6fUV7F

— Herald-Tribune (@HeraldTribune) February 25, 2015
Eugenie Clark, a world authority on sharks who defied society's expectations about women's roles in science and the much-feared underwater creatures she studied, died Feb. 25 at her home in Sarasota, Florida. She was 92.
Clark, an ichthyologist and oceanographer, divided much of her career between the University of Maryland and the Mote Marine Laboratory in Sarasota. The cause of death was lung cancer, Mote officials said.
An unabashed adventurer and prolific researcher, Clark traveled the globe to study reef fish, sharks and mollusks. She made 71 dives in submersibles, a practice that is still done by a relatively small number of explorers, plunging at one point to 12,000 feet.
Clark, whose mother and stepfather were Japanese, grew up immersed in a family and culture that valued the sea and all its life forms. Her career preceded Rachel Carson's book "The Sea Around Us" and oceanographer Jacques-Yves Cousteau's book and documentary "The Silent World," which in the 1950s helped generate broad interest in undersea research.
As a leading champion of marine life and conservation, Clark criticized the 1975 fright movie "Jaws" and other popular depictions of sharks that gave them "a bad rap." For decades she had traveled with them underwater, studied them in captivity and saw them as a way to understand the globe's vast seas.
The first time Clark encountered a massive, pregnant whale shark, off Baja California, she grabbed onto a fold of skin under the animal's dorsal fin and rode it for an extended period of time, holding onto her air tank as it slid off her back.
"It was incredible," Clark said in a 2008 interview, recalling how she lost sight of her colleagues who had remained on their vessel. "When I finally came up, I could barely see the boat, I was so far away."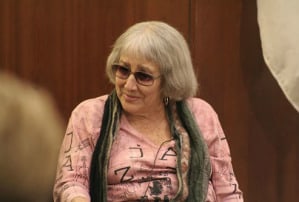 One of Clark's most significant academic contributions came in the late 1950s, when she proved sharks could be trained to pick a target based on visual clues and could learn tasks as quickly as mammals. She eventually published her findings in the journal Science.
"It was the first demonstration of sharks' intelligence," said Robert Hueter, director of Mote's Center for Shark Research, in an interview. "Before, people thought these were primitive, dim-witted animals, and she showed they were capable and had an important role in the marine environment."
She discovered "sleeping sharks" in underwater caves in Mexico and Japan, a finding that challenged the conventional wisdom that all sharks had to move constantly in order to get the oxygen they needed to survive, and proved that the Moses sole, which lives in the Red Sea, produces a natural shark repellent.
Clark received awards throughout her lifetime, including the Explorers Club Medal and high honors from the American Society of Oceanographers and the National Geographic Society. She wrote more than 175 articles for academic and popular publications, said Mote spokeswoman Hayley Rutger.
Eugenie Clark was born in New York City on May 4, 1922, to an American father and Japanese mother. She was 2 when her father died and her mother, Yumico, had to work on weekends to help support the family. When Eugenie got a little older, her mother would sometimes drop her off on Saturday mornings at an aquarium in lower Manhattan. She was fascinated and persuaded her mother to buy her a 15-gallon tank one Christmas. She amassed a collection of fish.
"I knew more about produce from the sea than any of my schoolmates, and my reports in school, from kindergarten on, amused and shocked my classmates and teachers," she recalled in a 1994 article in the journal Environmental Biology of Fishes. "I told them how we ate with chopsticks, had rice and seaweed for breakfast, raw fish, octopus, and sea urchin eggs for supper, and cakes made from sharks."
She graduated in 1942 from Hunter College with a zoology degree. After working as a research assistant at the Scripps oceanography institute in California, among other jobs, she completed her doctorate in zoology in 1950 at New York University, with a focus on sperm competition in poeciliids.
Shark Biologist, Eugenie Clark passed away yesterday, aged 92. Her curiosity and her courage was an inspiration. pic.twitter.com/iEOJg4zgFr

— Science (@ScienceAllDay) February 26, 2015
In New York City, Clark befriended members of the Vanderbilt family who admired one of her earliest books, "Lady With a Spear," and who invited her to visit their southwest Florida estate. In 1955 she moved with her second husband, surgeon Ilias Konstantinu, and their two young daughters, "to start a marine laboratory in a little wooden building, 20 x 40 ft., in Placida," she wrote in her 1969 book, "The Lady and the Sharks."
Clark served as the lab's founding director until 1967, the year it was renamed to honor major benefactor William R. Mote.
Konstantinu and Clark had four children together, all of whom survive her, and all of whom learned to scuba dive. She also has one grandson.
Her first marriage, to Jideo Umaki, ended in divorce, as did her marriages to Konstantinu, author Chandler Brossard and National Institutes of Health scientist Igor Klatzo. Her fifth husband, Henry Yoshinobu Kon, whom she married in 1997, died in 2000.
Watch Clark search for Hexanchus griseus, the six-gill shark, in the waters off Bermuda aboard the IUC submarine Pisces:
In 1968, Clark joined the zoology faculty at the University of Maryland and taught there full-time until 1992. At that point she became emeritus and continued teaching for several years before rejoining Mote — now based on City Island in Sarasota — in 2000.
Along with underwater explorer Sylvia Earle, Clark inspired dozens of young women and men to enter the field of marine biology. Until a few months ago, she came into Mote most days, Hueter said, regularly hosting young scientists in her office.
Stanford University marine science professor Barbara Block, one of the world's foremost shark trackers, described her in an email as "one of my early mentors" who worked on making powerful acoustic tags to study six-gill sharks off the coast of Bermuda. Working with the Woods Hole Oceanographic Institution's Frank Carey, the team developed a pressure-resistant acoustic tag that could track sharks nearly 5,000 feet below the water's surface.
"She was a life force very much at the top of her academic game — shark biologist, explorer, diver, academic, professor and leader," Block wrote. "We called her the shark lady."
Clark was also a tireless defender of sharks. "Lady With a Spear," published in 1953, detailed her early expeditions in Micronesia and the Red Sea; she later worried that journalists assumed she collected large sharks by spearing them.
She filmed dozens of documentaries and television specials and wrote for National Geographic and other publications, often about the need to protect shark species and their surroundings.
Clark took her last ocean dive in 2014 in the Gulf of Aqaba, in the Middle East. During a 2008 interview at Mote, when she was describing how deep she had recently gone, she quickly admonished a reporter to keep that figure secret.
"Don't mention how deep I went," she said. "I'm not supposed to do that anymore."
And with that, Clark threw back her head and started to laugh.
Eilperin's books include "Demon Fish: Travels Through the Hidden World of Sharks."
Read more:
Illegal shark fins destined for Hong Kong seized at Costa Rica airport
Costa Rica joins Ecuador in calling for more protection of endangered shark species
Dead shark finding precedes 'Black October,' the worst month for illegal fishing in Costa Rica
© 2015, The Washington Post