CARACAS, Venezuela – Masked intelligence service agents arrested the mayor of Caracas on Thursday over what socialist President Nicolás Maduro alleges was a coup plot financed by the United States and directed "from Washington."
The United States immediately dismissed the claims as "baseless and false" and said it was an attempt to blame Washington or other countries for the problems of Venezuela, which is facing economic collapse — culminating in critical shortages of basic goods — and rocketing crime.
The arrest of Mayor Antonio Ledezma, a veteran opposition figure, comes nearly a year to the day of that of Leopoldo López, an opposition leader detained amid fierce protests against  Maduro that turned deadly.
The 59-year-old Ledezma tweeted in the afternoon that government police were on the way to his office to arrest him. Agents, who arrived on armored vehicles, shot in the air to disperse a crowd that gathered nearby.
Mi oficina pretende ser allanada en este momento por varios policias del régimen, torre Exa, el Rosal.

— Antonio Ledezma (@alcaldeledezma) February 19, 2015
His wife, Mitzy Capriles, took to his Twitter account to report his detention shortly after, and blamed Maduro.
"They took Antonio Ledezma away. … They didn't give him time to say anything," she wrote.
No sabemos dónde ha decidido Maduro llevarse a Antonio. Permaneceremos aquí en el SEBIN para velar por la salud y los derechos de mi esposo

— Antonio Ledezma (@alcaldeledezma) February 20, 2015
Hago responsable a Nicolás Maduro de la vida de mi esposo. Lo persiguen por hablar con la verdad y luchar por la DEMOCRACIA.

— Antonio Ledezma (@alcaldeledezma) February 20, 2015
Les escribe Mitzy, la esposa de Antonio. Exigimos saber YA el paradero y estado de mi esposo. Se burlan de nosotros aquí en el SEBIN.

— Antonio Ledezma (@alcaldeledezma) February 20, 2015
Ledezma is a senior opposition figure who was elected in 2009 as mayor and reelected in 2013, although the Maduro government has moved to restrict his powers.
Maduro calls Ledezma "The Vampire" and has accused him of being behind last year's anti-government protests that left 43 dead.
Maduro linked him to a supposed coup plotted by military aviation officials with what Maduro alleges is help from the United States.
Like his predecessor Hugo Chávez, Maduro frequently announces supposed coup attempts and blames right-wing forces, as well as the United States and Colombia.
Last week, declaring that plans to overthrow him had been thwarted, Maduro said there was "an attempt to use a group of military aviation officers to provoke a violent event."
Maduro said the coup would have seen an attack by a Tucano aircraft against the presidential palace or another target and the plan was supposedly financed by the United States and directed "from Washington."
Linking that and the Ledezma arrest Thursday, Maduro said: "Mr Ledezma, who today by order of the prosecution was captured, must be processed by Venezuelan justice to answer for all the crimes committed against the country's peace, security, constitution."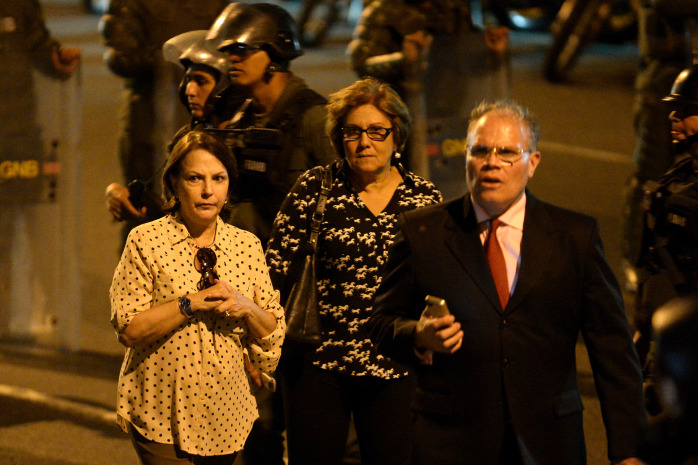 'Baseless and false'
Almost simultaneously, U.S. State Department spokeswoman Jen Psaki rubbished the Maduro claim.
"The allegations made by the Venezuelan government that the United States is involved in coup plotting and destabilization are baseless and false," she said in a statement.
She added: "The United States is not promoting unrest in Venezuela nor are we attempting to undermine Venezuela's economy or its government. We remain Venezuela's largest trading partner.
"Venezuela's economic and political problems are the result of the policies of the Venezuelan government."
Maduro's popularity has plummeted to 20 percent over the past year, as the oil-rich country's many woes have grown worse.
About 300 people gathered Wednesday to demand the release of López, one year after he was jailed for allegedly inciting the mass protests that roiled the government.
López's wife, Lilian Tintori, led the rally in the same Caracas plaza where the Harvard-educated politician surrendered to security forces on February 18, 2014 in the midst of a demonstration.