Most know Jenga as a party game involving shoddy construction at a miniature scale that is accompanied by shrieking as the pieces inevitably come to a magnificent crash. For Mike Lukowiecky and Janine Schneider, it's a revolutionary architectural design concept they call project ONE.
At JSARQ, a design studio for architecture and interior design, "We wanted to create a beautiful structure with movement; one where you could recognize each apartment and give the owner a personal experience," explains developer Lukowiecky. "We want to challenge all the other residential buildings by accomplishing different layouts with balconies, cantilevers and terraces, which the concept of the design allowed us to do."
This challenge was made easier, at least financially, thanks to approximately $10 million in investments. The future location of Rohrmoser within San José evidently proved enticing to investors who foresee continued urban growth among professionals in search of an exciting, modern design. Of course some other logistics were considered for the location.
"Rohrmoser will have the highest price per square meter of residential projects in the city in the next 10 years," says architect Janine Schneider. Two parks, Nunciatura Apostólica and Parque del Café, are the most exclusive blocks inside Rohrmoser, and thus the most attractive for future vertical residential projects. Our location is right in front of Parque del Café, offering both views – west and east."
Naturally designing and developing such a unique concept comes with its fair share of challenges. The building will come with 11 levels, a gym with a panoramic view and dedicated spaces for yoga and Pilates, and an infinity pool measuring 35 square meters, with yet another view.
"It's all about adding value," says Schneider. "We develop projects to add value to our city. We don't think in terms of profits. We think in value. If we add value with our project, the project will be profitable."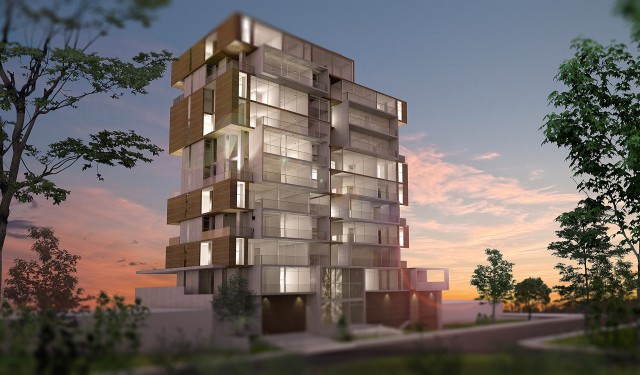 A key ingredient to adding value is to innovate.
"Every time you want to innovate there are a lot of challenges, but challenges are what makes the difference between just another project being developed and the project we are developing."
For Schneider and Lukowiecky, these challenges end up becoming the reasons to celebrate their successes at the end and something for residents and passersby to admire.
"Our building is one of a kind. There is nothing similar to our design in the whole country. Our project will be a piece of art in the middle of the city."
Some might not like or understand the design concept. And that's just fine for Schneider.
"Either you understand it or you don't," she says.
But she ultimately believes that San José should strive for these kinds of development projects if it wants to be considered a world-class city. The future, she says, is not in "just another apartment."
Josefinos can expect to see the future by the end of 2016.