GLENDALE, Arizona — A 10-point fourth-quarter deficit and one of the most imposing defenses in recent NFL memory stood in the way of a fourth Super Bowl triumph for the New England Patriots with Bill Belichick as their coach and Tom Brady as their quarterback.
That, apparently, was no big deal to the Patriots. Brady threw a pair of touchdown passes in the game's final eight minutes, giving him four for the game. New England rallied and then held on, although just barely, to defeat the Seattle Seahawks, 28-24, Sunday evening in a memorably competitive Super Bowl.
The Patriots trailed 24-14 until Brady's touchdown passes to wide receiver Danny Amendola with just less than eight minutes remaining and to wideout Julian Edelman with just more than two minutes left.
The Seahawks, trying for a second straight Super Bowl title, drove to the New England 1-yard line, aided by a remarkable juggling catch by wide receiver Jermaine Kearse while he was on the ground. But Patriots cornerback Malcolm Butler, the defender victimized by Kearse's catch, intercepted a pass at the goal line with 20 seconds to go, as Seattle quarterback Russell Wilson attempted to connect with wideout Ricardo Lockette for a winning touchdown.
The Patriots managed to run out the clock from there, but not before the two teams engaged in an on-field scuffle that resulted in the ejection of Seahawks linebacker Bruce Irvin.
Brady threw for 328 yards on 37-for-50 passing and was named the game's most valuable player. He passed Joe Montana as the career leader in Super Bowl touchdown passes. Brady also threw two interceptions.
Brady had first-half touchdown passes to wide receiver Brandon LaFell and tight end Rob Gronkowski as the Patriots had early leads of 7-0 and 14-7.
Wilson threw two touchdown passes for the Seahawks. Tailback Marshawn Lynch ran for 102 yards and a touchdown. Wide receiver Doug Baldwin had a touchdown catch. None of that came as a surprise. The stunner was unheralded wideout Chris Matthews, who had zero NFL catches when the day began, contributing four catches for 109 yards and a touchdown.
The Patriots won their first Super Bowl since the 2004 season. They'd lost their two Super Bowl appearances since then, both to the New York Giants.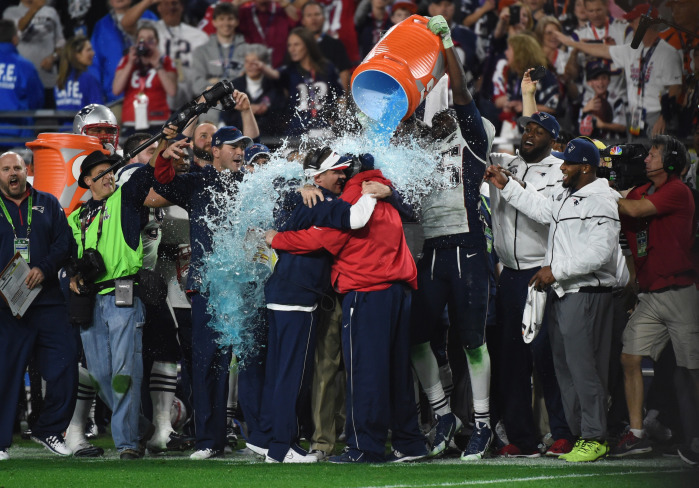 Two weeks of discussion about the under-inflated footballs that the Patriots used, according to the NFL, in the first half of the AFC title game finally gave way to a highly compelling Super Bowl matchup.
The Patriots had hoped the variety and adaptability of their offense would enable them and Brady to avoid a fate similar to what another legendary quarterback, Peyton Manning, and the Denver Broncos experienced in last season's Super Bowl, in which they were dominated by the Seattle defense and overrun by the Seahawks.
New England controlled the play in the game's early going. But just like the Seahawks' opponent in the NFC championship game, the Green Bay Packers, the Patriots failed to take full advantage of their opportunities and Seattle remained within striking distance.
Brady had success early on by throwing short, quick-hitting passes that enabled him to release the football before the Seattle pass rushers arrived. New England managed a first down on its opening possession before punting, then moved to the Seattle 10-yard line on its second drive.
On a third-and-six play from there, Seahawks defensive end Michael Bennett managed to put a solid hit on Brady just as Brady delivered a pass. Brady's throw went directly to Seattle's nickel cornerback, Jeremy Lane, who made the grab at the goal line for an interception.
But Lane's left arm was bent grotesquely when he fell on it at the end of his return. His exit from the game quickly had an effect on the proceedings.
The Patriots picked on Seattle reserve cornerback Tharold Simon while driving to a touchdown on their next possession. Edelman sprinted away from Simon for a 23-yard catch and run on a third-and-nine play, and LaFell cut to the inside against Simon's coverage to catch an 11-yard touchdown throw by Brady.
The offensive production picked up from there. Matthews had a 44-yard catch, on only Wilson's second completion of the game, to set up Lynch's three-yard touchdown run.
Brady and the Patriots crafted a nice drive in the two-minute offense to take the lead. The Patriots got a favorable matchup with Gronkowski going one on one against linebacker K.J. Wright, and exploited it with Brady lobbing a 22-yard touchdown pass to the tight end.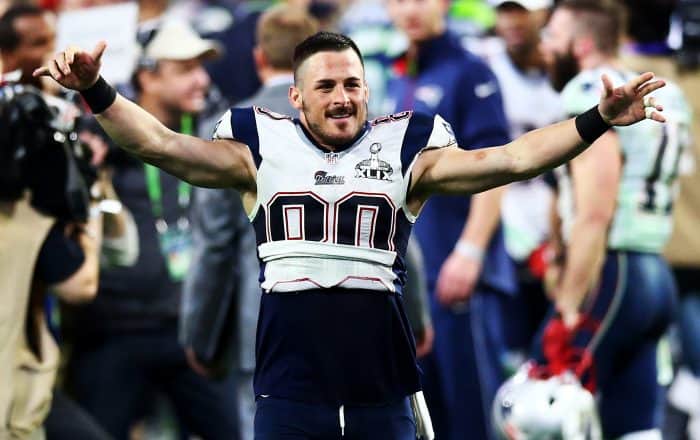 But the Seahawks were left with 31 seconds on the first-half clock, and they took advantage. A 23-yard catch by Lockette, plus a 15-yard face-mask penalty against Patriots cornerback Kyle Arrington, gave Seattle a first down at the New England 11-yard line with six seconds left.
Seahawks Coach Pete Carroll gambled and left his offense on the field for one shot at the end zone. It paid off, with Wilson lofting a touchdown pass to the 6-foot-5 Matthews working against 5-11 cornerback Logan Ryan.
Matthews was back at it early in the third quarter, making a 45-yard catch to set up a 27-yard field goal by kicker Steven Hauschka that gave the Seahawks their first lead.
Brady threw a pass toward Gronkowski in the middle of the field but had it intercepted by Bobby Wagner, the Seattle middle linebacker who played only 11 games during the regular season yet somehow was given one vote for the league MVP award.
Wagner's interception led to Wilson's three-yard touchdown pass to Baldwin, who lost Patriots cornerback Darrelle Revis when Revis collided with an official in the middle of the field. A television camera caught Seahawks cornerback Richard Sherman signaling Revis's jersey number, 24, on the Seattle sideline.
But the Patriots weren't done, as Brady's five-yard touchdown pass to Amendola with just less than five minutes remaining got them to within 24-21.
© 2015, The Washington Post