On a recent sunny morning, cats, dogs and their owners met in a local laundry in Quebradas de Alajuela. This was a neighborhood campaña de castración, or 'castration campaign,' and the laundry facility made a perfect operating room: There was a sink, electricity, and windows for light and air. The tables where owner Rosa Alvarez sorts and folds her laundry were convenient for the operating tables, and an open space near the clothesline became a recovery room with 'doggy blankets' spread over newspaper. A low ledge nearby provided seats.
Dogs came on leashes to keep them from running away while cats came in carriers, mesh bags and bird cages. There was a variety of sizes and colors, and many of the animals had been abandoned and rescued. Nervous 'moms' and 'dads' kept watch over their pets and traded talk. Being neighbors made it more comfortable to converse. Although the flyers said 8 a.m., most of the patients were there early. They wanted to get it over with and go home.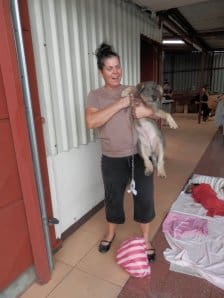 Dr. Blas Rivas, an Alajuela veterinarian and a leader in this type of spay-neuter campaign, arrived with two helpers. While he explained to the waiting crowd about the operation and how to care for the animals as they recovered, the two assistants began tranquilizing the dogs and cats. By 8:30 the first operation was underway. With the helpers preparing the patients, Dr. Rivas moved from one table to the other, operating and putting in the finishing touches.
See also: Marine Corps wraps gifts for its first Toys for Tots program
This type of operation is simple, involving a small incision and using a type of hook to facilitate the 'snipping.'  It is clean and safe, and the animals recover easily. Soon the recovery area began to fill up.
Several of the animals were males. While spaying females has become more popular as castration campaigns reach outlying areas, people are still reluctant to neuter males. Kaiser's owner brought him after he tore through a screen door trying to follow a female, and Scooby got neutered because he spent more time on the road than at home.
Castration campaigns bring out a lot of animal stories. At a previous campaign, a man brought a huge cat named Rasputin. The man seemed proud of all the scratches on his arms and neck; he also brought along some toys to amuse Rasputin while waiting. Because the animals may not eat since the night before, one woman admitted that she couldn't eat either if her dog couldn't. Once, someone brought a dog that was such a mixed breed that everyone started guessing what kind of bloodlines it had. "It looks kind of like a rabbit," said one. At another campaign a man asked about bringing a horse.
Then there was the teenager who was shocked to hear about Siamese cats. She asked if they were stuck together.
About two hours after arriving, the first animals were ready to go home. Still groggy when they began creeping along, they received a final check from the doctor and grateful parents scooped them up for the trip home. One big dog went home in a padded wheelbarrow.
Castration campaigns have reached most of Costa Rica. They are announced by flyers on light posts and walls, in central markets and stores. They are held in community halls, in private homes, in veterinary clinics and other available places that have water and electricity and space. The cost is low, around ¢10,000 (approximately $20), and some campaigns require a certain number of animals, about twenty, but some attract as many as fifty or sixty.
Although castration of pets is more common now, it still hasn't reached everyone. Karin Haud, founder and director of Animales de Asís, a rescue and adoption center, laments that "too many dogs and cats, especially pregnant females, are abandoned. All the refuge centers are full, and still we find abandoned mothers with pups and kittens," she says. "There are not enough veterinarians to do the campaigns and not enough funds to help all." Haud and others who work with animal rescue advocate municipalities sponsoring free spaying.
If you'd like to help the animal population and reduce the number of unwanted animals, call the number on the next flyer you see and ask if they need help transporting animals after the operation, providing 'doggy blankets' or with funds to help a low-income family's pet.
Read previous "Giving Back" stories here.
"Giving Back" is an occasional series that seeks to draw attention to the work of nonprofits, community organizations and other donation-based initiatives around the country. Nominations for the series can be sent to us at kstanley@ticotimes.net.