TECOANAPA, Mexico – The family of the first victim identified among 43 missing Mexican students lamented the dashed dreams of the aspiring teacher Sunday, calling for justice in the case that has shocked the country.
Attorney General Jesús Murillo Karám confirmed that Alexander Mora, 19, was identified among charred remains found in a landfill and a nearby river, bolstering suspicions that all 43 young men were slaughtered by a police-backed gang in September.
Authorities had sent 17 badly burned remains to an Austrian medical university last month after the Guerreros Unidos cartel confessed to executing the students in the southern state of Guerrero.
Murillo Karám said more tests will be conducted on the remains sent to Austria that have still not been identified.
If all the students are confirmed dead, it would rank among the worst mass murders in a drug war that has killed more than 80,000 people and left 22,000 others missing since 2006 in Mexico.
The case has sparked nationwide protests, highlighted Mexico's struggle with corruption and undermined President Enrique Peña Nieto's assurances that his security policy was bearing fruit.
'Let justice be done'
At their humble home in the village of El Pericón, Mora's family remembered him as a cheerful youth who dreamed of becoming a teacher to help his widowed father.
"He decided to go to school, because it was his dream to be trained as a teacher, but his life was taken away," his father Ezequiel, a farmer, told AFP of his youngest of eight children.
Neighbors and fellow students have been paying visits to the tiny two-room house where the family displayed a small altar with candles, several photographs and a beach football, recalling his favorite hobby.
But locals lamented the fact that no government representative has yet to visit the impoverished mountain community of 1,800 people.
"Let justice be done because it cannot stay like this. My brother was not an animal that was killed," said his sister, Edith. "We are poor people who live in the countryside. We will give him a funeral as is done here, honestly, poorly."
Authorities say the aspiring teachers vanished after gang-linked police attacked their buses in the city of Iguala on September 26, allegedly under orders from the mayor and his wife in a night of terror that left six other people dead.
The police then delivered the young men to members of the Guerreros Unidos drug gang, who told investigators they took them in two trucks to a landfill, killed them, burned their bodies and dumped them in a river.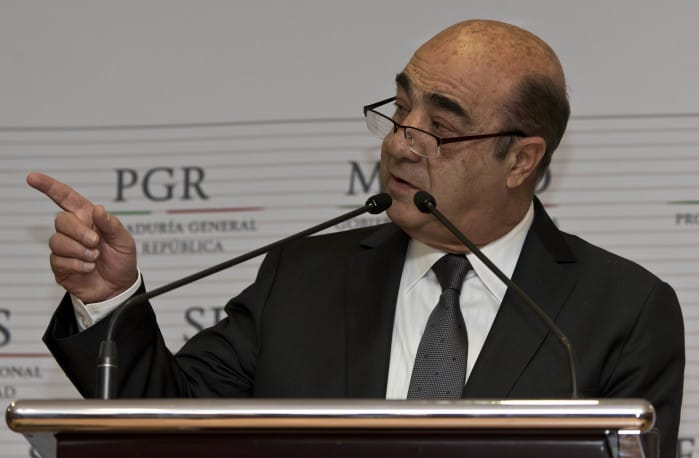 More DNA tests
Murillo Karám said only Mora's remains, found in the San Juan River, were identified so far among those analyzed by Austria's Innsbruck University.
He stressed that the identification process "reinforces the historical reconstruction" suggesting that the young people were massacred by drug hit men.
Independent Argentine forensic experts hired by the families to assist the authorities said, however, that "for the moment" there was not enough physical evidence to connect the two sites where the remains were found — the river and the landfill near Iguala.
"The evidence that links both sites for now is essentially through testimony," the world-renowned Argentine Forensic Anthropology Team said in a statement, adding that the search for the students should continue.
Family spokesman Felipe de la Cruz had already declared Saturday that relatives would continue looking for the 42 others.
The parents have rejected claims the students were killed, demanding that the government find them alive and leading their own searches around Guerrero.
Authorities have arrested 80 people over the deaths, including Iguala's mayor and his wife, and are still searching for 11 other suspects.
Peña Nieto vows reforms
The case has turned into the biggest challenge of Peña Nieto's two-year presidency, shattering his attempt to move the narrative away from the drug war to his internationally acclaimed energy and economic reforms.
His approval rating has plunged to around 40 percent, the worst for a president in almost two decades.
The Mexican leader will host the Ibero-American Summit in the eastern city of Veracruz on Monday and Tuesday.
Last month, Peña Nieto unveiled a plan to replace the country's notoriously corrupt municipal forces with state agencies, but security experts say it fails to address corruption at all levels of government.