Costa Rica abolished its army 66 years ago. During national celebrations children and young people as the main protagonists carry the Costa Rican flag and proudly parade in their school uniforms. The image of a military parade with thousands of soldiers displaying their weapons and equipment is unknown to us.
Along with the principles of freedom and democracy, the force of reason has prevailed throughout Costa Rican history. The abolition of the military is one of those exceptional steps that led Costa Rica to become a fairer, more educated society able to meet the most pressing needs of its population, focusing on human development rather than strengthening its military capabilities.
Costa Ricans have reaped the benefits of a decision which marked its development as a nation. The resources that would otherwise have gone to the maintenance and purchase of military weapons are directed to causes that seek greater prosperity for the people.
During his visit to Costa Rica in late July, U.N. Secretary-General Ban Ki-moon stated that "for decades, Costa Rica has been a worldwide example in rejecting unnecessary military expenditures. Instead, the country bravely invested in health and universal education. The result has been less inequality and greater social peace. "
That fundamental decision, made on Dec. 1, 1948 and enshrined in the 1949 Constitution, currently in force, has forged generations of Costa Ricans who have never seen a war tank or a war plane on their territory. Costa Ricans will always aspire to carry schoolbooks rather than a rifle.
Through the unilateral renunciation of the use of force as a means of settling disputes, Costa Rica has privileged international law to safeguard its national interests, sovereignty and the rule of law.
This was reaffirmed by the President of Costa Rica, Luis Guillermo Solís, during the last General Assembly of the United Nations, when he stated that, "Costa Rica firmly believes and practices all aspects of international law; … this is the only way we know. Our only weapon has been and will always be international law."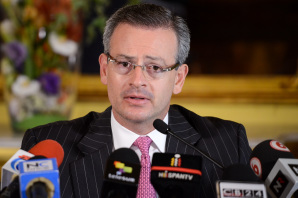 The abolition of the army in Costa Rica is part of a deep culture rooted in the best traditions of a peaceful and unarmed country, which dates back to 1877, when it abolished the death penalty and continued to push for new developments to ensure the peaceful coexistence among nations. This is reflected in the proposal for the Arms Trade Treaty (ATT) that Costa Rica, with a group of like-minded nations, has put forward. This is an international legal instrument that requires states to comply with strict regulations to ensure that arms transfers do not lead to the violation of human rights. The Treaty has been ratified by 50 nations and will enter into force in December. Undoubtedly, this represents a major contribution to humanity.
With a stroke of a hammer over a section of a former military facility, former President José Figueres Ferrer proclaimed the abolition of the army and announced that the building would be converted into a cultural center. This building currently houses the National Museum.
"We are staunch supporters of the ideal of a new world in America. In the land of Washington, Lincoln, Bolívar and Martí, today we say: Oh America, other peoples who are your children too, would offer you their greatness. Little Costa Rica wishes to offer you now and ever its heart, its love of civility, democracy, and institutional life," President Figueres said.
Costa Rica shares with the world her determination to abolish the armed forces and does so with the conviction of contributing to universal peace and security, principles that govern our foreign policy.
Manuel A. González Sanz is Minister of Foreign Affairs of Costa Rica.
See also: Costa Rica not alone as it waits for a new US ambassador