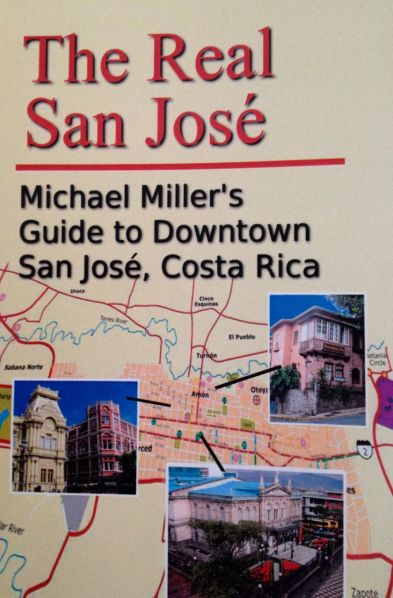 In the guidebook world, you have to be gutsy to title your book "The Real San José." Gritty travelers are always looking for the "real" experience in exotic places, but what they mean is "deep," "authentic," and "not touristy." Calling your own perspective "real" implies that everyone else is fake, or at least delusional. Such a bold name requires some seriously good advice.
Thankfully, U.S. author Michael Miller has done a commendable job of describing San José. The book is compact, conversational, and even has color photographs. Its 137 pages are divided into tidy chapters ("Your Passport," "Finding a Pharmacy"), and every one is useful.
There are plenty of field guides to Costa Rica, and San José always earns some ink. But Miller places all his focus on the downtown area, pinpointing the best museums, restaurants, markets, and cafés the city has to offer. After 25 years of regular visits to Cota Rica, Miller says he was inspired to write the book as a kind of retort: "I recently read a blog entry written by a high-maintenance young woman from New York City… She had spent a whole 24 hours in San José and she wrote about the city with an air of great disdain."
Miller concedes that Costa Rica's capital is "dirty, noisy, and chaotic," but his affection for the historic neighborhoods shines through. What is striking about Miller is his earnest tone: In his bio, Miller describes himself as a well-traveled, business-savvy Vietnam veteran who divides his time between Costa Rica and Florida. Where others might write "The Real San José" in the noirish style of Vice magazine, Miller sounds like a friendly neighbor offering advice over a picket fence.
Costa Rica is known for producing some of the world's best coffee. So, you would think that every place you go in San José would have great coffee. Wrong… If you are someone who appreciates a really good cup of coffee, you will want to know where to look. This is a short list of a handful of coffee shops in Downtown San José with excellent coffee. The first one might surprise you.
Indeed, McDonald's is a surprise, and it's the kind of recommendation that Condé Nast would never make. But Miller is unafraid to suggest the world's most infamous chain restaurant, because he has tasted the coffee, and the flavor impressed him. Mark it down.
It is no secret that most tourists – even intrepid backpackers – flee San José as soon as they can, and no one should blame them. Costa Rica is too big, too diverse, for one-time visitors to spend a lot of time in a crowded city full of cigarette butts. But for students, perma-tourists, and recurring guests, "The Real San José" is very helpful. Miller doesn't dedicate pages to Escazú or San Pedro, just places walkable from the Plaza de la Cultura. He makes a compelling argument that San José is worth exploring.
For this reader, the most vital chapter was "Laundry." As someone who constantly gets stuck in foreign capitals with a rucksack full of rancid clothes, I appreciated his directions to a local lavandería. As for dry-cleaning: "It might be cheaper if you fly back to Miami. I'm not joking." Now that's keeping it real.
"The Real San José" is available in area bookstores. For the Kindle edition, see the book's Amazon listing.