Inspectors from the National Animal Health Service (SENASA)  are struggling to manage more than 400 neglected dogs discovered during farm inspections following last week's phreatic eruptions at the Turrialba Volcano, northeast of San José. Although most of the dogs live on farms with their owners, SENASA officials said that many are malnourished.
"The conditions these dogs live in is very poor," said Allan Sánchez, SENASA's metropolitan area director. "Many of them are used for hunting and only fed occasionally by their owners."
SENASA officials have distributed 200 kilograms of dog food to the neglected animals and are conducting a massive spay and neutering operation in an attempt to control the population.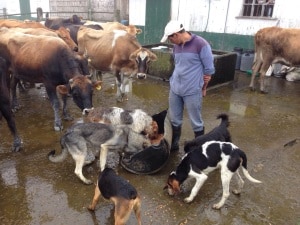 Exacerbating the dogs' poor health is the volcanic ash itself. Sánchez estimates that at least half of the dogs in the region have breathed in too much ash and are therefore vulnerable to lung sicknesses. SENASA is advising dog owners to keep their pets in the house or in barns to protect them from the ash. SENASA officials are now distributing medical supplies for dogs and livestock in the area.
While the majority of the dogs are in bad condition, SENASA has no legal right to remove them from their owners. Costa Rica decriminalized animal cruelty in 2002, and the lack of clarity in the current laws prevents SENASA or animal advocate groups from acting on most negligence cases.
Animal rights groups began protesting for stricter legislation in 2009, and in 2011 two animal cruelty bills were introduced to the Legislative Assembly. The bills are now being merged, and President Luis Guillermo Solís promised to make the bill a priority next month. If passed, the new animal mistreatment law would levy penalties on pet owners for negligence.
For now, the Turrialba Volcano dogs will remain with their owners, but SENASA is asking the public for dog food donations. For people interested in donating dog food, contact the  Turrialba United Association for Animals.