Café Rojo is cute. The red sign hanging from the iron gate is cute. The one-room dining room is cute. Slatted wood tables out front are cute. The waitstaff and cooks are cute. Even the place settings, with their simple-elegant plates and carafes of water stuffed with mint, gush with cuteness. But it's not the kind of cute that makes you gag. It is not saccharine or twee. Café Rojo occupies an old building in Barrio Amón, and the vintage windows and trim give the place a distinguished atmosphere. Rather, Café Rojo is fun – like a shy girl from Tacoma who plays vinyl records and rides a 1970s Schwinn.
Describing itself as a "cafetería," Café Rojo has a rotating menu printed on a single piece of xerox paper, and for such a classy bistro, the daily lunch deal is actually a deal: You can order one entrée, plus a soup or salad, plus a hot or fruit drink, for under ₡5,000 ($10). Unlike your corner soda, the menu is wide-ranging and gourmet. You would be hard-pressed to find a better platter of Pad Thai or Vietnamese bowl for the price. You complement these scrumptious meals with a variety of coffees and even hibiscus tea.
What really sells Café Rojo is the atmosphere, an urban-indie feel that manages to dodge pretention. You can share space with scruffy youths with skinny jeans and chain wallets and not feel out of your element. The music that plays from surrounding speakers is the stuff of old crooners. The staff smiles hospitably. The place is oddly located on a nondescript side street in Barrio Amón, so it feels like a secret, even thought it has stood there for a few years. During a workday lunch, the place isn't clogged with trendy fans, a risk that such places often run.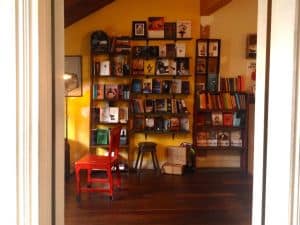 Across the corridor from the café you'll find Rojo's perfect neighbor, a tiny bookstore called Libros Duluoz. Also occupying a single room, Duluoz is snugly packed with shelves and (mostly) Spanish-language books. San José has a lively but microscopic literary scene, so it's a relief to find a book stall that avidly sells local authors: You'll find small-press volumes and zines, art books and lit mags, plus reissued and hard-to-find titles that only zealots would appreciate. Small as it is, Duluoz caters to book lovers. A true bibliophile could browse its selection for hours.
Folks are always talking about the up-and-coming nature of Barrio Amón, citing venues like AmonSolar and TEOR/éTica Gallery as signs of progressive development. These are indeed great places to frequent, and their staff are doing amazing things. But Café Rojo and Libros Duluoz are quieter signs. Here, you can feel proud to wear glasses. And the inventive sandwiches? The textured soups? That rare copy of Mario Levrero's "La Ciudad," standing temptingly on the shelf? Not just cute. Irresistible.
Café Rojo is located in Barrio Amón, downtown San José. Tue.-Sun., 12-7 p.m. Info: Company Facebook page. Libros Duluoz: Mon.-Thu., 10 a.m. – 6 p.m.; Fri. & Sat., 10 a.m. – 7:30 p.m.; Sun., 1-7:30 p.m. Info: Bookstore Facebook page.