https://twitter.com/EricLupher7News/status/523170686358286336/photo/1
The cruise ship carrying a Texas health-care worker who "may have" handled lab specimens from Dallas Ebola victim Thomas Eric Duncan is headed back to the United States after Mexican authorities failed to grant permission for the ship to dock off the coast of Cozumel, according to a Carnival spokeswoman.
The Carnival Magic had been waiting off the Mexican coast since Friday morning for its scheduled port visit. Mexican authorities still hadn't given clearance by noon, so the ship continued to its home port of Galveston, Texas, where it was due back on Sunday, according to Carnival.
The health worker, a lab supervisor who has not been named, has shown no symptoms of the disease but remains on board and in voluntary isolation, according to Carnival. "We greatly regret that this situation, which was completely beyond our control, precluded the ship from making its scheduled visit to Cozumel and the resulting disappointment it has caused our guests," read a statement from Carnival.
The Texas Health Presbyterian Hospital employee and a partner boarded the ship Oct. 12 in Galveston before the Centers for Disease Control and Prevention updated the requirement for active monitoring, the U.S. State Department said in a statement. Although the worker is healthy, the U.S. government had said it was working with the cruise line to get the ship back to the U.S. "out of an abundance of caution."
The employee did not come into direct contact with Duncan, the first Ebola patient diagnosed in the United States. However, she may have been exposed to his clinical specimens, the State Department said.
Carnival said it would provide $200 credits to guests aboard the ship and 50 percent discounts on a future cruise.
The news comes amid growing concerns after two nurses who cared for Duncan tested positive for Ebola.
Amber Vinson was diagnosed with Ebola earlier this week — a day after she flew with a fever on a Frontier Airlines flight from Cleveland back to Dallas. Since then, the CDC has contacted the 132 passengers who flew with her. However, officials said Thursday she may have shown symptoms as many as four days before they initially indicated. Now the CDC says it is busy tracking all passengers who were on her first flight to Ohio last week.
Nina Pham was diagnosed Oct. 11, just three days after Duncan died from the disease. She was flown Thursday night to the National Institutes of Health hospital in Bethesda, Maryland, after delivering an upbeat but tearful greeting via video.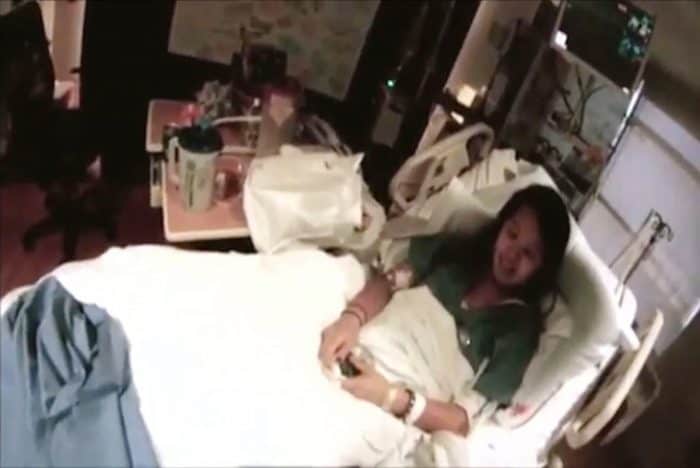 Pham and Vinson were among nearly 100 workers who cared for Duncan in the Dallas hospital. Psaki said that as part of the CDC's contract trace investigation, it was discovered that another employee of the Dallas hospital had left the country on a cruise ship.
Duncan died at the Dallas hospital Oct. 8. It's not certain what kind of lab specimen the hospital worker may have handled. Ebola is transmitted through bodily fluids such as vomit, urine, saliva, sweat, feces, breast milk and semen. And it's not clear what, if any, protective gear he or she was wearing at the time of contact.
As for the worker on the ship, the State Department said that at the time she boarded, CDC protocol called for "self-monitoring," including daily temperature checks.
"It has been 19 days since the passenger may have processed" Duncan's fluid samples, State Department spokeswoman Jen Psaki said in a statement early Friday morning. "The cruise line has actively supported CDC's efforts to speak with the individual, whom the cruise ship's medical doctor has monitored and confirmed was in good health. Following this examination, the hospital employee and traveling partner have voluntarily remained isolated in a cabin."
On Thursday, Daniel Varga, the chief clinical officer for Texas Health Resources, which oversees Texas Health Presbyterian Hospital, said in a statement submitted to a congressional committee that, "Today, every person at Texas Health Dallas who has had contact with a known Ebola patient is under active monitoring for 21 days after their last contact with the patient."
Reports from news outlets in Belize stated that the cruise ship Carnival Magic was offshore after the government of Belize learned that a U.S. hospital worker on board may have been exposed to Ebola and that the Belize Coast Guard was deployed to prevent the ship from going into port. The government there said the health-care professional "never set foot in Belize."
A Carnival spokeswoman, however, said the ship made its scheduled visit to Belize Thursday. "Passengers were free to disembark there for the day other than the guest and her traveling companion who are in voluntary isolation," she said.
In its own statement Thursday, the government of Belize said it "was contacted today by officers of the U.S. Government and made aware of a cruise ship passenger considered of very low risk for Ebola. … Nonetheless, out of an abundance of caution, the Government of Belize decided not to facilitate a U.S. request for assistance in evacuating the passenger through the Phillip Goldson International Airport."
While the Carnival Magic didn't dock in Mexico, some passengers aboard are still trying to enjoy their vacations, as shown by tweets from Eric Lupher, a reporter with Denver ABC affiliate KMGH who is also aboard the ship:
#ebola scare on my vacay. Still a party on the ship though we weren't allowed to get off in Cozumel.
© 2014, The Washington Post