Every once in a while, special people come along who think nothing of helping others. In Guanacaste, five Costa Ricans who lost their legs in accidents found their lives changed by an international network of committed people and organizations who guided them on the path to beautiful, superior new prosthetic limbs.
The unlikely story began with a chance encounter during a Costa Rican vacation. During his yearly four-month stay in the Pacific beach town of Tamarindo, Bart Van Vooren of Belgium met Jorge Pizarro Jain, a Costa Rican who had lost his leg after a rough encounter with a bull. Van Vooren immediately thought of his friend Jan Ruysschaert, who owns Vigo Prosthetics in Wettern, Belgium, and wondered whether they could help Pizarro get a top-of-the-line prosthetic.
Where was the prosthetics-company owner when his friend Van Vooren had this epiphany? He just happened to be in Costa Rica as well, a guest at Van Vooren's Tamarindo home.
"When I saw Jorge standing in the street, with a big smile on his face and walking with those crutches, I thought, 'I can give him a new leg because my friend Jan produces those,' Bart recalled. "It was easy to figure it out because Jan actually was staying at my house in Tamarindo, so the decision was made in a few hours."
After some discussion, Van Vooren and Ruysschaert came up with "Walk With A Tico," a project to seek out Costa Rican amputees who had been waiting for prosthetic legs from this country's national medical system (the Costa Rican Social Security System, or Caja), yet needed them right away to improve their quality of life.
"I have lived four months a year in Costa Rica for 25 years, and this is a country and people that have given me so much joy. It's time to give back," said Van Vooren.
The two men began reaching out to like-minded organizations to make their vision a reality. Through the Guanacaste-based nonprofit Culture, Education and Psychology for Infants and Adolescents (CEPIA), which works with low-income people in the area, Van Vooren and Ruysschaert connected with Courtney Gaw, a Tamarindo resident from the United States who is active in the community and was eager to help them find candidates. By working with CEPIA, the Costa Rican Center for Rehabilitation, the Do It Foundation, public hospitals and local friends, Gaw found some aspirants. A doctor flew in from Belgium to examine them and make the final selection of five. Together, Van Vooren and Vigo Prosthetics agreed to cover all costs.
And so it was that Keith Timpson Howell, Jorge Pizarro Jain, Warner Cepeas Bustos, Roland Barrantes Brown and Consuelo Juarez Pizarro ended up on a plane to Belgium in September to be fitted for prosthetic legs from Vigo Prosthetics.
Timpson lost his left leg this past February in an accident going home from work at Aqua Discothèque in Tamarindo. It was 5 a.m. and when he passed the police station, a car crossed into his lane and "crushed me so hard my leg was instantly lost in the accident," he recounts. He was first taken to the regional hospital in Nicoya and then to San José, but says he encountered a lack of understanding regarding his need for a new limb, and sensed he was in for a long wait. Without his leg, he couldn't work, and spent his time since the accident sitting around "doing nothing."
When he was selected to go to Belgium, he was ecstatic and became optimistic.
"With my prosthetic leg I'll just try to carry on my life. It won't be the same, but it will appear normal," Timpson said before the trip.
Once there, the five Costa Ricans were fitted with custom-made prosthetic legs, and spent days relearning how to walk. Over the course of the two weeks in Belgium, the Vigo technicians adjusted the legs several times, and the four men and one woman learned to use them with the assistance of professionals.
Once fitted and able to walk, the contingent had some time to explore Belgium and its culture. They rode horse carriages in Bruges, saw Gent in a boat, explored downtown Brussels, and sampled traditional Belgian food including mussels, waffles and chocolate. The group visited amputee soccer teams from Belgium and Holland for inspiration. The brave among them waterskied. Timpson even tried rock climbing, an activity he never did with two legs, but was able to accomplish now thanks to his benefactors and the new limb.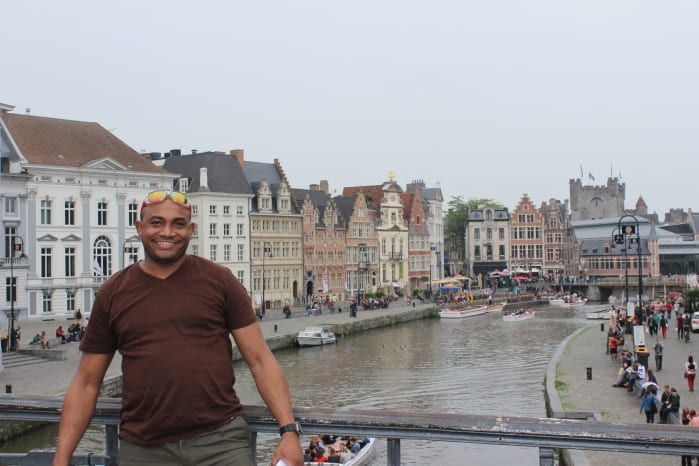 Upon their return to Costa Rica, the participants said they felt blessed by their experience and gift of new prosthetic legs, yet know that there is more work ahead. They continue therapy here, and the Caja will provide any support they need for maintenance.
"I'm happy, but not used to it. That will take time," reported Timpson. He's currently doing rehabilitation to learn to walk better with the prosthetic, because sometimes when he stands up his knee buckles and he falls. He's still suffering a little pain, because out of all the amputees in "Walk with a Tico," his accident was the most recent, and he just had another surgery two months ago.
Continued work with a therapist in Guanacaste should eliminate his difficulties. "I'm excited after all I went through to get this leg," he said.
Van Vooren, too, is optimistic about the future potential of the project's beneficiaries.
"I expect them to be 'pura vida,' to work hard and keep using the leg, because it needs commitment to reshape your body," he said. "I expect them to reintegrate into society. It doesn't stop with the leg. They need to commit to live, work and actually start a new life with it. It's a great adventure and challenge. The quality of life will totally depend on them; they will need determination."
There is talk now of continuing "Walk with a Tico," with more amputees getting the chance for prosthetics. Van Vooren, Ruysschaert and Gaw all agree that this program is a great opportunity to fill a need in Costa Rica, since many people experience a long wait for a new limb through the public-health system.
"It's amazing when you get involved," said Gaw. "You begin to see how many people need help."