Seventy years ago, Costa Rica was a very different place: The army still existed. Women could not vote. Races were segregated. The unstable government was spiraling toward civil war. Before 1948 and the rise of José Figueres Ferrer, Costa Rica's future was uncertain, and the nation could easily have become a dictatorship like others in Latin America.
The National Museum recently opened a curious new exhibition, "Conquistas Sociales en Costa Rica." While "conquista" in this context can be translated most accurately as "achievement," visitors will appreciate the victorious tone the exhibit gives to Costa Rica's conquests of injustice and inequality. Arranged as a timeline that covers three white walls, "Conquista" chronicles the founding of trade unions, the forming of a new government, and numerous cultural advances.
The exhibit is festooned with banners depicting many male faces – the men who shaped Costa Rica into a progressive, modern nation – but among them is Carmen Lyra, best known as author of the "Tía Panchita" stories. Lyra's presence here is fascating: Not only is she a rare female face in Costa Rican history, but she was also a socialist rebel who first translated "The Communist Manifesto" into Spanish and criticized both the despotic regime of Federico Tinoco (1917-1919) and abusive foreign corporations. Lyra died in exile in 1949, just as her beloved country was beginning its transformation into the Costa Rica we know today.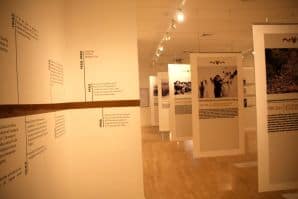 Overall, the exhibit is one long pat on the back, and Costa Ricans should feel proud to browse this bright room. Like last year's "Vivamos la Democracía," the curators have turned a dry civics lesson into something engaging. "Conquista" is not as visually compelling as "Vivamos"; a chronological list of events can only look so interesting, no matter how important those events might be.
Amateur historians should get a kick out of the videos in the back of the gallery, which play in an endless rotation. Here you can watch archival footage from the early to mid-20th century, films of street parades, major speeches, and televised announcements. It's always nice to catch a glimpse of the old Costa Rica, not just before Pizza Hut but also before high rises and automobiles.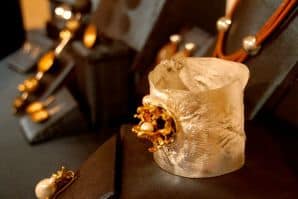 Across the vestibule, you'll also find "Diquís: Joyería de Autor" ("Diquís: Masters' Jewelry"), a collection of handmade articles inspired by the indigenous Diquís people. The artists are part of a group called Colectivo ¿Por Qué No? (The Why Not Collective), whose members decided to use Pre-Columbian designs as a springboard for their own works. (The Diquís are most famous for sculpting the mysterious stone spheres that now symbolize indigenous Costa Rica.) The display will mostly appeal to jewelers and jewerly fans, who will appreciate the effort and creativity required to sculpt such designs. Between the Central Bank Museums and the Jade Museum, downtown San José pretty much overflows with precious stones and metals of Mesoamerican fashion, and there is no shortage of body ornamentation in the tiendas and streets of Costa Rica. But it is nice to see modern artists getting excited about ancient forms. The Diquís themselves may have died out 500 years ago, but heritage burns as long as modern people stoke its fire.
"Conquistas Sociales" and "Diquís" continue through Oct. 31 at the National Museum, downtown San José. Tue.-Sat., 8:30 a.m. – 4:30 p.m.; Sun., 9 a.m. – 4:30 p.m. ₡1,500 ($3). Info: National Museum website.