WASHINGTON, D.C. – If a majority of voters in Scotland vote yes in a referendum Thursday, it will sever a three-centuries-old union and plunge what's left of Britain into an existential funk. Those wondering where it all went wrong may find there's one particular person to blame: the late former prime minister Margaret Thatcher.
The Iron Lady remains one of the most polarizing political figures in Britain, as evident during the heated conversation that followed her death in 2013. Her electoral victory in 1979 set the stage for 18 years of Conservative rule in Westminster. Supporters admire Thatcher for revitalizing the British economy and her role as a dogged Cold Warrior in the last decade of the Soviet Union's existence. Critics point to the dark corners of her foreign policy and say Thatcher's epochal transformation of Britain — her systematic privatization of the country's industries and wars with labor unions — hollowed out Britain's industrial base and deepened inequities.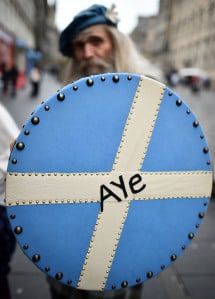 It's a legacy that many in Scotland have invoked as grounds for wanting to leave, including Alex Salmond, leader of the "Yes" campaign. "That overwhelming desire among the people of Scotland to escape the economic and social bedlam of the 1980s was actually the result of the approach of Margaret," Salmond told the BBC in 2013. "She set the ball rolling to make Scottish self-government a huge priority, and that ball is still rolling fast now. So in that respect, people should reflect that in some ways, she was the handmaiden for a return to Scottish democracy. Not what she intended, but nonetheless what happened."
At a pro-independence rally earlier this year, Scottish health secretary Alex Neil even blamed Thatcher for a rise in drink-related deaths among the working class. "Four conditions [drug abuse, alcohol abuse, violence and suicide] are responsible between them for 60 per cent of the 60 per cent increase in mortality among working men since Thatcher took power in 1979," said Neil. "It is down to one factor, and that is the total lack of work and the failure to replace jobs in the traditional industries, like steel and like coal mining, with other well-paid jobs." A Scottish Conservative official dismissed the claim as "preposterous."
After her death in April 2013, some people in Scotland and elsewhere in the United Kingdom convened in public celebrations.
Since the Thatcher years, Scotland has become a conservative wasteland. Historian Tom Devine explains in the Guardian:
The experience of Scotland in the 1980s is a critical factor in this narrative. Between 1976 and 1987 the nation lost nearly a third of its manufacturing capacity. The great heavy industries that had made Scotland's global economic reputation over more than a century disappeared in a matter of a few years. A post-industrial economy did emerge in the 1990s, but the crisis left behind a legacy of social dislocation in many working class communities and created a political agenda north of the border in marked contrast to that of the south of England. Rightly or wrongly, the devastation was blamed on the Conservative governments led by Margaret Thatcher. Scotland soon became a Tory-free zone in electoral terms.
The opposition Labor party draws some 40 seats from Scotland in the House of Commons; the Conservatives only have one. Many advocates of Scottish independence frame the referendum as an opportunity for Scotland to break away from right-wing London rule and turn their existing social democracy into a Scandinavian-type country, where state services are robust and university tuition is free.
The widespread contempt for Thatcher's party in Scotland compelled Conservative Prime Minister David Cameron to largely stay away from campaigning against independence. "If you don't like me — I won't be here forever. If you don't like this government — it won't last forever. But if you leave the U.K. — that will be forever," he warned.
Of course, the reason why Britain, as a union, has reached such a perilous point is far more complicated than the actions of one prime minister. But her shadow looms large, writes Jason Cowley, editor of the center-left New Statesman: "Margaret Thatcher did more for independence than any Scottish nationalist."
Watch Scotland react to Thatcher's death:
http://www.youtube.com/watch?v=hZ7BZcBgQew
© 2014, The Washington Post