The Spanish-language daily La Nación has an above-the-fold lead story today that highlights Costa Rica's ongoing efforts to police its pineapple industry for environmental missteps.
Pineapple is one of Costa Rica's most lucrative export industries, currently generating about $800 million a year. Industry growth began its upward climb in the year 2000. In the next decade, Costa Rican pineapple production increased by almost 300 percent.  Pineapple plantations cover about 45,000 hectares of countryside. The sweet fruit is now Costa Rica's top agricultural export, with key markets in the United States and Europe.
But that growth isn't without environmental consequences, as La Nación points out today, and as we've pointed out in past stories. According to the daily, Costa Rica's Environmental Tribunal has 51 open cases against pineapple companies for infractions that include allegedly contaminating groundwater with agrochemicals, deforestation – particularly in protected wetlands – and poor land management that has led to erosion, among other issues.
Those numbers are old – only two of the 51 cases were filed this year – but it does raise important questions, particularly following a story in La Nación's business section last week. The newspaper noted that Costa Rica is on the verge of opening China's market for Tico pineapple, a move that could literally double the fruit's export numbers from its current level, almost overnight. Demand in China would be similar – if not greater – than demand for pineapple in the United States, Costa Rica's top pineapple importer.
The story cites Costa Rica's Agriculture and Livestock Ministry acknowledging that the amount of pineapple cultivation here would increase, but there was no mention of numbers. La Nación did quote Xinia Briceño, a member of an advocacy group called the National Front for Sectors Affected by Pineapple Production (the Frente Nacional de Sectores Afectados por la Producción Piñera, in Spanish), stating the following: "We're not against pineapple, against the cultivation of it. The problem is the manner in which it's cultivated and the danger of polluting groundwater sources."
One particularly troubling case happened in 2008, when pineapple producers allegedly contaminated the drinking water of four Caribbean-slope communities with bromacil, an herbicide that health experts say should be kept away from residential communities. Costa Rica's Health Ministry was forced to deliver water on trucks to the community. Some said the problem had gone on unaddressed for years.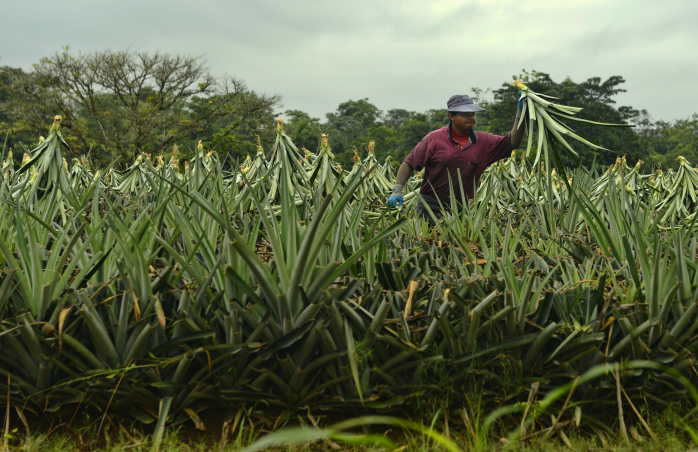 Whenever these types of environmental concerns are linked to pineapple, the country's powerful pineapple lobby wastes no time pointing out that fruit exports are safe for consumers, and Costa Rica has strict environmental regulations regarding production. "Pineapple is one of the most regulated fruits in terms of pesticides," the president of the National Chamber of Pineapple Producers told us in 2011, following one critical story. 
But critics say that while agrochemical regulations exist, they are hard to enforce. And loaded with cases and understaffed, Costa Rica's Environmental Tribunal already has its hands full with ongoing issues from several years ago, as La Nación pointed out. So what's going to happen when the number of pineapple exports continues to increase? Is Costa Rica ready for that?
The benefits to boosting pineapple exports are clear in terms of increasing export and tax revenue for the country. But the risk of exposing the country to allegations of doublespeak when it comes to its eco-friendly image and the eco-tourism industry are evident. How will the exponential growth of the pineapple industry here affect Costa Rica's carbon-neutrality goals, for example – particularly with more carbon-spewing semis clogging the highways?
In coming days, President Luis Guillermo Solís will travel to New York to attend the U.N. Climate Summit 2014, hosted by U.N. Secretary-General Ban Ki-moon. So far, Solís has maintained a delicate balance between his administration's environmental policies and protecting the agricultural industry, a key source for jobs and revenue.
But as La Nación pointed out in a separate story, Solís has acknowledged the shortcomings of the country's protected areas and eco-tourism industry in extending economic benefits to surrounding communities. And following his 100-day speech in late August, he stated that, "Our land cannot only be used for conservation. We need farmers to guarantee the production of food."
So it seems clear where Solís stands on policy. But the public deserves access to information about the possible environmental and social consequences of betting on pineapple growth, before it's too late. Policing with an already burdened tribunal is no solution.
Where do you stand on the issue? Let us know in the comments section below.