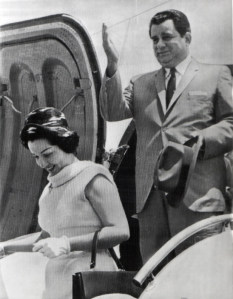 A post today on the Nicaragua Dispatch reports that Nicaragua's former First Lady Isabel Urcuyo de Somoza died Saturday at a retirement home in Houston, Texas, in the United States. She was 90.
The story was posted by her son-in-law, Fritz Blumenberg.
Born in Costa Rica in 1924 to a Costa Rican mother and Nicaraguan father, Urcuyo married Luis Somoza Debayle, son of Nicaraguan dictator Anastasio Somoza García, in 1947. Following the death of the elder Somoza in 1956, Luis Somoza became president from 1957 to 1963. He died of a heart attack in 1967.
Urcuyo de Somoza accompanied her husband to a Central American presidential summit in March 1963 attended by U.S. President John F. Kennedy just months before Kennedy was assassinated in Dallas, Texas.
After Luis Somoza's death, his younger brother, Anastasio Somoza Debayle, became president and dictator until he was forced to flee the country following the Sandinista revolution of July 1979. He was assassinated in 1980 in Paraguay.
According to Blumenberg, Urcuyo de Somoza is survived by seven children and several grandchildren.