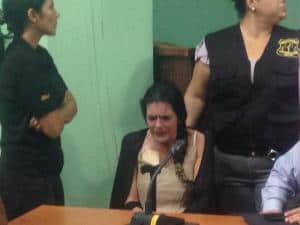 The conviction by a Costa Rican court of U.S. expat Ann Maxin Patton on charges that she murdered her husband, U.S. financier John Felix Bender, in 2010 continues to be scrutinized, this time by the CBS documentary news series "48 hours."
In a story published Friday, CBS announced it had hired "world-renowned forensics experts" Richard and Selma Eikelenboom to review the Patton case file, including evidence and crime scene photos used by Costa Rican prosecutors to land a 22-year prison sentence for the 43-year-old Brazilian-born Patton.
CBS had this to say about the show, which is scheduled to air this fall:
In June, we furnished them [the Eikelenbooms] with court documents and police photos for review at their Colorado lab. And we brought them to Costa Rica to conduct tests and reconstruct the shooting in the room where John Bender died.

After more than a month of review, the Eikelenbooms identified serious flaws in the initial police investigation. Most importantly, they told us, the documents suggest authorities assumed from the start that Bender had been murdered – and set out to prove it. Investigators also failed to photograph the scene correctly, test the blood stains on the bed sheets or even fingerprint the gun, they said.
Patton's friends, family members and attorney – and even some of Bender's friends – also strongly believe Patton is innocent, and one of the fundamental questions they raise regarding the police investigation is a lack of fingerprint testing on the weapon that killed Bender. They are convinced Bender committed suicide.
Patton was acquitted of the charges last year, but an appeals court ordered a retrial arguing that important evidence had not been heard. Although Patton's statements to police and to the court have remained consistent in the past four years, a second murder trial was held in May, and  this time, judges found Patton guilty. She was immediately taken into custody.
The strange and dramatic tale of Ann Patton and John Bender has been told repeatedly by several media, including in a CNN special documentary that aired last May. Read the transcript of that show here.
Patton's attorney has appealed the homicide conviction, and a ruling on that appeal is pending. Stay tuned for more.