Apparently the National Football League doesn't make enough money.
The United States' most lucrative professional sporting league, which according to CNN generated $10 billion in 2012 – ranking it just above the country of Malta's GDP (no offense, Malta) – is asking its musical acts to pay to play during the much-hyped Super Bowl halftime show, according to The Wall Street Journal.
Forget about player concussions, maybe NFL execs are the ones who should have their heads examined.
According to the Journal:
The NFL has narrowed down the list of potential performers for the 2015 Super Bowl to three candidates: Rihanna, Katy Perry, and Coldplay, these people said. While notifying the artists' camps of their candidacy, league representatives also asked at least some of the acts if they would be willing to contribute a portion of their post-Super Bowl tour income to the league, or if they would make some other type of financial contribution, in exchange for the halftime gig.
Granted, Super Bowl XLIX, which takes place in Arizona on Feb. 1, 2015, undoubtedly will bring important exposure to whichever act the NFL decides to select. The last Super Bowl, for example, gave a boost to The Red Hot Chili Peppers, who arguably haven't put out a good album since 1989. (OK, to be fair, half of "Blood Sugar Sex Magik" was decent.) During the show, headlining act Bruno Mars and the Chili Peppers reached 115.3 million viewers, more than the game itself, the WSJ reported (emphasis ours).
And remember, the NFL is registered as a nonprofit organization, exempt from paying U.S. federal taxes.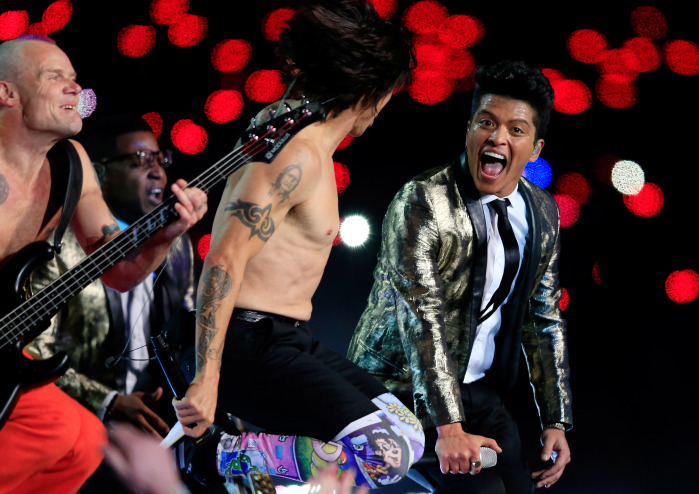 No official response yet from Rihanna, Katy Perry and Coldplay, as the NFL requires secrecy for contract negotiations. But the whole idea of pay to play at halftime is enough to make Chris Martin's music even more depressing.
Maybe I'm naive and the NFL is hedging its bets over bad publicity regarding the concussions (not to mention lawsuits). Last year, the NFL announced plans to boost revenue by $25 billion in 15 years, according to CNNMoney. And it's not like these acts are poor. So I'll make a proposal. I have a band, and between the six of us, I think we can come up with at least $125. Are we in?
What d'ya say, Roger?