Dear Wall Street Journal Executive Editor Almar Latour:
I just finished reading your open letter encouraging folks to root for the Netherlands in the upcoming World Cup quarterfinal match against Costa Rica on Saturday.
I see you addressed it to the "American soccer fan." Since most everyone who lives in the Western Hemisphere is American, I felt invited to respond from our humble, tiny country of Costa Rica in Central America.
You might have heard of us and our national football team, known as La Sele. We were expected to  be quickly eliminated in the first round. After all, we were placed in the Group of Champions, and faced former World Cup winners Uruguay, Italy and England. We beat the first two and held the Brits scoreless, before sending them back home. In fact, Costa Rica hasn't lost a 2014 World Cup match yet, and we are the only CONCACAF team left in the tournament.
We take issue with your assertion that "there is no one for whom to cheer." In reality, U.S. fans – half of our readers – have been supporting La Sele since we beat up on Uruguay, 3-1. Many thought it was a fluke, but they cheered us on, nonetheless. Then we beat Italy, and this tiny country exploded. Even more so when we beat Greece. We are the embodiment of the underdog spirit – and U.S. sports fans love an underdog. The Ticos play with national pride, dedication, sportsmanship and honor. And we don't have an army. La Sele is the country's army, and the team is marching through Brazil.
You point out that your flag has the same colors as the U.S. flag. So does Costa Rica's flag. The uniforms also are the same color, which makes sense (having the same colored uniforms as the national flag).
We also have dozens of pristine beaches, beautiful sunsets, lush rain forest, breathtaking cloud forest, endangered quetzals, jaguars, dolphins, whales and nesting sea turtles. Hundreds of thousands of them. And we have one of the best goalkeepers in the world, Keylor Navas. Yet another reason Tim Howard fans should root for us, not you.
And we have Sloth Kong.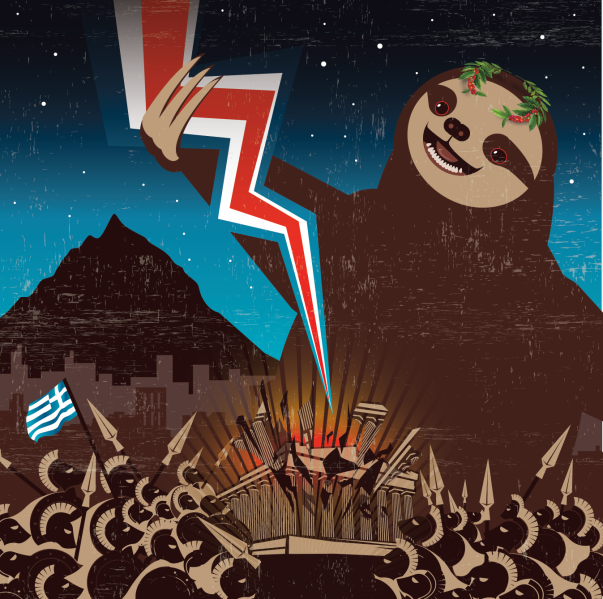 Please don't misinterpret this letter as spiteful – we love the Dutch. One of our staffers is practically married to a Dutch woman. My ancestors were Dutch. My mom still has wooden shoes and tulips in her garden.
But this is the World Cup. And it's Costa Rica's time to make history.
Best of luck!
David Boddiger
Editor in chief, The Tico Times