When Costa Rica defeated Greece on June 30, innumerable Ticos poured into the streets, screaming and chanting. In towns across the country, they crowded the avenues and central squares. Traffic drew to a halt. Cars honked relentlessly. The voices were deafening.
Funnily enough, those throngs of La Sele fans often besieged Catholic churches, and June 30 was a Sunday. So while somber services took place inside, drunken revelry took place outside. Costa Rica was celebrating its two spiritual passions simultaneously – Christianity and fútbol.
"Las Catedrales de Fútbol" ("Cathedrals of Soccer") is a photographic series that canonizes the world's favorite sport – not the game itself, but the stadiums where matches unfold. Tucked into a single room in the Spanish Cultural Center, the exhibit displays about two dozen portraits of stadiums from around the world. You can see the inside of the Berlin Olympic Stadium, Estadio Azteca in Mexico City, plus playing fields in South Africa, Brazil and Ukraine. The aerial panorama of Costa Rica's National Stadium is particularly divine, with its view of the mountains. From that perspective, you might agree that it is "The Jewel of La Sabana."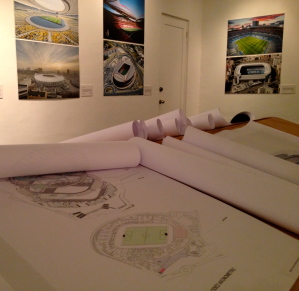 In a way, "Cathedrals" celebrates architecture more than gamesmanship or religion. Curator Eduardo Alcalde has selected a variety of photographs, most of them commercial work taken for marketing portfolios. You could imagine these same prints on display at a design conference or board meeting. In the middle of the exhibit stands a table full of blueprints, stressing the importance of the buildings alone, not their purpose or significance. Many of the portraits show empty stadiums, the rows of unoccupied seats encircling a vacant field.
But this is part of what makes "Cathedrals" such a unique experiment: Take away the shrieking fans, and the stadiums themselves are still astonishing feats of engineering, worthy of their own spotlight. Each has its own aesthetic, its own personality. They are enormous creations, incorporating both indoor and outdoor space. They behave as both public facilities and corporate lightning rods. Walking into an empty stadium, visitors feels awe, whether they like sports or not. The vast superstructure is pregnant with potential miracles. Kind of like a Catholic church.
Alcalde only had one room to work with, but he puts that room to good use: The floor is cleverly carpeted with synthetic turf, and a television in the corner plays stock football footage. Alcalde and his collaborators have done a good job of embellishing an already sharp idea. This World Cup has proven the mystical mania of soccer, the way mild-mannered Ticos can behave like tent-revivalists and voodoo priests. The intersection between sport and faith is obvious. But the intersection between sport and art? That is worth some soul-searching.
"Catedrales del Fútbol" continues through Aug. 1 at the Spanish Cultural Center, Barrio Escalante. Mon.-Thu., 8 a.m.–4 p.m.; Fri., 8 a.m.–2 p.m. Free. Info: Centro Cultural de España website.