The sun was rising over the jungles of Costa Rica's southern Pacific, bathing decorated bodies in sunlight, mine included. I had been dancing with the rest since the sun had dipped below the horizon. Random Rab was nearing the end of his performance, and a small group of people hugged in the middle of the earthen dance floor.
Like magnets, others floated over and the group hug grew by hundreds. Feeling trust, I joined, stretching my arms out to embrace those in front of me. I felt hands grip my arms, my back, my waist. Others joined beside me and behind me until I was inside the mass of bodies, unable to move, surrounded by sweat, feathers and glitter. The coil of humans started swaying and I was gently swept off my feet, suspended in the air, supported by my festival family. I felt happy.
The first time I heard about Envision two years ago, I wasn't excited to attend. In fact, I was dreading it. It seemed like camping would be very hot in the summertime, and also I worried that it would remind me of why, so many years ago, I stopped raving.
I grew up a raver in the 90s, when parties were still held in abandoned warehouses, and there were only a few electronic music genres. I lived for the next party, it was my world, but I saw the scene go from PLUR (peace, love, unity, respect) to shit.
It was amazing at first, everyone there for the music, dancing all night, sharing our love of the music. Then addictive drugs and egos took over. Parties moved inside clubs and the clubs hired DJs who had no idea what they were doing, and people only went to get high. It seemed like no one cared about the music anymore. I saw many people become addicted to nasty drugs and a few people OD and die. The scene was disgusting. Jaded, I left it.
So all of this was in the back of my mind during my first road trip to Envision last year. That and Skrillex. I was under the impression that all dubstep and new electronic genres sounded like Skrillex. I was wrong. I was so wrong about all of it. Envision 2013 reminded me of how I used to feel at raves, when they were still about all the right things.
I danced all night, barefoot in the mud among thousands of smiling faces. People who came to hear the music, share their art, and learn how to make the world a better place. I learned that PLUR had not died.  I couldn't wait for Envision 2014.
This year I planned to go for the whole time. I'd go early, I decided. I wanted to experience everything. I wanted it to be epic.
My journey began before I even left San José, when I traded a ride for a pink and sparkle striped hula-hoop. The hula-hooping hitchhiker and I arrived to Rancho La Merced in Uvita on a blistering hot Wednesday afternoon, a day before the festival officially started. The box office line was short, but it took a while to get checked in. It seemed I wasn't the only one struggling to think in the heat. After I got my bracelet, I headed to the line for the shuttle, a small wooden cattle truck.
I climbed on board and picked a spot next to a ripe-smelling shirtless man with long dirty-blond hair and a vest illustrated with hundreds of wide-eyed cats. He smiled and so did I. I felt myself leaving my judgments behind on that bumpy ride, which felt like the NYC subway, but with blinding sunshine, colorful bugs, gray dust. A scorpion fell from a tree above us.
We arrived on site to find several tents already set up, the port-a-potties smelling fresh, and many structures still under construction. Everything was made of bamboo within two weeks: four stages, a three-story temple, playgrounds, interactive art installations, vendor stalls, food stalls, a dishwashing station, showers and more.
Building with bamboo is one of Envision's eco-initiatives. This is a leave-no-trace event and festivalgoers are asked to keep Envision a conscious and progressive gathering. The grounds offered rampant recycling and garbage bins, compost bins and Dr. Bronner's soap. Attendants were told to bring their own reusable containers for food and drink.
I forgot my own reusable bowl, which meant it was time to manifest some dinnerware. I grabbed a foot-long piece of bamboo from a pile of shorter pieces leftover from construction and found a Tico with a rusty machete close by. He offered to cut it in half. I shared the other half and then I found a small bamboo shard to shovel the food from the trough into my mouth.
I ate the delicious and healthy Envision café meal feeling accomplished. My bamboo trough was better than the dish I forgot because I found it, and I made it with the help of my new friends. Belly full, I slept soundly, anticipating a fun Thursday.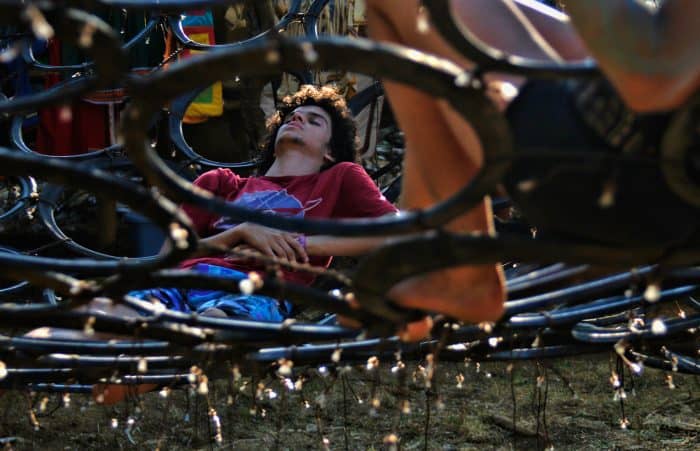 Even at the Envision Festival there can be some downers. Come Thursday, the shuttle line was long and full of people who had waited over three hours in the sun to get checked in. I also had cuts on the tops of my feet and blisters on my heels from walking around in sandy shoes. On top of those annoyances, I couldn't find a complete workshop schedule to plan my time. I was missing things. I was questioning my ability and desire to be at the festival.
Still frustrated when the sun began to set, I was surprised when a small, smiling woman approached me and gave me a hug. She painted my face, the cool wet paint calming me down as the slender brush glided over my forehead and around my cheekbones. When she finished, she gave me another hug, banishing the day's annoyances and readying me for the evening.
The party that night felt more like an intimate gathering of friends in our primitive futuristic jungle village with psychedelic bamboo playgrounds, pretty lights and giant speakers. Many of the people on site seemed to be exhausted from the rapid construction, others were still building and some seemed to be saving energy for the next three nights.
By Friday, the choking stench of port-a-pottie poop was lost behind the trailing smoke lines of incense, sage, buds and scented oils. Camp was full of thousands of people dressed as fairies, elves and animals. Many applied glitter to their faces in tribal patterns, along with feathers, arms full of bracelets, multiple necklaces, utility belts, insane headwear and skimpy clothing. Spontaneous art, yoga circles, hula-hooping ensembles, fire dancing gatherings, jam sessions, and friendships were being formed wherever I looked.
My day started off with an attempt at Sonic Butterfly Yoga. The yoga took place in front of the tribal masked Luna stage under an earth harp, a giant instrument. The body of the earth harp rested on a two-story bamboo platform about 15 or 30 meters back from the stage. The strings traveled out over the audience and attached to the stage, framing landscape and audience. I had heard that last year's yoga under the earth harp was epic.
I set up my mat and got started, but I was sweating so much I could not hold a pose, not even downward dog. I was also distracted by the dialogue of the female harp player: "Pull your leg back and up like a dog does when they pee," she said. "Dogs are awesome, they can just pee wherever they want. … If they see something that they are curious about, they put it in their mouth. That's right, put it in your mouth. Lick it. It tastes good. You like it."
Laughing, I surrendered and went into child's pose. My yoga lesson for the day turned out to be about expectations: It wasn't epic in the way I thought it would be, but I will never forget it. Yoga is beautiful in that way, you get out of it exactly what you need.
After hugging the fit bleach blond instructor, I went back to my air-conditioned hotel room to take a nap and rest up for the night.
Friday night exploded into ecstasy the instant The Polish Ambassador took the stage. The "World's Funkiest Diplomat" knows how to inspire movement like no other DJ/Producer I have ever heard or seen. I was putting the maximum amount of energy into every part of my body to dance to TPA and I felt like I wasn't in control, I just had to move. Not one of the decorated people was dancing the same in front of the Luna stage waterfall.
I was surrounded by people wearing animal costumes, T-shirts and shorts, and nothing. Some were head-banging, others were popping and locking. I could feel the heat from the torches and flamethrowers on stage. Multi-colored lights were illuminating the eyes of the tribal mask. The visual artists were producing patterns on the giant wings of the mask and moving colored lights were transforming the surrounding jungle into a psychedelic tropical disco.
Time raced and suddenly the sun was rising. I hurried back to my hotel to rest up for Saturday workshops, but ended up sleeping through everything. I'm disappointed in myself because I was really looking forward to learning new things and to meeting more interesting people with ideas on how to make the world a better place. I mean, I don't even know if that's what would have happened. I might have just sweat in child's pose all day. I'll never know because I slept through it all.
By the time I did make it to the festival grounds, Wildlight was beginning their set on the Lotus stage right before the sunset. Despite the beats from the other stages (untz untz untz) trying to drown out Ayla Nereo's voice, Wildlight gave a performance that brought tears to my eyes.
I just broke down, right there in front of the stage, dancing with other crying people. Her voice and songs are haunting and inspiring and get at inner truths that are difficult to put to words. I saw Ayla perform an equally stirring acoustic set the following day, exuding love. That girl got some kind of magic.
From Wildlight to Fungineers, Phutureprimitive, Tipper, Andreilien, and Random Rab's sunrise set, I was in music heaven, eargasming. And Sunday was more of the same.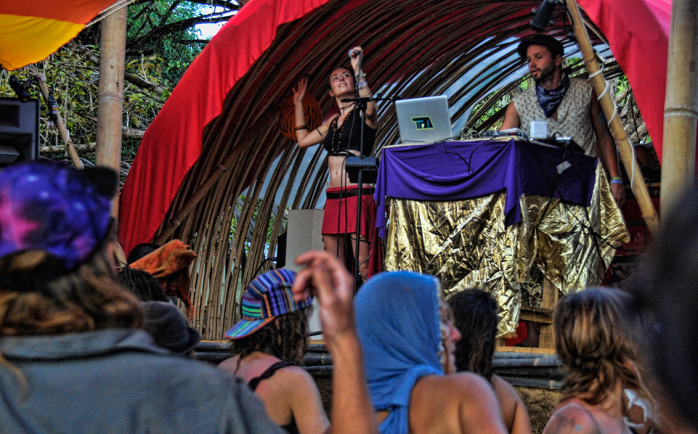 At some point I lost track of time. I was walking in the restaurant area and it was completely dark. I didn't know where my friends were, that was okay. Getting lost is an adventure at Envision. I was hungry and wondering whether it was time for breakfast or dinner. What time was it? What day was it? I didn't ask, because it didn't matter. I was in a different world and time did not exist.
The Envision Orchestra was playing on the Sol stage. Envision Orchestra was a mix of whichever artists at the festival wanted to play, following the guidance of an improvisational conductor. These people had not rehearsed together, and most had never even played together before.
Despite some problems from the soundboard, it was one of the most amazing performances I had ever seen. These musicians got on the stage and just played, finding out just seconds before what key they'd be in, what themes their performance would include and who would take part.
They started each song with just one instrument and slowly added more instruments or voices or audience participation to the mix, one by one. Each song increased in speed and energy as it progressed.
At one point the lyrics were "This is the best festival" and the musicians were feeding the music with their energy, while the dancers were going insane with movement in the audience. I felt a bit uncomfortable at the beginning, but I was soon swept up into the frenzy, hugging people around me and thriving on their effervescence.
I danced all night, although it might have only been swaying because I was exhausted. During Tipper's sunrise set, I gave in, sat on the ground, and watched as a smiling girl with pink fairy wings, rhinestones on her face, and blue feathers in her hair floated around the jungle dance floor, picking up bits of trash.
Other people were laying on foam mattresses or sarongs. A small few were still dancing. Tipper's music was super chill, perfect for the morning after an intimate four-day gathering of creative people in the jungle. Filled with satisfaction, I thought, The Envision Orchestra was right. This feels like the best festival.
The music stopped. Some of the producers got up on stage and thanked everyone for coming. Some were crying, all were hugging. I felt a hand on my lower spine and looked over my shoulder to see a small-framed boy in muddy swimming trunks. He wrapped his arms around me. "Gracias, thank you," he said. Envision Festival was over but Envision Spirit lives on. Peace, love, unity, respect.