CARACAS, Venezuela – The president of Venezuela, Nicolás Maduro, was young once too. He played guitar and worked as a roadie for a rock band, Enigma, leaving his hair long in the back, mullet-style.
The skinny, rebellious young man looked not too different from the student protesters and angry teens now challenging his government in the streets. For these youths, who grew up during the 14-year rule of his predecessor, Hugo Chávez, it is Maduro who has become the face of a rotten establishment.
"Maduro, resign now!" they roar.
After more than two weeks of daily protests that have left at least 14 dead and 150 injured, Maduro is stumbling toward Wednesday's anniversary of Chávez's death, saddled by doubts about his ability to keep his mentor's "Bolivarian" revolution running. The problems Chávez passed along when he died last year, including rampant crime and a cratering economy, have gotten worse.
But the man who calls himself "a son of Chávez" has also inherited a silver spoon of immense, centralized state power. Maduro and the United Socialist Party founded by Chávez control 20 of Venezuela's 23 state governments, as well as the Supreme Court, parliament and, the most important, the military and the national oil company. In the poor and working-class barrios where Chávez provided new schools, medical clinics and subsidized housing, loyalty to the government remains strong.
Venezuela is not Ukraine, analysts say, where a weak president wobbled, then fled.
"There is no reason to believe Maduro is in an unstable situation," said Gregory Weeks, a Latin America scholar at the University of North Carolina at Charlotte. "The military has declared itself behind him and has not wavered in that regard. Unless they were called in for intense repressive measures, it is hard to imagine any scenario where military leaders would revolt."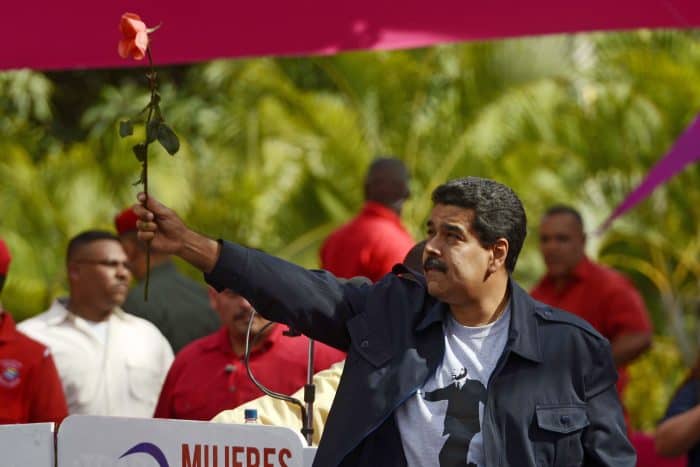 Maduro, 51, long ago gave up the rock career, working as a bus driver and union leader before ascending into the ranks of Chávez's inner circle through steadfast loyalty. Despite getting Chávez's death-bed endorsement, Maduro was elected in April by a margin of only 1.5 percentage points, narrowly beating opposition candidate Henrique Capriles.
It was a weak start to his six-year term, which stretches to 2019, and critics say he has been trying to overcompensate for it ever since.
As president, Maduro often dresses like Chávez, talks like Chávez and has even told Venezuelans that he has slept in Chávez's tomb. Wednesday's anniversary events will give him the chance to remind Chavista loyalists that he's the late commandante's chosen one.
"Chávez sets the route, Maduro takes the wheel," was the campaign slogan he ran on, playing up his blue-collar bus-driver background.
Chávez, too, confronted periodic waves of protest, and even a short-lived coup in 2002. He often responded by marshaling supporters into huge public rallies, reminding opponents that the poor masses were on his side.
But faced with the worst unrest in a decade, Maduro has relied more on brute force. His national guardsmen club protesters in the streets, spray shotgun pellets and rough up TV cameramen. He has tossed opposition leader Leopoldo López in jail on charges of "conspiracy" and other crimes. He has censored unflattering news coverage of the violence but done little, critics say, to rein in the pro-government motorcycle gangs that have opened fire on demonstrators.
In his near-nightly public speeches, he deploys a kind of reverse-McCarthyism, seeing "fascists" behind every protest sign and student march, even though the frustrated college kids bear no resemblance to the goose-stepping armies of 20th-century Europe.
The hot rhetoric only seems to goad the demonstrators further. Maduro's opponents have articulated few concrete political demands other than his resignation and the release of several dozen activists who have been jailed. In some wealthier districts of Caracas and in flash points such as the western border city of San Cristobal, clashes erupt almost nightly and streets remain choked by makeshift barricades and clouds of tear gas.
The protests have started to show signs of burnout but continued this week through the annual Carnaval holidays. Maduro and his aides have posted photos of Venezuelan beaches packed with tourists to push back at the perception that the unrest was spreading throughout the country.
Analysts say it's not the mostly middle-class student protesters Maduro worries about anyway. It's the Chávez support base: the working-class and impoverished Venezuelans who have benefited from years of big-spending Bolivarian socialism and stand to lose the most without it.
In that regard, Maduro's real enemy is not imaginary fascists but the bread-and-butter economic problems of soaring inflation and spreading scarcity. Despite having the world's biggest oil reserves, Venezuela literally lacks bread and butter, not to mention milk, paper products, sugar and other basics.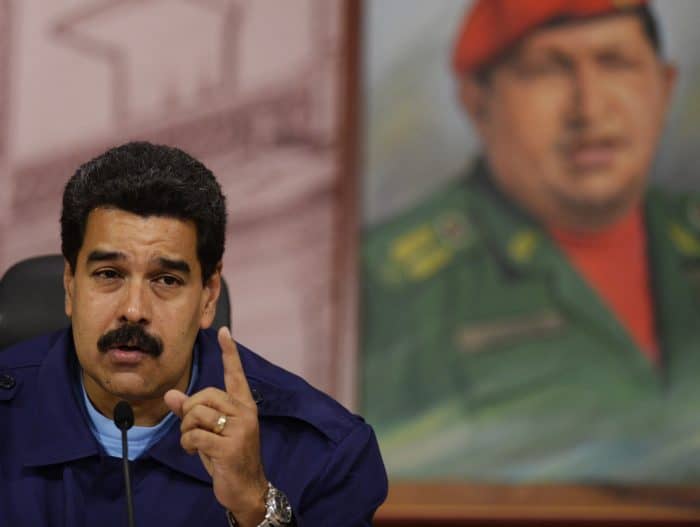 According to Caracas-based political analyst Carlos Romero, Maduro's government is stable but not necessarily strong.
"So far what we've seen are outbreaks of social unrest and selective repression," Romero said. "But if the scarcities and inflation continue, the broader population could begin to mobilize and heed the opposition's calls for protest."
In some strongholds of Chávez support, backing for Maduro has begun to soften.
Chávez's signature, etched in red paint, stretches five stories high on a government-funded apartment building opposite the highway in the Caracas neighborhood of La Paz.
Outside, Erika Salazar, 26, and her sister Doris, 25, sat near a playground with bags of toilet paper that they'd waited 20 minutes in line to buy – a wait they called short.
The sisters live in a housing development comprising two massive buildings that are home to more than 900 families. Before that, they lived in a shelter after losing their home in a 2010 flood.
Doris said Maduro "is a good president, but he doesn't have as much character" as Chávez.
Erika was quick to come to Maduro's defense. "Of course he lacks a lot of experience, but we are with him," she said.
Nearby, a construction worker, Javier Sánchez, said Venezuela's "socialist revolution" is bigger than the person occupying the presidential office.
"We are fighting for the revolution," he said. "If it's Maduro, if it's Chavez, if it's whatever revolutionary, we are going to be there, even without a representative."
But even in the government's public housing, there were signs of sympathy for the demonstrators.
Gladis Jiménez, a nurse at a public hospital, says she voted for Maduro but has been frustrated with him since the opposition protests began. She doesn't have time to march, she said, but she supports the student-led movement.
"They have to fight for their future," Jiménez said.
Opposition leaders have said they want to force Maduro out through legal means, but the Venezuelan constitution doesn't allow for a recall process until 2016.
© 2014, The Washington Post