The Environment Ministry (MINAE) on Monday met with Mexican experts who are in the country to assist in a plan to combat the broadbarred firefish, an invasive species that is affecting the biodiversity of Costa Rica's Caribbean waters.
"Broadbarred firefish feed mostly on other fish and young crustaceans, and this is currently affecting lobsters populations, and is impacting coral reefs and all marine biodiversity in areas like Cahuita and Manzanillo, causing major affectation to the fishermen in the Caribbean region," Environment Minister René Castro said at a press conference.
Testimonies of fishermen from the southern Caribbean region claim they have experienced some 87 percent reduction in the catch after the arrival of broadbarred firefish (Pterois antennata), and the reduction is evident in fish, lobsters, shrimp and crab populations.
"We need to determine the actual density of broadbarred firefish in our waters, establish their reproductive peak and define specific measures to reduce this species in the country," Vice Minister of Water and Oceans José Lino Chaves said.
MINAE officers were joined by a representative of the Regional Committee for the Broadbarred Firefish in the Caribbean – Director of Mexico's National Commission of Natural Protected Areas Francisco Gómez – and President of the Fishermen's Association of the Southern Caribbean Héctor McDonald.
Mexican experts on Tuesday and Wednesday will travel to the Caribbean province of Limón, along with MINAE officials for a two-day workshop focused on drafting a "National Strategy for the Control of broadbarred firefish."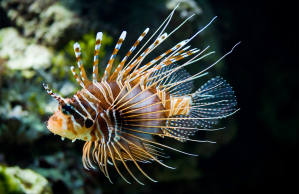 This species is native to the Indian Ocean and the Western Pacific and in Costa Rica was first reported in 2009 at Cahuita National Park. It has since been rapidly reproducing, Chaves said.
According to a study by the National University in 2011 there were some 91 specimen per hectare in areas like Cahuita and Manzanillo.
This species lays between 1.5 and 2.5 million eggs per fish every year, and by considering that the Cahuita National Park has 22,400 hectares of marine area, the population of broadbarred firefish in Costa Rica's Caribbean is now of millions of specimens, Chaves added.
Environmental officials also fear the effect this species will have on Caribbean coral reefs, mainly in Cahuita National Park, which is home to some 600 hectares of reef.
The broadbarred firefish has a voracious appetite and can grow up to half a meter. Its meat is apt for human consumption and MINAE experts will promote its catch as a measure to decrease the population.
Some fishermen in the area already have started selling the fish at a price of ₡4,000 ($8) per kilogram, MINAE reported.