The Denver Broncos defeated the New England Patriots, 26-16, Sunday afternoon and will play the  Seattle Seahawks in Super Bowl XLVIII on Feb. 2.
There are plenty of reasons the Broncos stymied the Patriots and their superstar QB Tom Brady. Peyton Manning, the other legendary quarterback on the field, meticulously tore apart New England's wounded defense with several long drives that ended in touchdowns. The Patriots' suddenly hot running game was slowed down for the first time in several weeks by the Broncos. After falling behind early, Brady's Patriots were not the type of team built for a comeback this year (though Brady did manage to run and throw for a score in the fourth quarter).
However, was there a bigger factor in the Patriots' elimination than the distracting images taken by tabloids this week of Brady's wife Gisele Bundchen riding an ATV with her daughter, and without helmets in Costa Rica?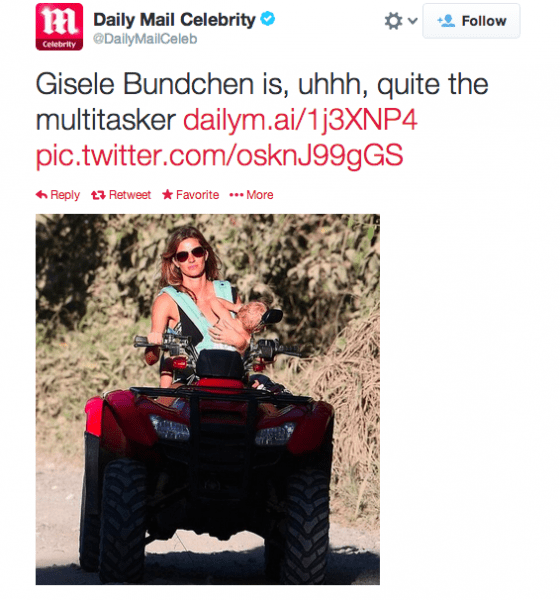 During a vacation at their Costa Rican beach-side home, the Brazilian supermodel went for a stroll on a four-wheeler. Bundchen rode like a boss, with one hand on a handlebar and the other cradling her 1-year-old daughter Vivian – and neither wearing a helmet. The photos caused such a firestorm that Bunchden's publicist needed to issue a statement insisting that mother and daughter were driving slowly on a private beach.
"Her hair in the picture not flying in the wind, showing a lack of speed," was a real sentence written in the statement. This did sound like a decent defense, actually.
But now Brady is out of the playoffs, and let's all agree that Costa Rica played a role in preventing the NFL's most hated quarterback from getting to the Super Bowl. How could he concentrate with these paparazzi photos circulating the week leading up to the conference championship?
It's not all bad for Brady though. Instead of going to freezing New Jersey for the Super Bowl, he can begin his off season early in sunny Costa Rica. Where he and Gisele and the family can spend their time on the beach driving an ATV real slowwwww, and Brady can forget all about football, except perhaps for the part where you wear a helmet.