Is tuna from Costa Rica dolphin fatal?
OPINION
Earth Island Institute (EII) and Marine Stewardship Council (MSC) have told the world that tuna from Costa Rica is eco-friendly to eat. But unfortunately, that's not the case, and the two organizations seem to be the last to realize that Costa Rican canned tuna is not even close to dolphin-safe. In fact, it's dolphin fatal.
Last year, the National Oceanic and Atmospheric Administration pointed out that Costa Rica participates in a cetacean bycatch that is "among the largest in the world." A study from the Costa Rican Fisheries Federation (FECOP) showed that in recent years, tuna ships netted dolphin pods at least 14,000 times in Costa Rica. Still, EII certifies Costa Rican canned tuna as "dolphin safe," and MSC certifies our sea tuna as "sustainable."
Does anybody really believe we can net dolphins 14,000 more times in the coming years and be safe and sustainable? Are EII and MSC incompetent, or are they just not paying attention?
These organizations are required by law to provide documentation of how they arrive at their certifications. They don't. EII's marine mammal director recently told me that the organization had not documented any dolphin in nets. Meanwhile FECOP found 14,000 nets on dolphins. Tuna fishing operations known for intentionally casting those nets on dolphins also carry the MSC label for sustainable seafood.
While these nonprofit certifying agencies collect money from people to help save dolphins and whales, instead the creatures are perishing. At the same time, Costa Ricans are sacrificing their morals and also the sizable income that could be generated long-term from a truly sustainable fishery.
Why are these organizations allowed to certify our tuna as dolphin safe to the world? Their poor judgment has lead to the death of countless dolphins and whales in Costa Rica. They should be given the boot and we should have Costa Ricans making decisions about whether our tuna is dolphin safe and sustainable, or dolphin fatal.
Following is a response to Shawn Larkin's column from Jim Humphreys, fisheries director for the Americas at MSC, posted Oct. 27 at 1 p.m.
Dear Editor:
In the column posted by Shawn Larkin on Oct. 23, titled "Is tuna from Costa Rica dolphin fatal?" he stated that tuna from Costa Rica have been certified under the MSC fisheries certification program. This is not true. At this time, there are no fisheries from Costa Rica that have been MSC certified, nor are any Costa Rican fisheries going through MSC's fishery assessment process. The MSC maintains a global standard for fisheries that assesses performance against stock health, ecosystem impacts, and effective fishery management. The MSC emphasizes transparency in our program, and as such, we post all assessment reports and audits for every fishery in the program. Those reports are posted on the MSC website for all to read at http://www.msc.org/track-a-fishery
The MSC is a voluntary program and we currently have approximately 11 percent of the global capture fisheries engaged in the MSC program, and over 20,000 products carry the MSC label in more than 100 countries. Independent benchmarking studies confirm that the MSC is the world's leading and most credible sustainability certification and traceability program.
Sincerely,
Jim Humphreys
Fisheries Director – Americas
Seattle, WA, USA
You may be interested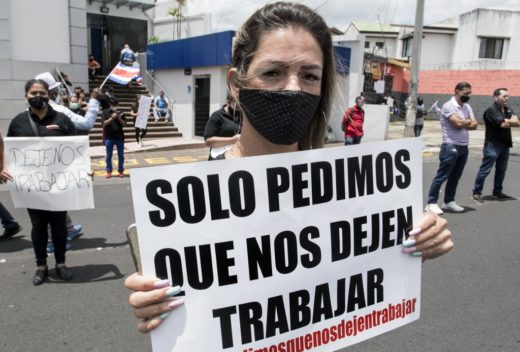 Business
3339 views
Some 34 million jobs lost in Latin America due to pandemic
Carlos MANDUJANO / AFP
-
September 30, 2020
The two aspirers for the presidency of Costa Rica, the evangelical preacher Fabricio Alvarado and the former minister Carlos Alvarado, reach the closing of the electoral campaign for April 1st with a technical draw, according to a poll disclosed this Friday.