Costa Rica confirmed 86 new cases of the coronavirus over the past day, totaling 1,461 cumulative known cases, the Health Ministry announced Wednesday afternoon.
The 86 new cases are by far the largest day-over-day increase announced by Costa Rica, surpassing Sunday's previous high of 55.
Five more people have recovered from COVID-19, leaving Costa Rica with 722 total recoveries and 727 known active cases.
It marks Costa Rica's first day since May 2 with more active cases than total recoveries.
Twelve people have died after contracting the coronavirus. Twenty people are hospitalized with COVID-19; three people are in intensive care.
Focus shifts to Northern Zone
Health Minister Daniel Salas that 49 of the new cases identified since June 1 are related to agriculture and packaging companies in Costa Rica's north.
"It has been concentrated in districts and cantons in the northern zone," Salas said. "We have a particular case of packaging and producing companies that have an epidemiological nexus."
Salas said the Health Ministry will emit specific measures with which agricultural companies must comply before they can continue operating.
In addition, the district of Paquera, Puntarenas, has been issued an orange alert, the National Emergency Commission said Wednesday.
495 new tests processed today
The recent rise in active coronavirus cases does not correspond with an overall increase in testing, though Costa Rica targeted testing to the Northern Zone over the last day.
Since Costa Rica began reporting daily testing totals in mid-April, it has averaged 371 tests per day. The country has averaged 246 daily tests over the last five days.
Costa Rica has processed a total of 30,372 diagnostic tests for SARS-CoV-2 (495 more than Tuesday).
The Health Ministry conducts contact tracing, monitors high-risk regions and tests wastewater in some areas to help target testing.
In addition, the National Emergency Committee has evacuated some high-risk communities to shelters, it said Wednesday.
Active coronavirus cases in Costa Rica
Thirty-two of Wednesday's new cases were identified in the canton of San Carlos. An additional 11 were in San Ramón, and eight in Heredia.
Forty of Wednesday's 86 cases were identified in foreigners.
The below map has been updated through June 10, 2020: 

The below chart was last updated June 10.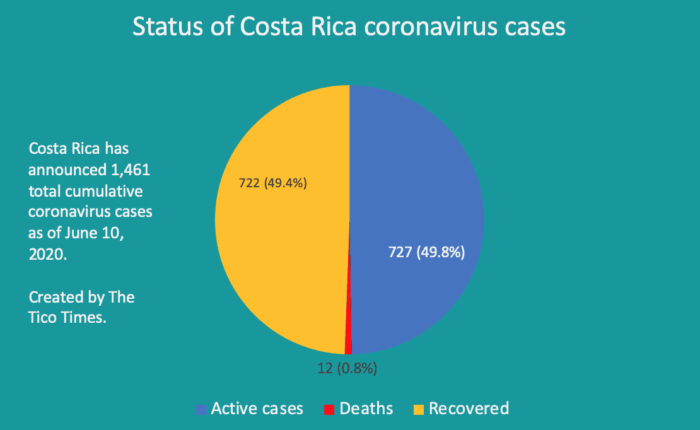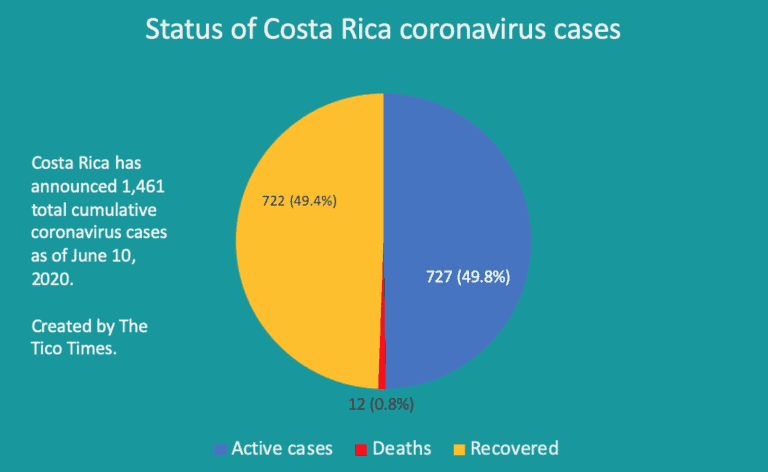 Timeline of COVID-19 in Costa Rica
Costa Rica is enforcing nationwide driving restrictions until June 20. Click here for full details.
If you believe you may have contracted the coronavirus or have questions regarding the virus, contact Costa Rican health authorities by dialing 1322.