Hundreds of New Yorkers got a taste of Costa Rica during International Coffee Day on Tuesday.
As part of Costa Rica's new "Only the Essentials" tourism campaign, bicycles with designs inspired by traditional painted oxcarts traversed Union Square in New York City offering complimentary cups of coffee.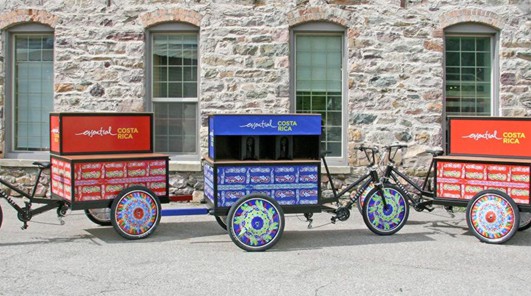 The Costa Rican Tourism Board (ICT) estimates it distributed about 2,000 cups of joe and promoted the country as a vacation destination in one of Costa Rica's biggest international markets.
"We were pleased to promote Costa Rica with this strategic action in the heart of New York, a strategic city that concentrates 6.4 million of our best prospects or target audience — people very interested in visiting our country in the near future," said Ireth Rodríguez, ICT's Head of Promotions, in a statement.
"This action mixes in a creative way a tasting of our coffee — recognized as one of the best in the world — and the typical cart adapted in bicycle format."
Coffee is one of Costa Rica's signature exports, and even Pope Francis agrees it's the "world's best coffee."
The coffee industry has become an attraction for tourists to the country as well. Café Britt says more than 1 million people have participated in its coffee tours since 1991 and recently revamped its offerings with a "Coffee Lovers Experience" that we reviewed.