More than 400 businesses involved in Costa Rica's tourism industry now boast a Certification of Sustainable Tourism, according to the Costa Rican Tourism Board (ICT).
Seventy-five of them received the certification Friday as part of World Tourism Day.
"Companies that have this certification promote ecological and environmental awareness, learning about sustainability actions and participation with communities," said María Amalia Revelo, Minister of Tourism, in a statement from the organization. 
For a company to receive a Certification of Sustainable Tourism (CST), it must meet criteria set by the ICT. These include organizational management in sustainability; social, economic and cultural impact; environmental impact; and standards for housing, transport, food, and tour operations.
Read the full criteria here.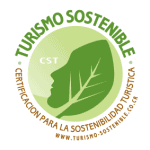 Companies that have earned a CST can display the program's logo "as a way of differentiating their offerings," according to ICT. Those businesses also receive additional promotion from the Tourism Board.
"Sustainable tourism development must be seen as the balanced intention to use appropriately our natural and cultural resources, to improve the quality of life of local communities and to obtain economic success in the activity, which will also contribute to the national development," ICT says. "Tourism sustainability is not only the answer to the demand, but also an essential condition to successfully compete now, and in the future."