Located less than 90 minutes from downtown San José, Poás Volcano is a popular day trip for Costa Rican residents and international tourists alike.
Historically one of the most-visited national parks in the country, limited public access was restored in 2018 following a closure due to volcanic activity.
As of June 2019, many attractions at the national park remain closed, but the Poás Volcano crater remains just as spectacular and well worth the trip. 
Here's how to get the most out of your Poás Volcano visit.
1. Reserving Poás Volcano tickets online
Since Poás Volcano National Park reopened in 2018, entrance tickets must be purchased ahead of time at the National System of Conservation Areas (SINAC) website.
Thankfully, the process is relatively straightforward.
Follow this link to access the SINAC ticket portal, which is used for Poás and Chirripó National Park reservations. If you haven't used the site before, you'll have to register an account; you can do so by clicking the "Check In" hyperlink under "Forgot Your Password." (Or just click here.)
Once you have an account, log in and select "Online Reservation" under the "Buy" option near the top of the page.
Choose "Volcán Poás" under the Wildlife Area dropdown, then pick your desired date. Next, choose your time using the "Sector / Schedule" dropdown.
The "Availability" button will indicate how much space is left at your selected date and time.
If there is availability, use the + and – buttons to indicate the tickets you need. Entry costs 1,000 colones (about $1.70) for adult residents and $15 for adult non-residents. Parking is 2,000 colones (about $3.40) for a light vehicle, which you pay at the park in dollars, colones or by credit card.
After accepting the Terms and Conditions and clicking Next, the SINAC webpage will update with fields to input visitor names and identification (cédula or passport number). Make sure you bring that ID with you to the park.
Finally, enter your credit card information, click "Confirm Payment," and you'll soon receive an e-mail with your booking confirmation.
2. Getting to Poás Volcano National Park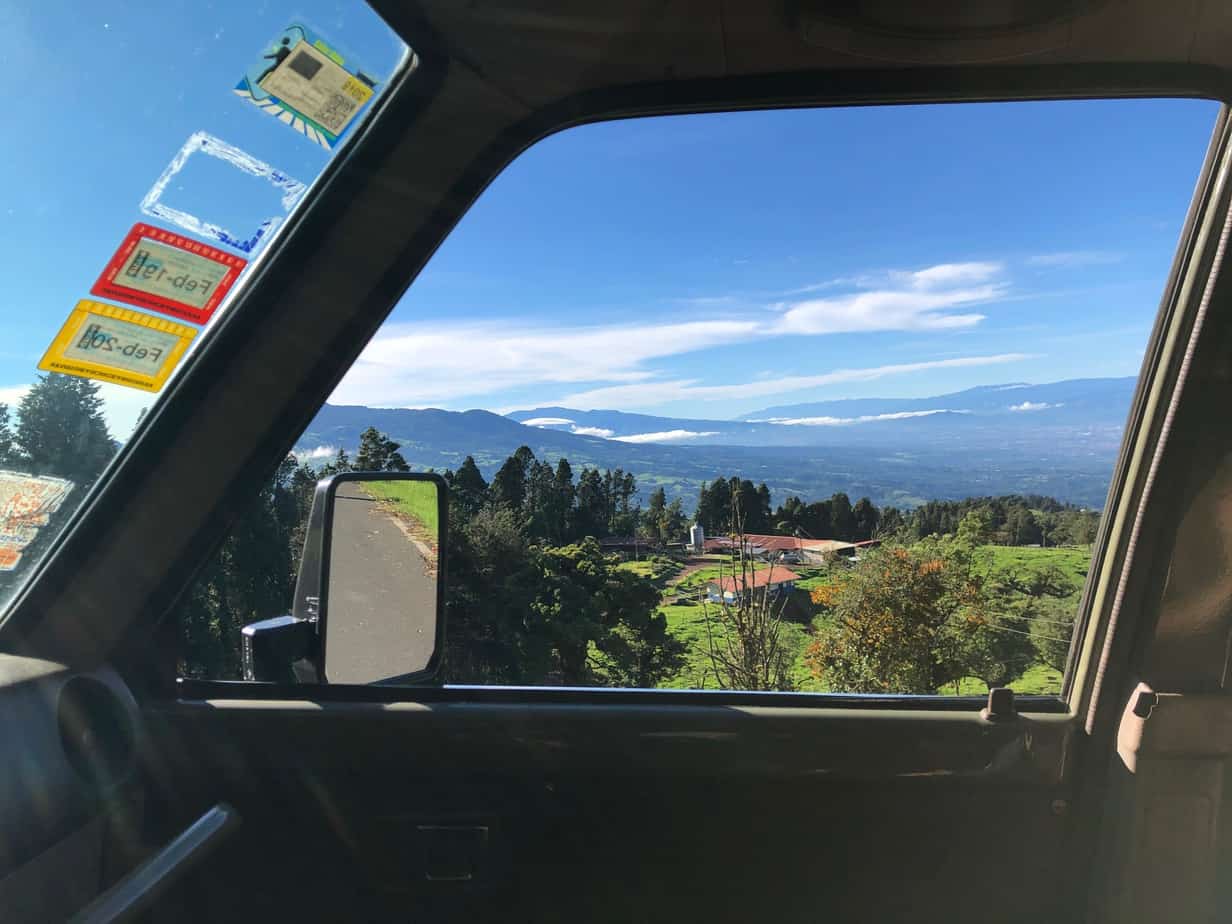 The drive up Poás Volcano's 2,708 meters (8,884 feet) offers excellent views of the Central Valley.
The national park is located about 50 km northwest of San José. From Juan Santamaría International Airport, drive north through Alajuela, then follow Route 712 and signs for the national park. Google Maps and Waze will get you there reliably. 
The roads to Poás Volcano are fully paved, and you should have no issue reaching in any car — even if it doesn't have four-wheel drive.
Once you reach the entrance, everyone in your group will need to show ID. Then you'll be waved through to the parking lot, which is monitored by an attendant.
SINAC recommends arriving at least 10 minutes before your scheduled hiking time.
3. Hiking to the Poás Volcano crater
Once it's time to begin the tour, park rangers will distribute hard hats and deliver a brief safety presentation.
Then, your group will be sent on its way for the 10-minute, 500-meter hike. The path is paved, and there are benches at periodic intervals. While you never feel as if you're in the middle of untamed wilderness, there is plenty of interesting foliage on the way.
You'll probably smell the sulfur before you see the crater. The National Park offers a large viewing platform with clear views of the massive volcanic crater — if the weather cooperates.
Weather conditions on Poás Volcano are always changing, and it's not uncommon to make the trip only to find the crater shrouded in clouds. In general, the earlier you arrive, the better your chance at seeing the natural attraction.
The viewing platform has recently constructed shelters and an alert system in case of volcanic activity. After 20 minutes, your group will be ushered back toward the visitor center.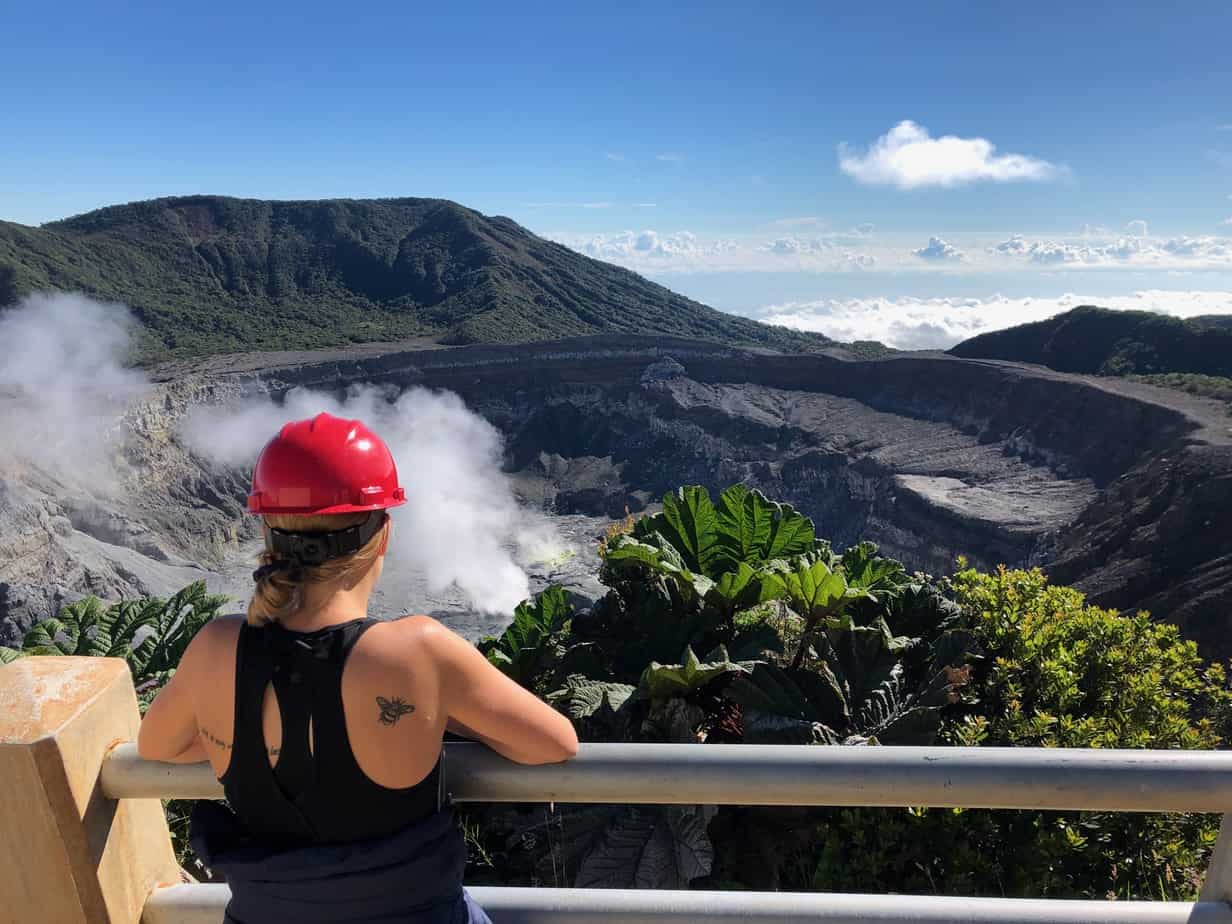 Poás Volcano National Park has bathrooms but no potable water. The visitor center used to house a gift shop and coffee shop, but those are no longer open.
As of June 2019, the park's other hiking trails remain closed as well.
4. Poás Volcano hours and recommendations
Poás Volcano National Park is open from 7 a.m. to 1:20 p.m., including holidays. Bring water and wear comfortable clothes for a walk, but hiking shoes are not necessary.
The elevation exposes you to more ultraviolet light, so don't forget sunscreen. At the same time, it can get quite chilly on the volcano, so a light jacket may be worthwhile. You have a better chance at clear weather in the early morning. 
During busy tourism months, tickets sell out well in advance, so plan ahead!
After you leave Poás Volcano National Park, I highly recommend buying volcano-grown strawberries drizzled with condensed milk from one of the many roadside vendors.
Other nearby attractions include the Starbucks Hacienda Alsacia coffee farm and La Paz Waterfall Gardens. And, of course, swiping through your photos to relive the breathtaking volcanic crater.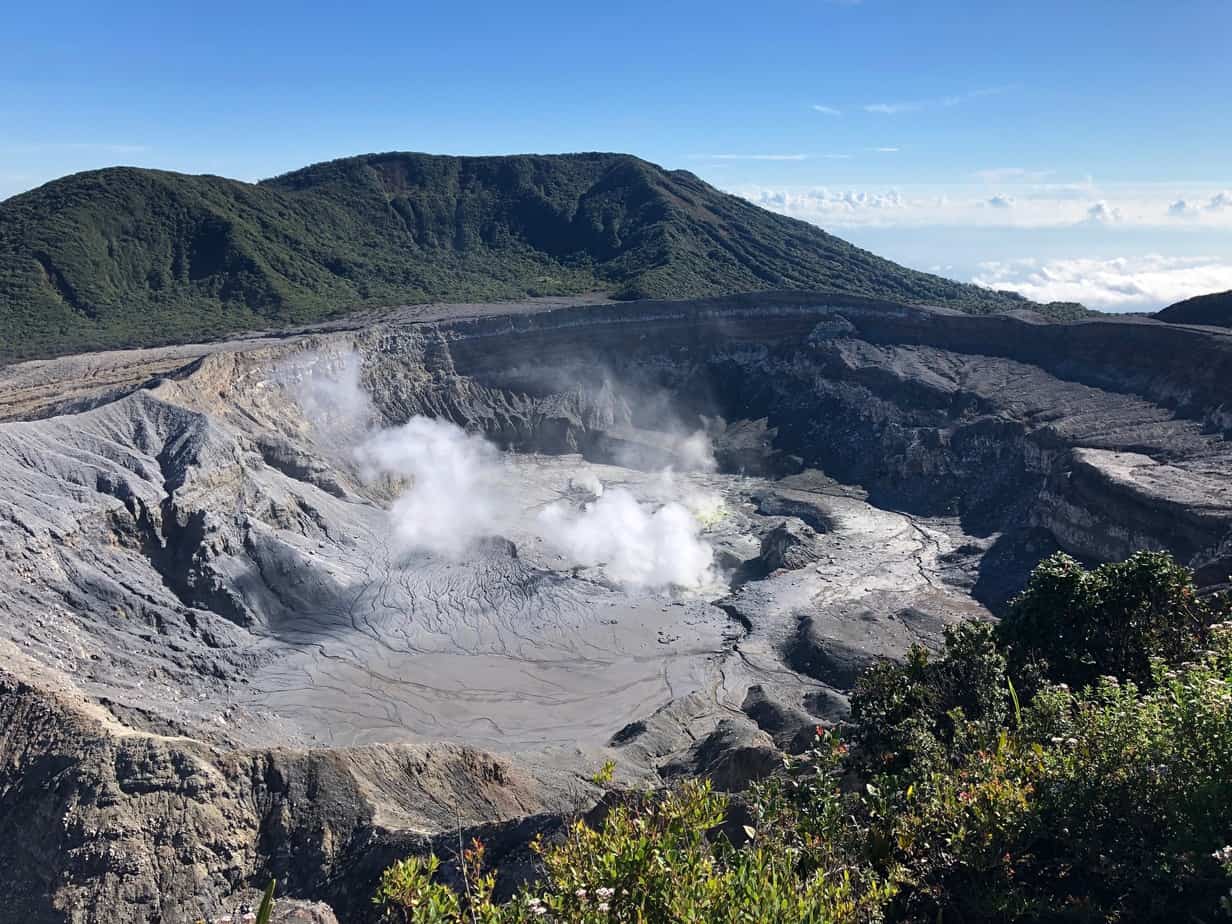 Do you have ideas for our Costa Rica 101 series? Let us know by emailing: alejandro@ticotimes.net.