After moving to Costa Rica five years ago from Mexico City for work, Gerard Tanc and his wife Isabel Favero were disappointed to find that the majority of the Mexican restaurants in Costa Rica, though not bad, were all serving the same thing.
While they have nothing against tacos, burritos and the stereotypical Mexican cuisine, they were missing and craving a real taste of home. They wanted to share a different side of Mexican food with the Costa Rican public, and so, in February 2018, they opened Aguila y Sol, their own restaurant and truly a family business.
They've recently completed their first year, and their task of educating Ticos about the complexity and variety of authentic Mexican food is still only beginning. While they've caved to the pressure of diners and added a taco menu to the mix, I recommend you steer away from that.
If you're going to make the trip here, let it be to try something new, to enjoy a truly different experience.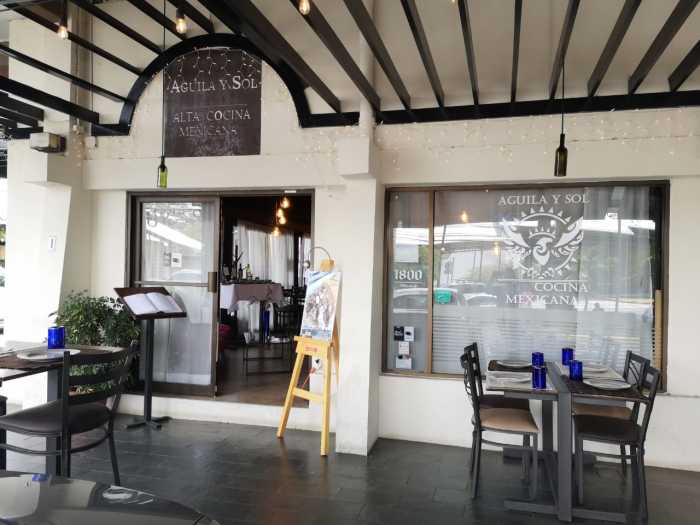 Though Tanc has another full-time job, he still remains very present in the restaurant, overseeing the business side of things and the front of house. Helping him with service is his son Ivan, who waits tables. In the kitchen, ensuring authenticity and quality, is his wife Isabel. They all play their part and work together to offer something unique, which many of their food creations certainly are.
I've always said it, too, that when the owner is the one personally doing the cooking, you're usually in for a treat! Aguila y Sol is no exception.
Though originally from Mexico City, Isabel Favero's menu highlights plates from many different regions of the country. Some dishes remain strictly authentic, while in others, she lets her imagination run a little bit. In the end, it makes for a very ample menu; there is a lot to choose from.
The menu is split up over almost 20 pages and broken into categories such as hot appetizers, cold appetizers, main courses, tacos, street food, soups, salads and desserts – and they even have a separate menu dedicated to vegans. At Aguila y Sol, there are options for everyone.
I have yet to put much of a dent in their menu as a result, but the things I have tried so far have all been excellent. I am talking Acapulco-style fish ceviche, crema de poblano soup, bone marrow tacos, pork ribs, salmon pasta and some homemade ice cream.
For those who are unfamiliar with some of the staple sauces in Mexican food — sauces like mole, salsa de cacahuate (peanut) and a plum sauce — fear not. Aguila y Sol has a tasting station, where they are happy to give you a sample and a quick lesson on each one. This is a great way to remove any doubt before ordering and to avoid any risk of being dissatisfied with your choice. I was interested in trying them all, of course, and learned that they are making each from scratch, often with specialty ingredients that they have to import from Mexico. Because without them, it just wouldn't be the same. Most of these sauces are also available in a jar presentation to take home.
The Acapulco-style fish ceviche (4,600 colones, or about $7.50) would be my favorite, if I had to pick one. It's so different than most of the ceviches being offered, and not just by Mexican restaurants. The fish used in this ceviche on my last visit with Mahi Mahi, which was notably fresh. This was marinated in a mix of lime juice, orange juice, tomato sauce and had just a little kick of heat from jalapeño peppers. Of course, as it should, the ceviche also had loads of fresh onion and cilantro, to balance the flavors and add some texture. Topped with avocado, it's the perfect start to your meal!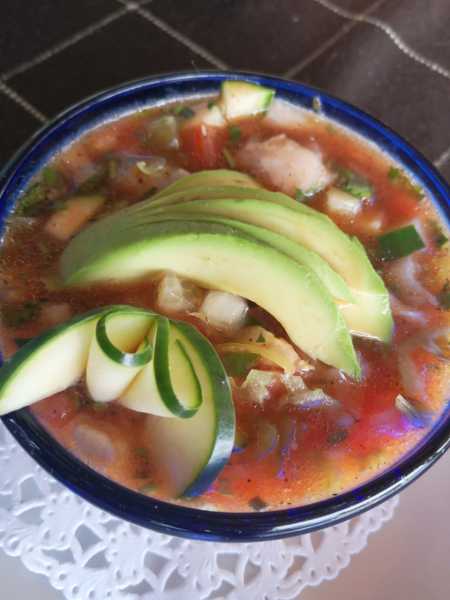 As was the crema de poblano soup (5,900 colones, $9.20), native to the Puebla region of Mexico, which was rich and not very spicy at all.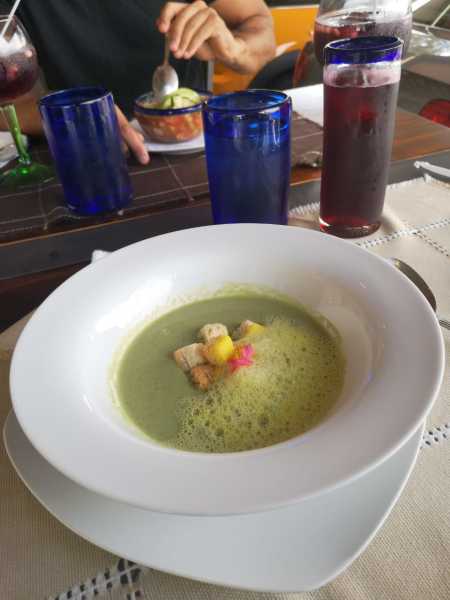 Another dish that you probably won't find anywhere else is the Tacos de Tuetanos (4,900 colones, $8), or bone marrow tacos. I've had bone marrow previously, back in Canada, but it was a first for me to have it Mexican style, in tacos – with house-made corn tortillas, no less. It might look a little intimidating when it reaches the table, the humerus bones of a cow that have been sawed in half lengthwise before being baked. But scoop some of the gelatinous marrow out with a spoon, and when it hits your taste buds, it all makes sense. It's probably not the kind of thing you could eat every day, but a luxurious treat for sure!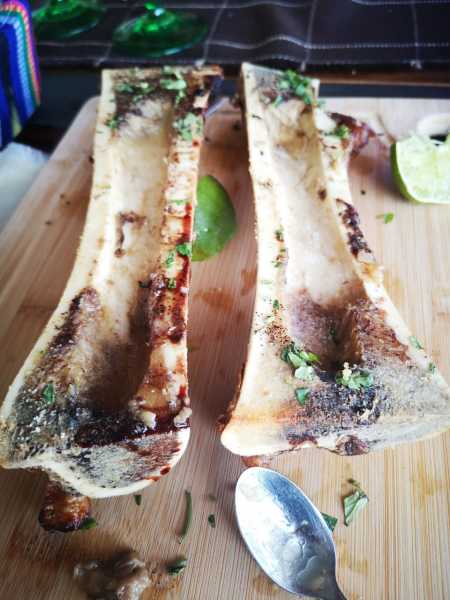 The pork ribs (12,900, $21.15) were fall-off-the-bone tender — the result of 24 hours cooking sous vide — and covered in a sweet and tangy tamarind glaze. Absolutely delicious, as was the salmon pasta (12,800, $21), which did not necessarily strike me as hailing from Mexico, but perhaps I am ignorant on the topic. Either way, it was a very pleasant surprise. Grilled salmon, served on a bed of angel-hair pasta, topped with generous portion of lemon and garlic sauce, and some dried chile de arbol. Be careful with the chiles; they really pack a punch!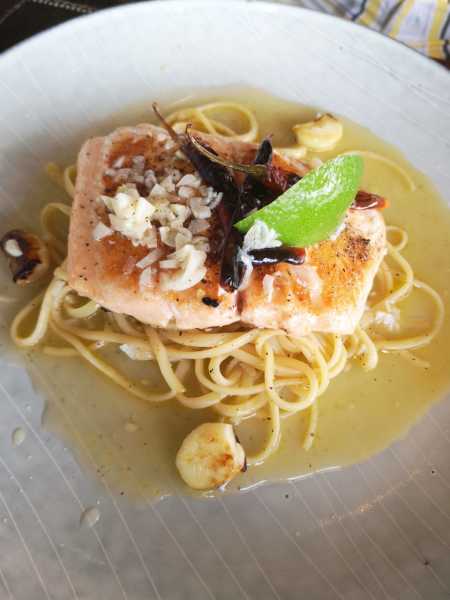 I was absolutely stuffed by dessert. But, like the true professional that I am, I took one for the team, sacrificing my stomach in the interest of my loyal readers. This meant two different kinds of homemade ice cream (2,000 colones each, $3.30): tequila and avocado. Both were sweet and decadent, but for me, the avocado one stole the show. I have never tasted anything like it before and would almost recommend you visit just for that. Thankfully, everything else is worth the trip, too.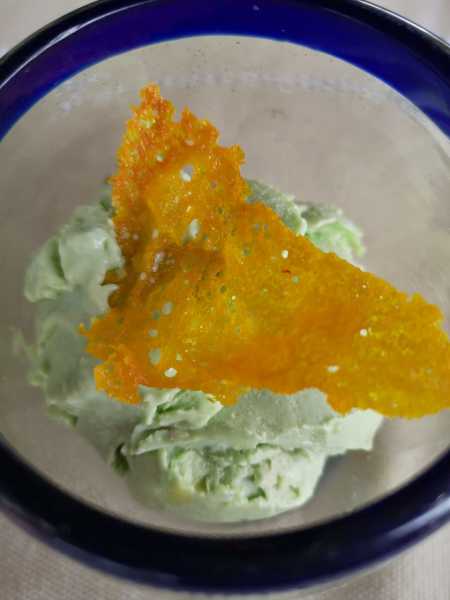 In addition to their food menu, Aguila y Sol also serves a complete bar menu with a wide selection of beers, wines and spirits. Of course, at a Mexican restaurant, the tequila and mezcal options take center stage, as they should.
Service was friendly and efficient but mind you, the restaurant was quite slow during my last visit. Perhaps they get busy on the weekends, and so it might be good to make a reservation.
Aguila y Sol is located in La Paco commercial center in Escazú. There is private parking available directly in front of the restaurant, and you can search "Aguila y Sol" in Waze or Uber to arrive conveniently.
They are open from Tuesday-Sunday (closed on Mondays) from 12 p.m. until 9 p.m. On Friday and Saturday, they stay open an hour later, until 10 p.m. and on Sunday, they close a little earlier, at 7 p.m. They are also available on UberEats and Hugo for delivery. Menu prices include taxes. All major credit cards are accepted. Free Wi-Fi is available, and well-behaved pets are welcome as well.
William Ayre is a Canadian born chef and restaurateur who has spent the last half of his life doing business in Costa Rica, where he now considers to be home. Inspired by Anthony Bourdain, Ayre's passion of experiencing different cultures through food has taken him to 35 different countries over five continents. Whether it's a 20-course meal at a fine dining restaurant in Toronto, or cantina hopping in search for the best chifrijo here in San José, he fits in just fine.