In the middle of trees, a woman looks straight forward. White paint covers her chest. Her mouth is slightly open, as if she's taking a breath. The picture is part of a series that shines a light on insecurities and embracing yourself as an imperfect artwork. Swedish artist Paula Simons relocated to Costa Rica 5 years ago and uses photography to rebuild a message of feminine power in the society we live in today.
In an exhibition on Friday called the "Divine Feminine," Simons displayed 22 photos of women in nature. Many pieces of her work focus on the details in unconventional ways: accenting the slouch of a woman's stomach or placing a red floral arrangement next to a woman's pelvis.
"We carry a lot of wounds and insecurities," Simons said. We have grown up in the world uncomfortable like we really don't fit in."
Simons says the "Divine Feminine" describes an energy everyone has, but current society has been very disconnected from. She says that in a male-centric society, it is hard for women to feel beautiful outside an ideal painted for them through the images they see growing up or in the media. She uses her photography to counter that belief system and to challenge women and men to connect to the feminine side of themselves.
"We don't need to fit into a man's world or we don't need to look a certain way that we are taught is beautiful," Simons said. "We're already there. We're women. That's enough."
Each photograph was accompanied by a poem Simons wrote to explain the message behind each image. The body of works speaks about objectification, the women's natural cycle, feeling unapologetic, allowing vulnerability and the need for feminine balance in the world.
"We grew up in a society and world run by men essentially and where a woman's voice has been suppressed and silenced," she said. "We are not taught to be in tune with who we are as women. We have been taught to compete."
Simons said that as humans, femininity and masculinity are not mutually exclusive. Men can also reconnect to a nurturing and intuitive side of themselves, parts she sees are missing in the prominent culture.
The event was held on March 8, International Women's Day: a day women all around the world gather together, and uplift one another in the fight for women's rights. Jacó Beach was no exception.
The event, held at Juanita's Restaurant in Jacó Walk, featured performances by singer Mar Salguero, DJ Priscila Moya "Sila" and dancer Alysha Shah. Raquel Salazar, owner of Juanita's Restaurant, helped the whole thing come together with planning and outreach for the event. Simons said it was a night for women to come together and support each other's art.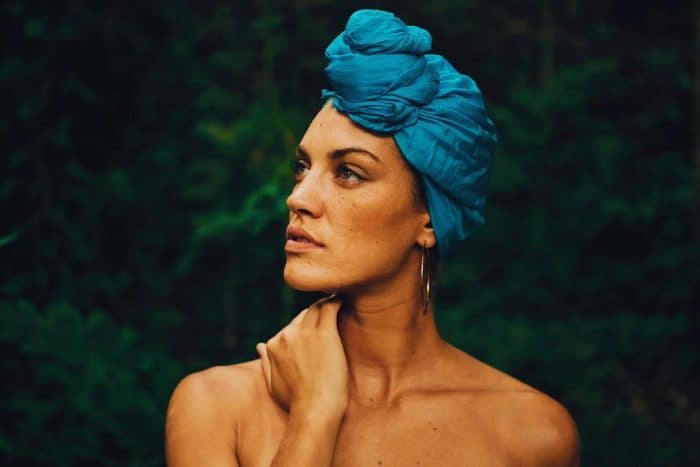 Kelly Norris, a Jacó local, modeled in some of the photos and went to the event to support her friend and the message she's providing.
"Especially here, in this town, just because you are wearing a bathing suit doesn't mean you can approach me" Norris said. "For me, it's being able to show our bodies without objectifying them."
As a fashion photographer, shooting for a different bathing suit and clothing companies over the last several years,  Simons felt the work often perpetuated an unhealthy view of women. She says her work has evolved over time.
"I used to be really self-critical and judgemental of myself growing up in Sweden where I was always surrounded by fashion and fashion photography," Simons said. "I was always interested in that, but I had a struggle inside myself where there are eating disorders and  judgement that I needed to look a certain way to be beautiful."
She said that a lot has changed since living Costa Rica, connecting to nature and through that, herself.
Simons likes to work with the women she photographs in a playful matter, seeing them become more comfortable with themselves throughout the shoot.
Simons started planning her first exhibition months ago, but the date for the event wasn't intentional. They realized only a couple of days ago, it would fall on International Women's Day. She grins, "when you are trying to create something good to serve this world, I think that's just how things work sometimes."
She hopes to continue to share her work and her message in beach towns and cities across the country. She is also planning to launch a website in the following weeks. You can find more about her work through her Instagram @paulasimonsphotography.
Correction: A previous version of this story said Mar Salguero and DJ Priscila Moya "Sila" are Jacó locals. They are from San José.
---
This story was made possible thanks to The Tico Times 5% Club. If only 5 percent of our readers donated at least $2 a month, we'd have our operating costs covered and could focus on bringing you more original reporting from around Costa Rica. We work hard to keep our reporting independent and groundbreaking, but we can only do it with your help. Join The Tico Times 5% Club and help make stories like this one possible.
Support the Tico Times