For more than 20 years, there's been a fire burning nearly every day in Escazú. To find it, look for a smokestack towering up in the sky and follow the smell of delicious roast chicken.
You'll find the source just one block north of the Catholic Church in the center of Escazú, located along calle 132, between Av. 28 and Av. 30, at Pollos Male.
On my last visit, I spoke to Don Marco Castro, the old man who tends to the fire and who is responsible for roasting each and every chicken. Yes, every single chicken. He has been doing it since they opened more than two decades ago. He told me that depending on how roaring the fire gets going, the chickens take an hour and a half to two hours to be fully cooked and ready to serve. He told me that on a very busy day, they could sell 80 or 90 whole chickens.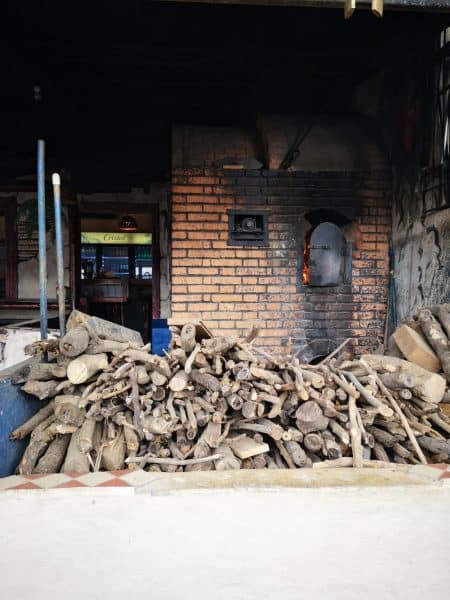 He credits the amazing flavor and juicy finish of the chicken to the coffee wood that they burn. It's piled high around the restaurant. They receive deliveries of it, by the truckload, almost daily.
The menu at Pollos Male is simple and based around different percentages of chicken: quarter, half, or a whole. The other items like wings, tacos, casados, chifrijo, and even a salad, include chicken. Marco joked (though I suspect he was serious) that their "arroz con pollo" has more chicken than rice, and was proud to recommend it. I will have to give that a try next time.
Everything that I have tried over the years at this restaurant is great, and always very affordably priced. I recommend one of the roast chicken combos. I usually split a whole chicken with one of my friends.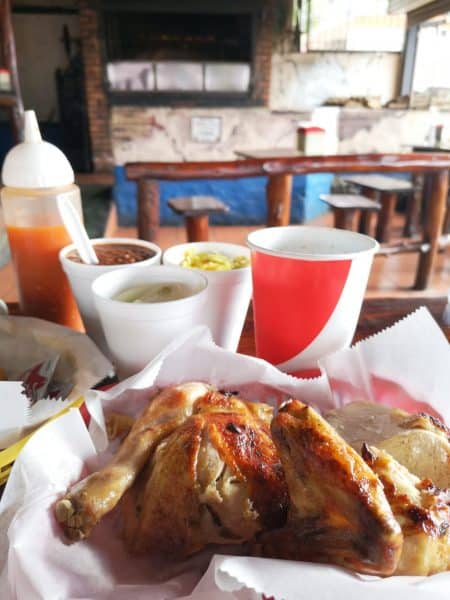 It costs 10,800 colones (about $17.70) and comes with three sides and a 2-liter soft drink of your choice. The sides here are delicious. Try the cabbage salad (get the vinegar one, not the mayonnaise one), the pickled onions and the refried beans. The beans have a sweet touch that I love.
When you wrap some of the chicken up in one of their soft shell tortillas with the cabbage salad and pickled onions, it makes for the perfect finger food. Somehow, it still feels healthy.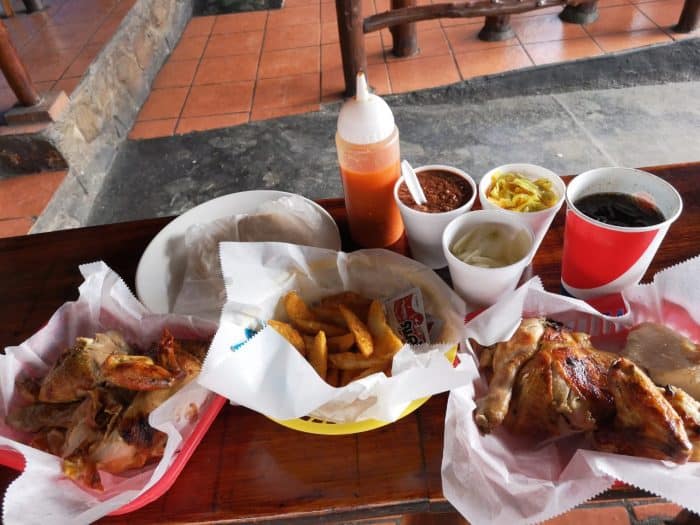 Pro tip: ask for a bottle of the house hot sauce and take the heat up a notch. The hot sauce at Pollos Male is very tasty, with a nice kick but not too overwhelming.
They don't serve alcohol, so you have to wash it down with 2 liters of Pepsi. I know, I know.
You order at the counter before taking a seat. Though there is no traditional table service here, but they will bring you the food when it's ready. Which is always quick. A waiter won't come up to check on you though.
The restaurant itself has a typical ambiance. This is an "old Escazú" establishment. It's a very welcoming spot to enjoy a delicious yet very casual lunch. I say casual because most of the sides are served, unfortunately, in Styrofoam cups, as are the drinks. I guess they don't have a dishwasher on payroll, or at least it wouldn't seem that way.
The Male family name has been well-known throughout the Costa Rican restaurant industry for years. According to my research, they had sodas in Los Yoses and in San Jose long ago, but they're no longer open. Now one of the Male brothers runs Pollos Male in Escazú.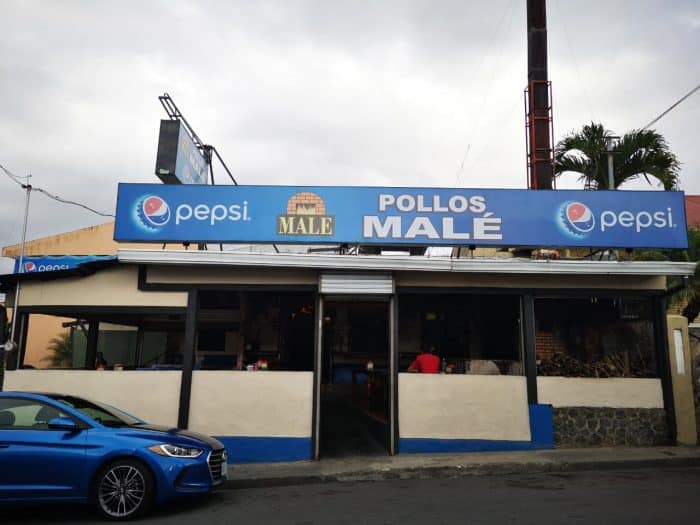 Unfortunately, I wasn't able to personally meet or speak to the family on my last visit. Another of the brothers is running the Pollos Male in Santa Ana, where they have a second location.
For as similar as the two locations are, they are also very different. I've always preferred the Escazú one. I suspect the difference is the master of the fire pit, Don Marco Castro.
Pollos Male is open every day except for Monday, from 11 a.m. to 5 p.m.  All prices include tax. Major credit cards are accepted and there's private parking available.
It's not necessarily a vegetarian-friendly restaurant, but can order a casado without meat or eat an assortment of their side dishes. Search "Pollos Male" in Waze or Uber to arrive conveniently. I recommend the Escazu location, not the Santa Ana one is bad but it's just a personal preference.
Know of a restaurant you think we should cover? Send us an e-mail at OTEP@TicoTimes.net with your suggestions.
---
William Ayre is a Canadian born chef and restaurateur who has spent the last half of his life doing business in Costa Rica, where he now considers to be home. Inspired by Anthony Bourdain, Ayre's passion of experiencing different cultures through food has taken him to 35 different countries over five continents. Whether it's a 20-course meal at a fine dining restaurant in Toronto, or cantina hopping in search for the best chifrijo here in San José, he fits in just fine.
This story was made possible thanks to The Tico Times 5 % Club. If only 5 percent our readers donated at least $2 a month, we'd have our operating costs covered and could focus on bringing you more original reporting from around Costa Rica. We work hard to keep our reporting independent and groundbreaking, but we can only do it with your help. Join The Tico Times 5% Club and help make stories like this one possible.
Support the Tico Times