Puerto Viejo isn't for everyone.
If you need your beach vacation to be peppered with air-conditioned rooms and restaurants; if you can't comfortably share your room with the occasional gecko; if you get upset over spotty internet and power outages, then you might be better off visiting somewhere else.
But if you can accept Puerto Viejo for its flaws, it will accept you and yours.
This was all summed up during our recent Deep Dive when a three-legged dog hopped into the busiest nightclub of the night. There was no bouncer to kick him out and he went from drunk tourist to high local, asking to be petted. Everyone was glad to comply, and then he plopped himself down in the middle of the dance floor.
He was surrounded by a mix of people. Some were clean-cut, dressed in expensive beach clothes, while others looked like they hadn't changed in a few days. The club opened out into the beach and like a Reggae-fueled lung breathing life into the town, it let every element of Puerto Viejo flow in and out.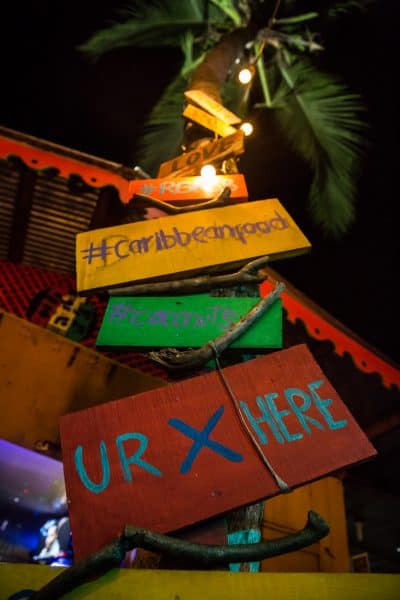 Because of its small size and remote location, Puerto Viejo is home to a community that's bonded together by acceptance and necessity. Decades ago, it would take a network of people to transport a sick person from Manzanillo to the hospital in Limón. Now, heavy rains still lead to frequent blackouts and flooding. Neighbors still need to stick together to make it through the challenges of living in an isolated Caribbean paradise.
This is especially true when it comes to safety. Per capita, Limón is the most violent province in Costa Rica. While violence is focused around the provincial capital, also called Limón, crime has spilled over to other parts of the province.
Hotel owners and residents in Puerto Viejo have banded together to share information through a network of WhatsApp groups and help police keep the town safe. They've helped tourists who've been robbed by providing money and a place to stay. Now they're hoping a project from Uvita can help streamline this effort with an app designed to keep tourists and residents safe.
Those who are willing to accept the Caribbean's challenges will be rewarded with stunning national parks, picturesque beaches, a laid-back lifestyle and a rich Caribbean culture of food and music unlike any other in Costa Rica.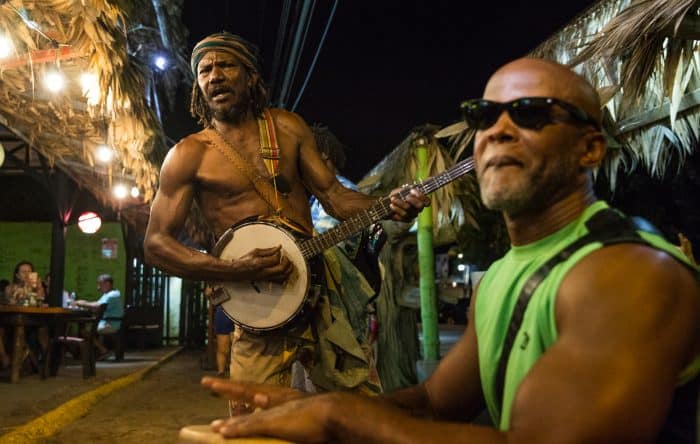 Limón is the province with the highest percentage of Afro-descendants, with 15.75 percent according to the latest census. This strong Caribbean influence made Limón a world capital of Calypso and home to Calypso legends such as Walter Ferguson. Now, a new generation of musicians are bringing Calypso to a new generation with touches of reggae and rap. They want to define what modern black culture means in Costa Rica, a country that has long overlooked and shunned its Afro-descendent citizens.
This culture also includes a unique Costa Rican cuisine. From rice-and-beans to patty to spiced jerk chicken, Costa Rican Caribbean cuisine is the richest and most flavorful in the country. Few places do that better than Lidia's Place.
Everything's close to the beach, too, and you're never far from a place that'll offer you a refreshing tropical drink or craft beer to enjoy by the beach, day or night. If your idea of relaxing at the beach involves riding waves, then Puerto Viejo also has you covered. Fast waves, heavy surf and coral reefs will give you the surfing rush of your life. Be warned though, surfing in Limón is not for beginners.
While all this has come to define the Caribbean and Puerto Viejo, the province has been also been plagued by low employment and poverty. Certain projects are hoping to modernize the area with state-of-the-art tourism projects, but some residents are afraid that they'll whitewash their Caribbean culture in exchange for tourism dollars.
Puerto Viejo's future remains in flux and if you're ready to take the ride, it's one of the best destinations in Costa Rica.
More About Puerto Viejo 
Off the eaten path: Lidia's Place
Developing safety: The dangers and benefits of road modernization 
Beginners beware: Surfing Puerto Viejo's fast waves 
A town divided: Necessary development or whitewashing for tourist dollars
Purging plastic: Costa Rica libre de plastico
Clowning around: Teaching children confidence through circus arts