TAMARINDO, Guanacaste — Raging the largest developed beach town in Guanacaste, Ocaso Music Festival kept Tamarindo wide awake following the turn of the year.
Located on the Nicoya Peninsula on the Northern Pacific coast of Costa Rica, the festival returned for its third year, bringing back thousands of underground electronic music enthusiasts who got to experience a party in beach paradise for six days.
Ocaso aims to highlight a diverse array of artists and music genres under the house and techno umbrella, this year featuring established artists such as Damian Lazarus, Guy Gerber, Jamie Jones, and Loco Dice. (Here is the full festival lineup.)
Putting six days of music together with more than 60 DJs is a process. Booking headline talent and adding everyone to that talent takes a particular type of dedication. For Ocaso organizer and founder Devin Ellis, it's his favorite thing about the event.
"I always wanted to be a DJ but never thought I was good enough to play in public," Ellis said. "This is my sneaky way of DJ'ing by deciding which DJ plays when and where."
From Jan. 2-7, the festival was sprawled throughout Tamarindo, giving attendees a mix of sensory experiences, from having the ocean sounds in the background to the hypnotic techno, to being immersed in a mystical outdoor jungle amphitheater. The party began midday and continued early into the morning, and El Be Beachclub, Tamarindo Vista Villas Pool and La Senda took turns hosting the festivities.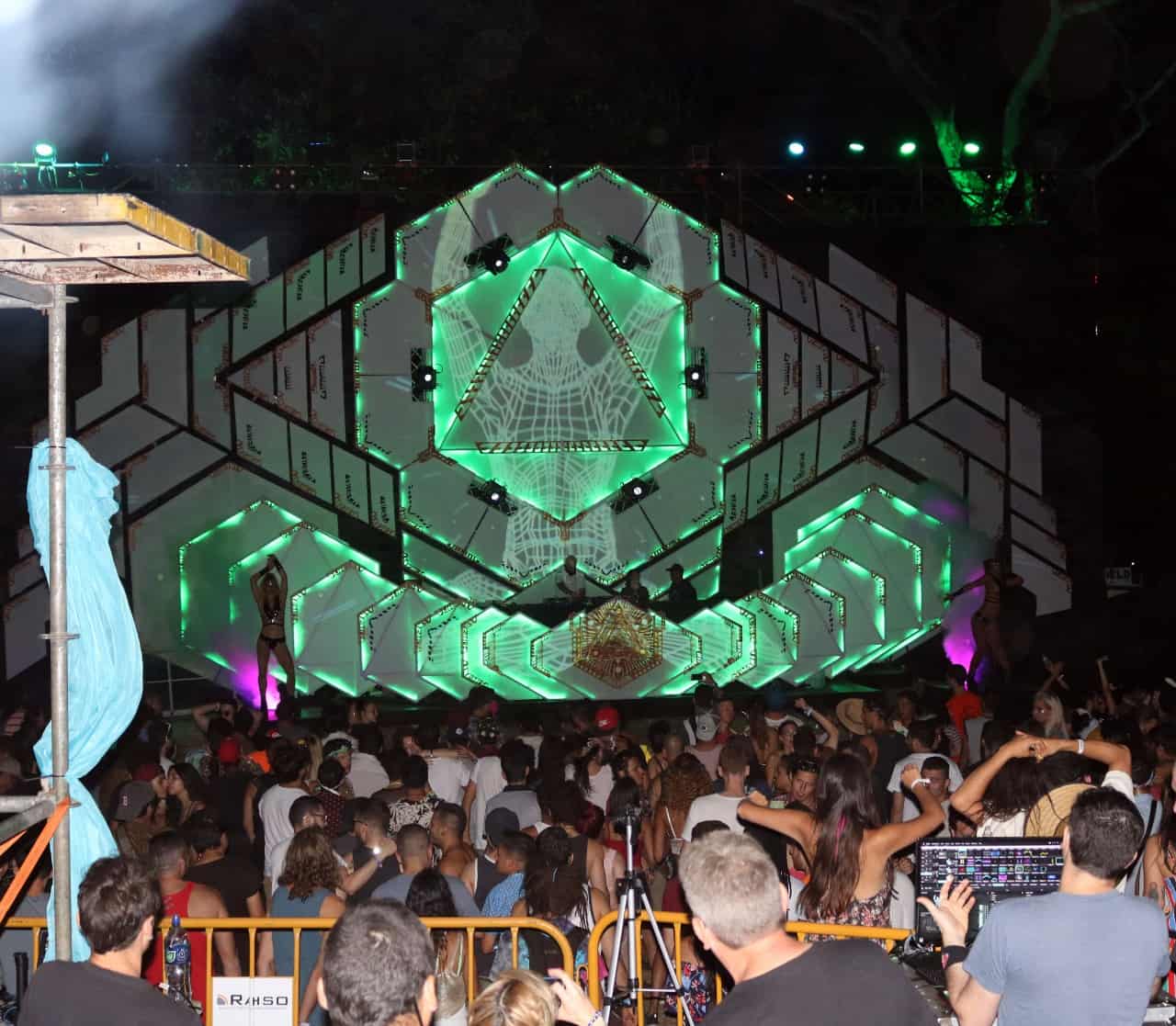 Ellis, said he was flattered and surprised by the amount of Costa Ricans attending this year.
"Ninety-one percent of attendees were Tico," Ellis said. "The last thing we want at a festival is a bunch of Ticos staring at Americans in a VIP section."
Ocaso doesn't have a VIP section, nor do they have bottle service or anything that could potentially separate people on a socioeconomic level. He said it's this way because of the affordability of the tickets, with early bird tickets six months in advance being $49 each.
The Tico Times attended the festival on the third night, which was hosted at La Senda — an outdoor labyrinth in the forest designed by architect Ronald Esquival, who specializes in sacred geometry and labyrinth design. La Senda was transformed into a jungle amphitheater for the festival, but the mystical air of the space channeled into the essence of the night, most notably seen in the visuals on screen behind the DJs.
The man in charge of the mesmerizing stage lighting and production is Björn Jelinek, an Austrian living in the mountains of Croatia who produces a festival there called Modem. He got in touch with Ellis when he was visiting Costa Rica two years ago and is "one of the reasons why the event itself has taken a step up in the last two years," Ellis said. "He took my paper napkin drawings of the stage, crinkled them up, laughed and said, 'Wanna do this for real?'"
On its biggest night, more than 4,000 people were partying at Ocaso. According to Ellis, the festival's attendance has doubled each year.
Compared to other festivals in Latin America, Ellis attributes the uniqueness of Ocaso to having an intimate, boutique feel.
"What makes us different from other festivals is our total dedication to underground music," Ellis said. "There is no commercial music or mainstream sponsors that most events have in Costa Rica."
Electronic dance music festivals usually have five to six stages and can welcome upwards of 100,000 people, which is "kind of impersonal", Ellis adds.
Costa Rican DJ Brenda Segura performed on the second night of the festival. She started DJ'ing five years ago when she was 18 years old and has been to Ocaso each year since its inception.
"I fell in love with the concept of electronic music," Segura said. "It's something important for me. What comes out in my music is what's in my heart and soul."
As a female DJ in a male dominant field, Segura gets a lot of attention because of her gender, but she doesn't let it affect her integrity as an artist.
"I've always wanted to have a DJ girl collective here in Costa Rica. The DJ scene here for girls isn't that big," Segura says.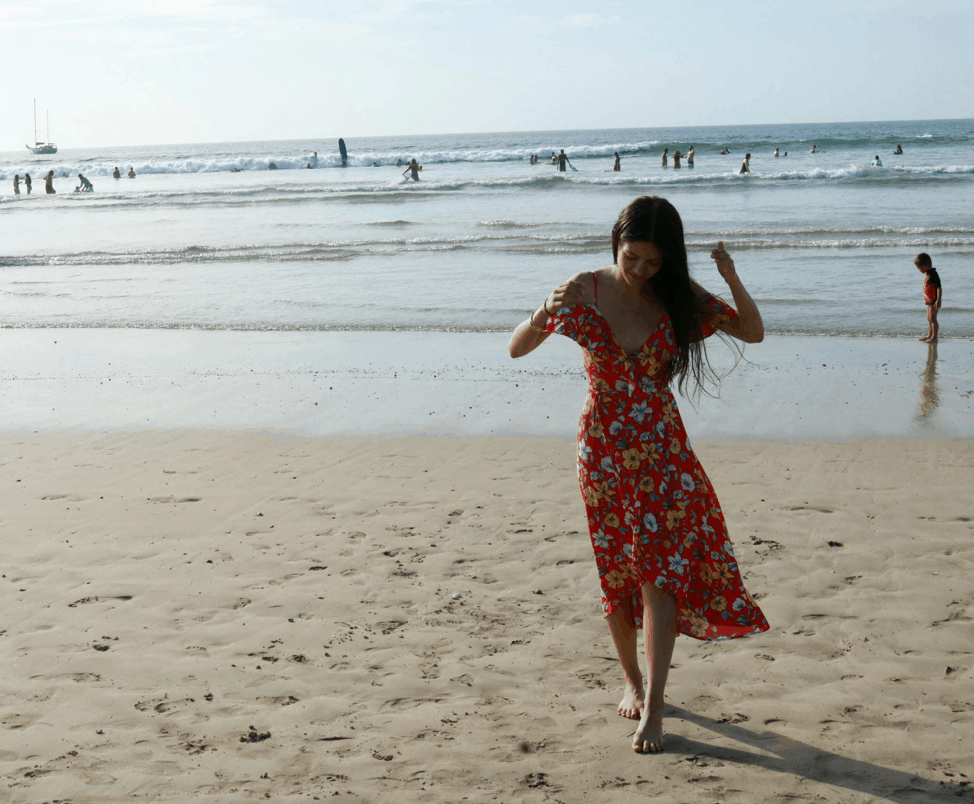 She plays at venues in San José such as Vertigo and Antik, and she hopes to move to California this year to open her mind and experience life as an artist outside of her hometown.
Attendees looking to channel their creative side at Ocaso had access to four immersive murals thanks to art supply production and distributor Arti Sur. Despite being painted away from the main stage, the murals were close enough to let the house and techno vibrations rumble through the brush.
American artist Christopher Anway worked on a mural he described as an Aztec-style dragon monkey with blood sucking sharp teeth.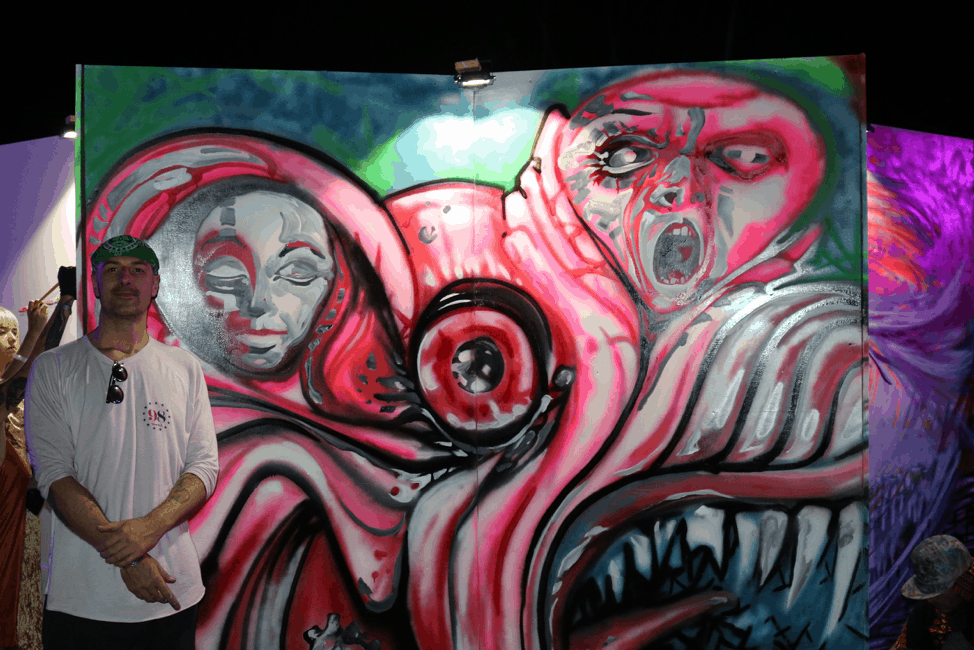 "I've been a tattoo artist for 20 years, and I'm an oil painter and sculpture as well," Anway, who publishes his work @paintforfood, said. "I do big murals on buildings too, with some running in the Bay Area and Thailand."
Amidst the crowd of typically loud wardrobe choices seen at any electronic music festival, Kassidy Vargas stood out from afar. She was sporting a fiber fly whip as her way to express herself on the dance floor.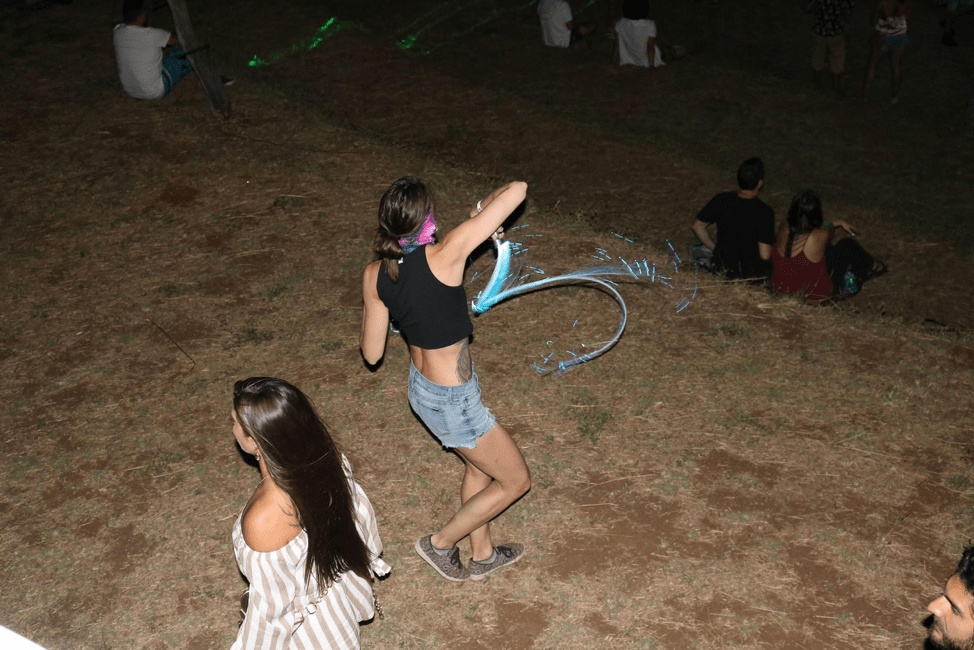 "It's an outlet of energy," she said.
Vargas travelled from Arizona by herself just to be at the festival.
"The production they did on this festival is top-notch," she said. I've travelled a lot of places, gone to a lot of festivals, and this is really good."
Drugs and alcohol tend to follow music festivals wherever they go, and an emergency team was on site to ensure safety. The UNIMED Health System, which had a presence at Ocaso, said it had been quiet and that thankfully there were no accidents.
Costa Rican indigenous gastronomy kept people's bellies full throughout the festival with organically sourced food from the head chef of Sikwa and Alma de Amón — two restaurants in San José with the same owner.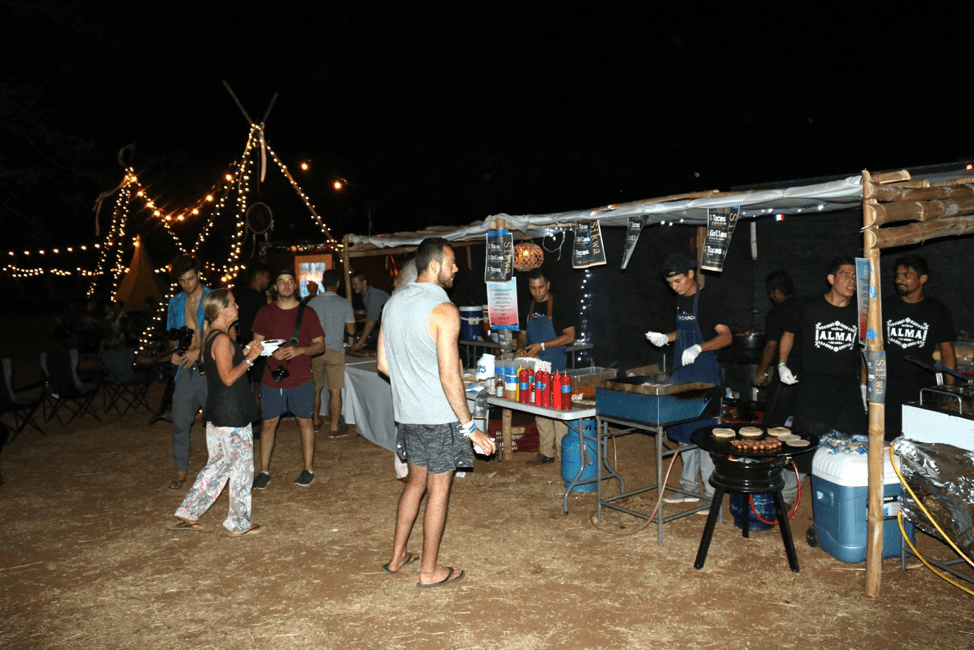 "We basically did all the food ourselves," Ellis said. "We didn't have outside vendors, and we made sure that 100 percent of the product was grown organically."
In 2020, Ocaso will rage from Jan. 7-12, but be sure to check for early-bird prices six months in advance to experience the up-and-coming underground electronic scene in Costa Rica.