If you are driving from Juan Santamaría International Airport toward San José, you will pass two sets of billboards. Lettered in Spanish, the signs translate to English as:
There are foreign boats fishing illegally in Costa Rica
They are taking our marine resources without permits
Together we can change this… Find out how at fecop.org
[Editor's note: The author of this story works as the communications director for FECOP, the Costa Rican Fishing Federation.]
The campaign billboards were modeled after the ones in the award-winning film "Three Billboards Outside Ebbing, Missouri." The signs were designed to be simple but effective. It is estimated that more than 25 percent of all tuna fished by foreign purse seine boats in Costa Rican territorial waters goes unreported or is taken by vessels not licensed to fish in Costa Rica — resulting in zero benefit to the country.
In an interview on Monumental Radio, Carlos Manuel Rodríguez, Minister of Environment and Energy, denounced that the country loses millions of dollars in the illegal fishing of tuna. Thanks to the international licenses that the country provides for tuna fishing, this sector generates legal profits of $50 million and pays only $1.3 million for it. He went on to say if more tuna were available to Costa Rica fishermen, they would target tuna rather than engaging in controversial shark fishing.
Data collected by Amigos de la Isla del Coco Foundation (FAICO) during a study called "Characterization and analysis of industrial fishing pressure in the ACMC and the adjacent Exclusive Economic Zone" found that fishing vessels entered the prohibited areas for purse seining more than 130 times during the span of the study.
An analysis by Conservation International and the Coast Guard using satellite technology determined more than 100 vessels were involved in illicit activities in 2016-17.
The yearly average legal take from these boats had been around 25,000 tons of tuna. Of this, 9,000 tons goes to the cannery in Puntarenas and most of the rest never lands in Costa Rica. A study done by Federacion Costarricense de Pesca in 2013 showed Costa Rica only benefitted $37 a ton from tuna taken by foreign vessels. This brought about the first tuna reform in 2014, which moved the tuna boats offshore 45 miles and protected other important areas like the waters around Coco Island and a total of 200,000 square kilometers from purse seine fishing. In 2017, INCOPESCA, the governing board of fishing regulations in Costa Rica, reduced the number of legal licenses from 43 to 13 and this year put limits on the capture. But with very little oversight, illegal fishing activity is bound to increase.
To better understand all this one needs to understand all the pieces of the puzzle. Not all of them see eye-to-eye on many issues. Since this campaign was started by FECOP, we start first with:
Sport fishing
Sport fishing generates nearly $380 million for the Costa Rican economy and generates thousands of jobs for Costa Ricans. FECOP — which advocates for sport fishing as a sustainable business model as well as ocean management — represents many of them. A study recently conducted by Henry Marín, project manager for FECOP, showed that in a social-economic quality of life model study, Costa Ricans who work in sport fishing earned more than the average Costa Rican. Those who work in areas like Herradura and Quepos, where there has been a substantial investment in sport fishing infrastructure, have even higher incomes. There are also a good number of non-anglers who believe sport fishing is a senseless sport, where people torture animals for sport.
Commercial fishing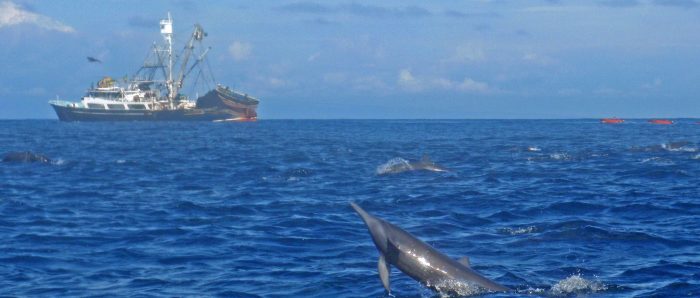 This is another very important part of the Costa Rican economy that employs thousands in coastal communities. Costa Ricans consume a lot of fish and almost all the millions of tourists that come here each year want to experience fresh Costa Rican seafood. The exportation of fish products is also huge. Opponents complain about non-selective arts of fishing with a high incidental catch of non-targeted or over-exploited species.
Tuna purse seine fleet
Costa Rica does not have a purse seine vessel. The fleet consists of licenses sold to foreign-owned companies that capture tuna by circling a school with a net when closed captures everything inside. Opponents claim the bycatch — species caught other than tuna — include marlin, sailfish, dorado, wahoo, sharks, turtles and marine mammals. More than 50 different species have been documented as bycatch in the tuna fleet. By examining previous catch records, it is estimated the fleet reduction saved 25 tons of would have been marlin bycatch in 2017.
Cannery
The tuna cannery in Puntarenas is a major player in the local community. It employs well over 1,000 Costa Ricans and requires 9,000 tons of tuna annually to operate. Because the demand of sustainably caught "one by one" tuna is growing so fast, the cannery is forced to import pole- and line-caught fish from other countries to fill their orders.
Government
The government, including INCOPESCA, the Ministry of Agriculture, the Ministry of the Environment, the Coast Guard, the Ministry of Tourism, and the Legislative Assembly all have input in the fishing licenses, controls and enforcement. Some have been accused of favoring one sector over another or business over environment, or that they don't have the budget to operate more efficiently.
NGOs
There are many non-governmental nonprofits headquartered in Costa Rica that specialize in marine conservation issues. Many have done great things in Costa Rica. At times, conservation is a competitive business. Organizations compete for donor contributions. Because of this, they don't communicate well with each other. Many times, they are working on similar projects but for fear of losing donations or credit for successes — which turn into more donations — they don't share information. If they did a little more, positive changes could come more rapidly on smaller budgets.
General public
Costa Rica is the most expensive country to live in in Central America. Many sectors have been on strike or protesting the proposed tax reforms since September 10. They are especially displeased with some tax breaks companies receive whose products manufactured in Costa Rica cost nearly double in Costa Rica as the same product sold by the same company in neighboring countries. Many feel it is unfair to give away Costa Rica's resources to other countries with little benefit to the country while they are asked to pay higher taxes.
Tuna
Tuna are the most prized fish on the commercial market and have a much higher market value than other species. Many people do not know how most of the tuna captured in Costa Rica are caught. A large purse seine vessel cruises the ocean looking for obvious signs that tuna is present. This could be feeding birds, tuna feeding, giant pods of dolphins, or floating objects like tree trunks. Often these boats will place artificial floating objects, which are illegal to use in Costa Rica because they attract juvenile fish.
Dolphins
A lot of the tuna caught here are caught under dolphins. Dolphins and tuna have a symbiotic relationship and swim together — the dolphin on the surface and tuna below. They will use speed boats to corral the dolphins into the net. If you net the dolphin, you will also catch the tuna. In the past, up to 6 million dolphins perished in tuna boat nets until there was a public outcry.
Today boats fishing legally will lower one end of the net to release the dolphin. According to data, the mortality of dolphin is now around 1,000 annually using this method, but Sierra Goodman, founder and president of the Vida Marina Foundation in Drake Bay, on the northern Pacific side of the Osa Peninsula, believes the actual number of dolphin mortality is highly underreported. Goodman's concern is that tuna companies that fish and net dolphins are labeling their product dolphin safe.
"Ok, so this is my question: Are the dolphins still chased and encircled in the nets to get the tuna?" she asked. "Are dolphins involved in any way for tuna that is labeled dolphin-safe? Because any time free and wild dolphins are chased and entrapped, it is not dolphin-safe. I saw what happens in those nets. While I'm sure the lowering of nets helps with mortality, what about stress factors? We know that these tuna boats are out there for days in a row netting the same group of Costa Rican spinner dolphins."
One question is whether the boats fishing illegally careful with dolphins. They have been witnessed throwing explosives from helicopters or speed boats to herd dolphin. And do they take the time to make sure the dolphin is released from the net carefully? I have never known a thief who sweeps up the glass after he has broken your window to enter your house.
Green Stick and pole & line
Green Stick is the common name for a piece of fishing equipment that was originally made from a long, green bamboo shoot that has a main line attached to a device that is designed to make a large splash on the water. It is trolled a couple hundred yards or more behind the fishing vessel. Off the main line, a half dozen or more lures are placed at intervals. This method has a 99 percent catch rate of tuna compared to catching species other than the targeted tuna.
Pole and line is basically done by chumming the water with live minnows to keep the tuna close in a feeding frenzy and catching them one a time, helping meet the growing demand for sustainably caught seafood — seafood caught without impacting the environment or other species. Green Sticks now made of fiberglass are nothing new. They have been used in Japan and in the Eastern United States for years. Innovating commercial fishermen like Robert Nunes has been using them some success in Costa Rican waters. After FECOP supplied the technical support to the government, INCOPESCA began issuing licenses to fish green sticks this year.
Adam Baske, Director of the Pole and Line Foundation based in the United Kingdom, recently visited Costa Rica and with FECOP staff met with long-line commercial fishermen in Puntarenas and Quepos to discuss the tuna industry and the market need for sustainably caught tuna. They heard the same from both groups. They explained that even though the sport fishermen are seeing a great increase in tuna catches since the Tuna Decree in 2014, there is still too much tuna being taken illegally or licensed to foreign vessels for them to successfully fish more selective gear and make a decent profit.
According to them, they would love it if they could. Tuna is a premium-value fish and would become the target species, taking pressure off sharks and billfish as bycatch in longline fishing. The incidental catch rate of other species would drop drastically. FECOP then met with six marine related NGOs to discuss the issue.
This writer has lived in Costa Rica worked in fishing going on 28 years and is a naturalized Costa Rican citizen. His wife is Tica, his kids are Tico and at many times feels as if he is at heart a Tico trapped in the body of a gringo. He has been here long enough to know if just one sector lobbies for change, nothing happens. When different sector joins on a common goal, change happens. The first tuna reform in 2014 is a good example of sport fisherman working together with longline fishermen. Giving tuna back to the Ticos would have a domino effect for all groups. Better income for struggling coastal communities, less bycatch of billfish, sharks, turtles, dolphin and other marine mammals. With more tuna available, the longliners could see the advantage of switching gear because the fish would be available to them and NGO's protecting sharks, turtles and billfish would all benefit also.
It is not an easy task, but working together, it can be done. There is a petition to the government at www.fecop.org. The site is in English and Spanish; just click your preference.